Newsrooms should be converged, integrated, flexible, lean and techy, to survive in today's fast-changing media landscape, but news organizations should still focus on good story telling.
The mantra is repeated throughout "Trends in Newsrooms 2010," (TIN) a rich guide for editors and publishers struggling with slumping circulations, shrinking revenues, layoffs, closures, shifts from print to online, and, competition from social media and citizen journalism.
The New York Times www.nytimes.com hired a social media editor last year to concentrate "full-time on expanding the use of social media networks and publishing platforms to improve New York Times journalism and deliver it to readers," TIN quoted a statement from the paper.

TIN, produced by the Paris-based World Editors Forum www.worldeditorsforum.org, said the BBC www.bbc.co.uk created a similar position in November 2009 to guide "Beeb" journalists in their use of social media rather than have that editor scan the various services for stories himself.
"A new breed of journalists has been playfully dubbed the 'Robocop' editors, in reference to the technological skills and expertise they bring to the editorial team," TIN explained, adding that the increasing importance of the Web and digital media for news organizations will inevitably lead to an evolution of the jobs of editors and journalists, as they become more knowledgeable with digital tools.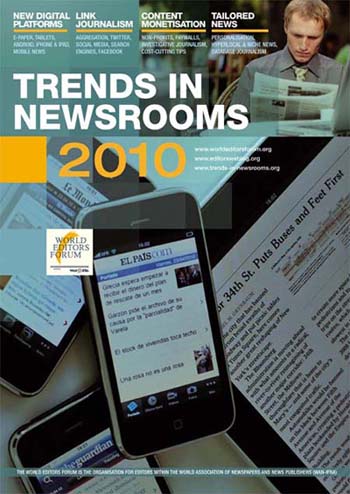 But, it cautioned, this mustn't occur at the expense of traditional journalism skills.
So, how do newspapers, in particular, handle the break-neck fast-forward without incurring serious damage?
There's no one-size-fits-all, according to TIN, but it carefully examines examples of successes, faltering experiments, and works in progress, from different countries that could serve as helpful templates for those still contemplating the inevitable change.
The book is divided into eight chapters tracing the crisis facing newspapers in recent years, issues of whether or not to charge for content, the impact of new devices with tips for mobile strategies, managing integrated newsrooms, niche, hyperlocal and customized news, entrepreneurial journalism, social networks in the news, and, top mobile apps.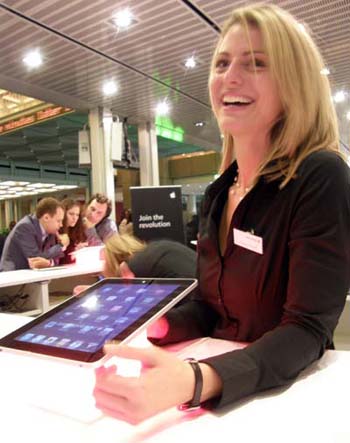 iPad revolution (Abu-Fadil)
Chapter 1 examines the "broken" American and British print models, migration to online-only products, and whether the state should intervene to save papers with tax breaks, subsidies and stimulus packages.
It also zeroes in on cost-cutting measures such as consolidation of operations, content-sharing agreements, slashing salaries, and the need for viable online business models.
"News Corp Leads the Paywall Revolution," reads a sub-headline on early adopters of the trend in Chapter 2.
A sidebar lists a series of quotes by News Corp www.newscorp.com chief Rupert Murdoch from April to December 2009 stating his intention to charge for his news websites, since quality journalism was not cheap.
True, but Alan Rusbridger, editor of Britain's Guardian www.guardian.co.uk newspaper, begged to differ about the options of subscriptions, metered paywalls or micropayments:

"Journalists have never before been able to tell stories so effectively, bouncing off each other, linking to each other (as the most generous and open-minded do), linking out, citing sources, allowing response - harnessing the best qualities of text, print, data, sound and visual media. If ever there was a route to building audience, trust and relevance, it is by embracing all the capabilities of this new world, not walling yourself away from them."
Turning to new devices, Chaper 3 asks if they will really change the news, and sheds light on the fast rise of e-readers, smart phones and tablets as the niche for news content delivery.
"For a publisher, an app offers an opportunity to create a more branded experience, and crucially the chance to increase revenue, either by charging for the download of the application or by requiring a subscription for access, or via advertising, which can be targeted via location," TIN said in answer to: Is An App Necessary?"
A crucial issue is how to manage an integrated newsroom, with Chapter 4 offering 101 possible models and referring to editors who believe it's no longer "whether," but "when" and "how" to integrate.
At WAN-IFRA's www.wan-ifra.org 9th International Newsroom Summit in London in September, The Washington Post's www.washingtonpost.com Managing Editor Raju Narisetti said building a new generation newsroom was a question of survival.

Admitting 2009 was a very tough year for revenue streams, Narisetti said the Post had integrated into a 24-hour web-first newsroom, but that it assigned digital responsibilities, retained specialists (since not every photographer can do video well), enabled and equipped its journalists, but did not insist they become jacks of all trades.

Chapter 5 deals with niche, hyperlocal and customized news. According to TIN, the sports niche is faring well, notably in countries like Brazil, "where football is king."
Sites like Australia's www.marineweather.com.au have also carved out niches for devotees, while others have turned to social networks, bespoke interests and consumer guides to attract ad dollars.
The hyperlocal world flourishes, but uncertainty remains, is TIN's assertion. It pointed to Dutch Telegraaf Media Group's www.tmg.nl managing editor Bart Brouwers that it said was leading the company's effort to build community-based journalism.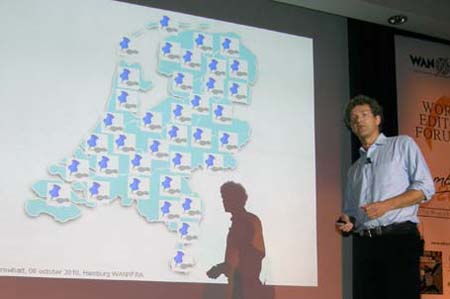 Bart Brouwers (Abu-Fadil)
A much-discussed topic in recent months has been investigative and non-profit journalism, with Pro Publica www.propublica.org tagged as a Pulitzer Prize winning trailblazer in the field.
Chapter 7 spotlights news on social media networks, social networks in the news, building on the link economy - with a whole section dedicated to Google's www.google.com role - and user-generated content.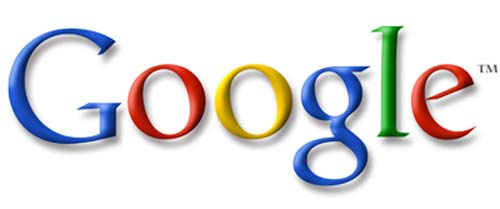 Finally, Chapter 8 provides advice on mobile apps, albeit dated, since the proliferation of mobile devices and applications development has gone through the roof in recent months.
Trends in Newsrooms 2010's examples come mainly from North American and European news organizations.
Admittedly, many advances have evolved in those regions, but Asian and Latin American newsrooms have also made progress and deserve more attention.
Interestingly, no mention is made of Middle Eastern and North African newsrooms.
But the book is an excellent reference with its wealth of information, produced by professionals who keep close tabs on the media's evolution and stay ahead of the curve with their Editors Weblog http://www.editorsweblog.org and Shaping the Future of the Newspaper blog http://www.sfnblog.com.
Calling all HuffPost superfans!
Sign up for membership to become a founding member and help shape HuffPost's next chapter