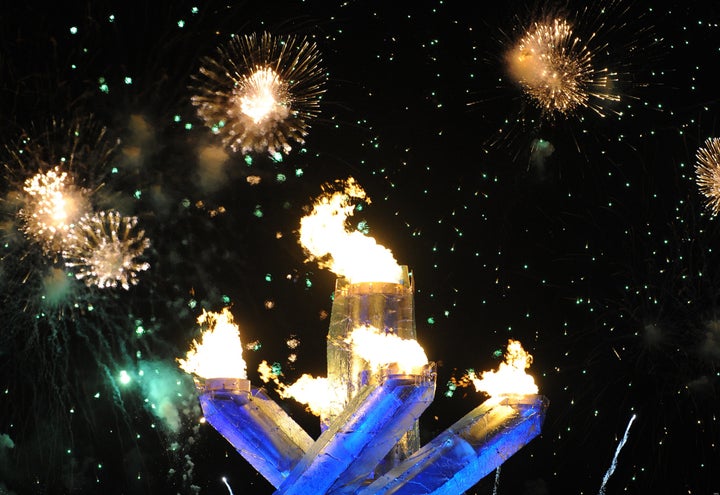 When you blend together a deep sense of pluralistic tolerance, cross-cultural roots and practices, culture grounded in gratitude, and a degree of national pride balanced by a degree of national humility, your rather peaceful smoothie tastes a lot like my country, Canada. As a native of Vancouver now living in the United States, my identity, patched together as a cross-continent quilt, has roots in Uganda, Kenya, and India. Now living in Cambridge, Massachusetts, however, I have slowly but certainly merged parts of myself with parts of America. Indeed, when you're focused on all things international: human rights, justice, politics, security, and religion, the United States can play a central role in your push for change. Now and again, however, you're reminded of your Canadian heritage, your Canadian achievements, your Canadian belonging, and your Canadian pride. It is this reminder that brings me to my native city of Vancouver, the home of the 2010 Winter Olympic Games.
The moment 22-year-old Québecois Alexandre Bilodeau raised his arms in victory to a first place finish in the moguls, triumph and unity was shared amongst all Canadians. The circumstance was extraordinary: it was Canada's first gold medal on home soil in three Olympic Games (Montreal 1976, Calgary 1988). For Canadians like me living abroad, our identity is complex and fluid; while our allegiances are plenty and despite multiple pulls, at the core of our sense of self lays a frozen maple leaf. In praising the True North, I wish not to sound conceited, for we're just not that kind of people! Discussing our accomplishments is always tamed by recognizing our missteps. National ego is always matched by a sense of unwavering modesty. But most of all, the uniquely warm and welcoming souls of our land add yet another twist to the nature vs. nurture debate. We really are that nice. This dynamic of conservative pride, hosting the winter games, achieving a gold medallion at home, and for the first time in Olympic history, hearing our national anthem on native soil has created the perfect storm allowing us to crack our shells of humility and openly embrace the glory of victory.
Witnessing such transformation was exhilarating, both in myself and in others. Living away from home for some years had blunted the relationship between Canada and I. While I enjoyed visiting up north, I often felt like a visitor myself, rather than a countryman. Indeed, I often identified myself as being Americanized to a fault, losing a piece of my heritage in the process. I was okay with that at first, but not anymore. For me, the Olympic Games have reminded us Canadians abroad that our relationship with the homeland is not only well intact, it is thriving in solidarity. The Games have rejuvenated a sense of what it means to be Canadian in all its splendor, and securing the gold on home soil made it that much more brilliant.
Oh Canada, we stand on guard for thee.
REAL LIFE. REAL NEWS. REAL VOICES.
Help us tell more of the stories that matter from voices that too often remain unheard.