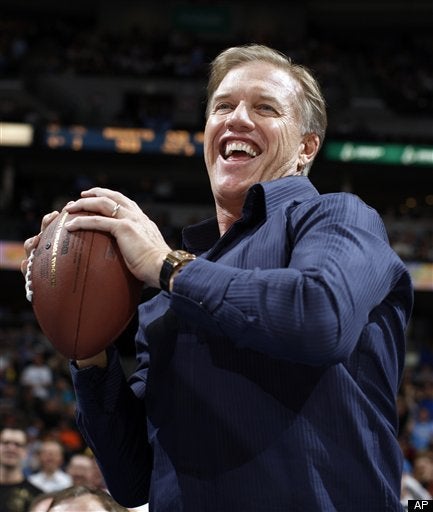 Try as I might to hope for the best, I continually expect the worst. In fact, I am genuinely stunned when something good happens.
As you can imagine, I am a blast at parties.
When it comes to the Denver Broncos, however, I am as optimistic as they come. I have always been this way, although I have no idea why. Maybe it's because optimism is easier than reality, or maybe it's because I can't stop watching the highlights of Super Bowl XXXII, but whatever the reason, I am eternally optimistic about the Denver Broncos.
As a result, I remained pretty positive about the Broncos' future throughout the debacle that was the 2010 season. Seriously, during the worst of 2010, I was still feeling pretty good about 2011 and beyond. (To be honest, this was mostly because the upcoming lockout all but guaranteed that the Broncos wouldn't play a game in 2011, but that's neither here nor there.)
And since the end of 2010, my outlook has only improved. In fact, even if there isn't a lockout, I think there are now quite a few reasons to be optimistic about the upcoming season.
First and foremost, the head coach of the Broncos in 2011 will not be Josh McDaniels.
Let me repeat that: The head coach of the Broncos in 2011 will NOT be Josh McDaniels.
As we say in my culture: dayenu. It would have been enough.
But of course, there's more.
After the worst season in franchise history, the Broncos needed a head coach who could rebuild a franchise from the ground up. More to the point, after fielding the NFL's worst defense in 2010, the Broncos needed a coach who could rebuild a franchise from the defense up. Enter John Fox - a defensive-minded head coach who took a 1-15 Carolina Panthers team to the cusp of a Super Bowl victory in just two years. And while I don't expect to see the Broncos in Super Bowl XLVII (sorry, my optimism has its limits), I do think that John Fox could be just what the Broncos need in 2011.
But the optimism doesn't stop there.
To help him rebuild the Broncos defense, Coach Fox will have the number two overall pick in the upcoming NFL draft. If the Broncos keep the pick, they will likely get Nick Fairley or Da'Quan Bowers, either of whom would be a tremendous help in rebuilding the Broncos D. If they trade the pick (maybe along with Kyle Orton), the Broncos should receive several early-round picks in return, which they could also use to bolster the defense. Either way, the highest draft pick in Broncos history gives Coach Fox and Broncos fans another reason to be excited about 2011.
And I'm not done yet. In fact, I've saved the best for last. While Coach Fox is a good fit, and the number two pick will be a huge help, there is one more reason to be optimistic (if not ecstatic) about 2011.
To be fair, an objective writer would probably express some cautious optimism here and spend some time discussing why John Elway may or may not have been a good hire for the Broncos. An objective writer would mention, on the one hand, Elway's intelligence, his strong business acumen, and his success as an owner in the Arena Football League. An objective writer would also mention, on the other hand, Elway's lack of experience as an NFL executive and the dangers of hiring the sentimental favorite.
I am not an objective writer.
In fact, when it comes to John Elway, I could not be any less objective. Rather, I believe that the Broncos decision to hire John Elway was a move of stunning brilliance matched only by their decision to trade for him 28 years ago. And while I still don't understand what exactly Elway will do as the Vice-President of Football Operations, neither do I really care. John Elway could return as Barrel Man and I would be excited.
I don't know if he will be a good VP, and I don't know if he will lead the Broncos back to the Promised Land. But I do know that he is the single most important figure in the history of Denver sports, and I know that after 12 years of watching the Broncos go from back-to-back Super Bowl champs to the laughing stock of the NFL, the Broncos (and more importantly, their fans) need John Elway now more than ever. If nothing else, Elway gives the fans a reason to hope, which is something we haven't had for quite some time.
So cheer up Broncos fans, things are looking good in Dove Valley these days. 2010 may have been rough, but 2011 is off to a good start. We've got the coach the Broncos need, a high draft pick to help him out, and a new executive that knows a thing or two about comebacks.
And hey, if none of those work, there's always the chance of a lockout.