The MTV Movie Awards were held this past weekend and this year a record number of gifting suites tied to the event were held, gifting everything from the latest in skincare, fashions, accessories, toys, pet products and more.
GBK CELEBRITY LUXURY GIFT LOUNGE at L'Ermitage Hotel:
Clothing included sustainable bamboo t-shirts from Emys and slim jeans from Lotus Premium Denim. Plomo shoes handed out their chic and edgy French-inspired footwear.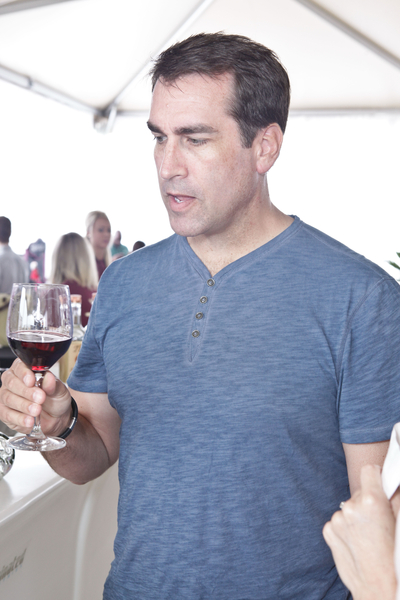 Rob Riggle samples a glass of Renwood red wine at the GBK Celebrity Luxury Gift Lounge.
Toy State debuted their new 007 car series complete with realistic sounds and classic James Bond theme music. MGA Entertainment had their Bratz True Hope bald dolls that symbolize the fight against cancer. The company also showcased Bratz's witchy older cousins, Bratzillas, all of whom possess magical powers. Meanwhile, Jada Toys Inc. gave out their Cutie Pop dolls with interchangeable hair, eyes and accessories to change their look.
Speaking of accessories, the ones for humans included scarf hoodies from Robdechi and Sprout watches whose eco friendly line is made out of such sustainable materials as bamboo, fish leather, corn resin, organic cotton and conflict-free diamonds, among other things.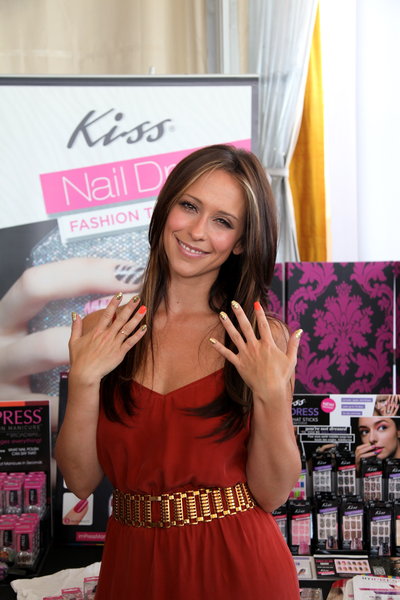 Jennifer Love Hewitt tries on press-on nails from imPress and Nail Dress at the GBK Celebrity Luxury Gift Lounge.
Artists collective The Artisan Group gifted from their collection of handcrafted gifts including Mohito scented soap by Tracey Gurley Bath and Body, beaded hairbands by Bead Flora and Jewels, dog collars by Sophisticated Pup, jeweled rings by Alexis Gopal, whipped body polish by Starlet Glam, map jewelry by Paper and Place, stationary by Jolie Design and felted soap by Engelfelt.
RevitaLash Cosmetics introduced their latest product: the FineLine Primer for eyes that fills in wrinkles and diffuses light to create a soft focus effect and contains Omega oils and vitamins for long-term nourishment.
KARI FEINSTEIN'S MTV MOVIE AWARDS STYLE LOUNGE at the W Hotel, Hollywood:
Featured at the lounge were handmade jewelry and clothing by Wings Hawaii, on-site massages by mobile therapist Yvonne Mock-Robertson of Melt L.A. and nail polish by Essie in their newest summer colors. Also, brow threader and makeup artist Marco Ochoa of Evolue debuted his new eyebrow waxes for filling in the brows.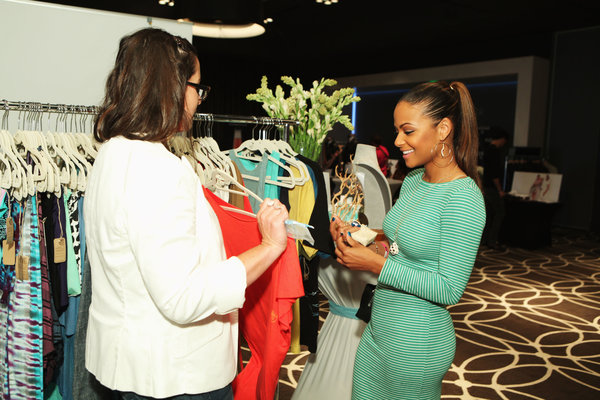 Christina Milian checks out clothing from Wings Hawaii.
There were oral supplements in spray bottles including Slim Spray, Sleep Spray, Kids Spray, ReBoot Spray for energy and C-Spray with antioxidants. Plus liquid protein vials by Pro-Shots in refreshing flavors like raspberry and tropic punch, each containing 25 grams of protein per shot.
Gift certificates included: a five night stay at all inclusive Hard Rock Hotel in Puerto Vallarta, Mexico, which opens in August, a stay at the Sedona Rouge Hotel and Spa in Arizona and open water rowing lessons courtesy of Marina del Ray-based Whitehall Spirit Rowing Club.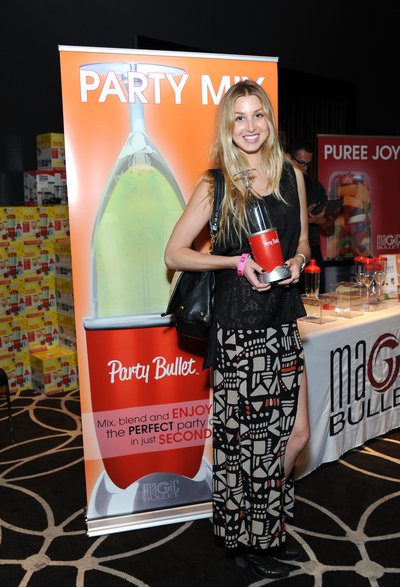 Whitney Port checks out Magic Bullet' latest mixing device -- Party Bullet -- featuring goblets and a party pitcher at Kari Feinstein's Style Lounge.
WOW CREATIONS GIFTING SUITE Wow at the Roosevelt Hotel:
Items included hair products from Lasio Professional Hair Care, cotton camis by Repeat Possessions and men's and women's t-shirts by Royal Street Wear. C-Zen pillows handed out portable ergonomic memory foam neck pillows while TheraPearl gave out their hot/cold packs to relax stiff muscles, sprains and other pains and inflammations on the body.
L.A. Photo Party set up a portable photo studio while Bagadocious handed out gift certificates for custom-made cover bags for shoes, purses and other accessories. Visitors could also pick up copies of author James Higdon's non-fiction book, The Cornbread Mafia.
The Indie Exhibit, a collective of artists, gave out oversized popcorn buckets filled with goodies -- or gift certificates for their goodies -- including hair accessories from Blithe Spirit and The Jeweled Crown, necklaces from Parrothead Jewelry and On a Whim Jewelry, Envibrance fine art T-shirts, Babcia's Heart market tote bag, custom cartoon illustrations from Ciao Bella Ltd and character illustrations from Lollipop Labs Studios.
SECRET ROOM EVENTS' 2012 MTV MOVIE AWARDS STYLE LOUNGE at the SLS Hotel
Goodies included face and body products by Beyond Clear, The Orange Owl, Body Eclectic Skincare, Zensation, Sella Natural Cosmetics, Pura Botanica, Eden Allure and Hawaiian Tropic.
Musician Goonrock -- who won an MTV Movie Award alongside LMFAO for "Party Rock Anthem" from the '21 Jump Street' film -- attends Secret Room Event's Style Lounge.
Also, Italian shoes by Pantofola d'Oro, organic snacks by Plum kids including squeezable fruit, freeze-dried yogurt drops and fruit gummies. Author Jay Margolis had his book Marilyn Monroe: A Case For Murder to give out.
Dogs made out like bandits at the suite -- dog collars from Bella & Roo, indestructible rubber dog toys by Bionic and FroBo dogbowls that keep your pet's water cold all day long. Plus, a GPS-like pet tracking system by Tagg that fits on your dog's collar.
Celebs left with additional gift bags containing items like bikinis by Biki Active, men's swim trunks by Rusty, cotton blazers by Nick & Mo, lingerie by Private Arts and water bottles with a built-in filter system by Wriggle among numerous others.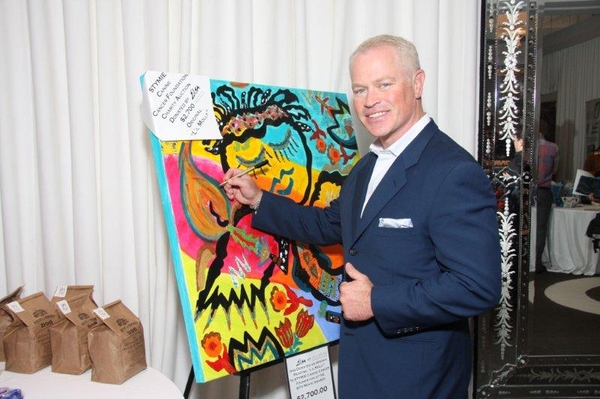 Neal McDonough sign his name to help raise funds for the Stymie Canine Cancer Foundation at the Secret Room Events' Style Lounge.
DEBBIE DURKIN'S "ROCKN ROLLA" MTV MOVIE AWARDS ECO LOUNGE held at a private estate in Hancock Park:
This lounge had swimwear by Odina that's made from recyclable materials, lingerie by Svala, men and women's clothing by Dirtee Hollywood; handmade clothing and accessories for women and children by House of Minerva.
There were also fashionable shopping totes by Vine Street Market, all-natural hair removing kits
Shoe company Swyt Culture made their debut at the suite with their modern twist on the ballerina flat made with a molded outsole similar to water shoes and fabric tops in a variety of colors and patterns such as crinkled metallics, crushed velvets, jersey knits and patent leathers.
Massage therapist Yvonne L. Larson from The Neck Work Expert was on hand to give visitors some TLC to the neck area.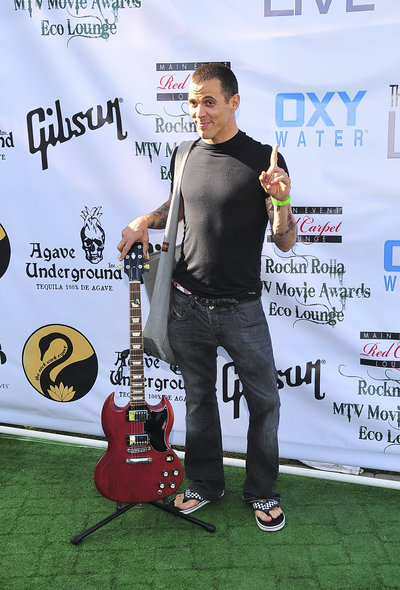 Steve-O attends Debbie Durkin's "Rockn Rolla" Eco-Lounge.
2012 MTV TALENT SWAG SOCIAL at the Luxe Hotel Rodeo Drive:
Vendors included the all-natural skincare regime for young girls by Bellaboo including washes, exfoliators, face masks and the E Z Blitz calming serum for blemishes.
There were flat irons from Iso, watches by Shocking Goat with interchangeable faces and bands, mosquito repelling candles from Bite-Lite and swim and body wear from Briquelle among other items.