In the days leading up to the Emmy Awards, gifting lounges around Los Angeles took over various hotels, enticing celebrities with the latest in electronics, beauty treatments, vacations and more. Most gifting suites had charity components where either guests, vendors or hosts donated to worthy causes. This year those included the Humane Society of the United States, the Environmental Media Association, the Creative Coalition, Big Brothers Big Sisters L.A.. Wednesday's Child and others.
Here is a round-up of what goodies these lounges were offering to nominees, presenters and other talent.
GBK'S LUXURY LOUNGE HONORING EMMY NOMINEES AND PRESENTERS at the L'Ermitage Hotel:
Michael Todd True Organics was gifting the Soniclear antimicrobial skin cleansing system. It also gave out the Clear Bi-light, a photo light therapy treatment system whose blue light kills acne-causing bacteria while the red stimulates collagen production and cellular repair.
The Little Nell - Aspen's only five-star, five diamond property with ski-in, ski-out access to the Aspen Mountain - was gifting three night stays with lift-tickets. Crescent Hotel in Beverly Hills gave out one-night stays for a closer getaway staycation.
Intuition coach Joanna Garzilli was gifting her book "Unleash The Psychic In You: How to Trust Your Intuition For Success" as well as gift cards for 90 minute Intuition Blueprint Readings.
Skinny & Co. was handing out jars of 100% raw coconut oil harvested from the jungles of Vietnam and never heated above 100 degrees Fahrenheit. The Artisan Group had goodie bags of items like handcrafted jewelry, bath products and note cards.
Visitors also picked up Foster Grant sunglasses and chenille pet beds from The Original Pet-Pal, which has simulated heartbeat inside to help ease anxiety when pets are left alone.
THE SECRET ROOM EVENTS PRESENTS THE 2014 STYLE LOUNGE at the Montage Hotel's Contessa Ballroom:
International psychic Gloria Layne Bieber was on hand to take guests' aura photos and analyzing their color patterns. Los Angeles-based ride sharing company Toro Ride was handing out VIP Black Cards for complimentary service, including airport pick-ups. Its fleet of cars includes armored vehicles and exotic cars like as the Rolls Royce Ghost.
Cosmetic dentist Dr. Sam Saleh of Ora Dentistry Spa was giving out gift certificates for laser teeth whitening. Japanese eyewear company Factory 900 - which last year won the prestigious Silmo d'Or eyewear award in Paris France - was gifting from its collection.
Faucet Face had reusable glass water bottles including its latest hummingbird design. For kids, there were sustainable wooden toys from German company Hape while Hasbro had Littlest Pet Shop style sets.
There was plenty for pets including flexible dog collars with aromatherapy pockets from Schmoozies, bath products by I Heart Pet Head (including teeth cleaning wipes!) and electrolyte supplements from Epic Pet Health that help with a everything from anxiety to joint pain to skin problems and more.
Celebs left with VIP gift bags featuring everything from Hasbro's My Monopoly game where players create their own customized game board with personalized pictures, chemical-free and vegan certified condoms by Sir Richard's Condom Company, bath products from the Alila Villas in Indonesia, make-up by Omorose and jewelry by Mack & Jane.
DORIS BERGMAN'S 5TH ANNUAL STYLE LOUNGE AND PARTY at the Fig & Olive Restaurant in West Hollywood:
Traveler's Choice luggage had their new "Office Mobility" spinner hardcase carry-ons with a special outer pocket designed to fit tablets, hard drives, smart phone and other office needs.
Cosmeceutical surgeon and medical-grade skin care specialist Dr. George Sun was personally gave out celebrities his MDSUN skincare line including the coveted Collagen Lift crème.
On the fashion front, Unity Vintage Jean Co. was handing out one-of-a-kind reworked Levi's denim jean shorts. There was faux fur purses from Roadkill Ranch boutique, jeweled bra straps by Ooh La Bra and blessing bracelets from My Saint My Hero.
KARI FEINSTEIN'S STYLE LOUNGE PRESENTED BY PARAGON at the Andaz West Hollywood:
Electronics company Innergie was on hand to make sure personal electronic devices never run out of power with such products as the Pocket Cell rechargeable battery bank and the LifeHub, a 3 USB Power Hub among others.
ProjectTreasure.com gave celebs the opportunity to create personal notes from family and friends in a wooden chest that is shipped to the recipient. Perfect for milestone events or when support and encouragement is needed.
Black Lace Skin Jewelry, which launched in July, is jewelry designed to be worn on the body like a temporary tattoo in textures ranging from shimmery black to metallic accents to Swarovski crystal embellishments. Designs such as royal crowns, roses, Gothic crosses, fleurs de lis and thorns are inspired by Renaissance times and TV shows such as Game of Thrones.
ProjectShoe.com let visitors design their own shoes by custom making footwear be it pumps, booties, wedges, loafers or others styles. A variety of textures, patterns and colors are available so next time you're asked on the red carpet whose shoes you're wearing, you can point to yourself as the designer!
There were hair products by Chroma Studios including hairspray with a nozzle containing three levels of hold from soft to firm. Also, Sicky Eyewear, Hydrive Energy Water and A.G.E. Therapy Gel that is purported to reverse the external effects of age damage.
Project Mermaids was on hand to book mermaid-themed photography sessions with celebs for a coffee table book whose proceeds will go to saveourbeach.org.
HBO LUXURY LOUNGE FEATURING PANDORA at The Four Seasons Hotel in Beverly Hills.
Featured sponsor PANDORA gifted celebrities with various pieces from their classic jewelry collection. To get a gift, celebs had to play a round of Plinko but everyone was a winner with categories that included rings, necklaces, earrings and bracelets.
On the fashion front, there was Neff head and eyewear, clothing and accessories from Desigual and fashion sneakers from Creative Recreation. Brahmin handed out handbags and wallets, in tobacco, teal or black woven luxe.
Gendarme gifted visitors with samplings from their classic fragrance collection, while Proper Pillow, created by chiropractor Dr. Rick Loos, gifted sleeping pillows specifically designed to promote alignment of the back, neck and spine.
For electronics lovers, Logitech gifted an array of products such the Ultrathin magnetic clip-on keyboard for the iPad air, the Hyperion Fury gaming mouse and the Bemo social camera.
DEBBIE DURKIN's 8TH ANNUAL ECOLUXE LOUNGE at the Beverly Hilton's Stardust Penthouse.
Goodies included five day stays at the all-inclusive Hard Rock Hotels at various locations in Mexico, posture shirts by AlignMed, Serengeti eyewear and beauty serum from Youth Eternal By Kellyann.
For pets, there was calming dog coats by The Rein Coat, Canine Caviar & Feline Caviar alkaline-based pet food and luxury pet beds from Baylee Nasco.
Cosmetic sponges company J. Andre gave out sponges and beauty wands to make product blending, highlighting and concealing easy and mess-free. The varied shapes and sizes offer precision and control, especially for hard-to-blend areas.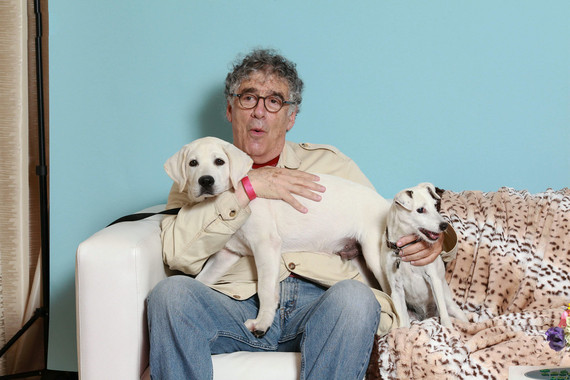 Ray Donovan's Elliot Gould with friends at Debbie Durkin's


JANEYEONI MOORE'S PRE-EMMY BOOM BOOM ROOM 2014 at the Beverly Hilton Hotel.
There were stylish and functional nursing wear by Udderly Hot Mama, baby blankets by Whimsical Charm and child locator/alert systems from Mommy I'm Here. Lexy Pexy gave out organic wooden baby teethers in the shape of sunglasses, croissants, boats and more.
Squlz gave out wristbands and hair accessories, while Baby sign language instructor Michaela Weilert from Lil' Hands Sign Language was on hand to educate and offer her services.
Monthly subscription gift box Posh Pak gave out sample boxes of their products for girls ranging from age five to teen. Items are age appropriate and can range from things like lip-gloss to funky flash drives to school supplies to jewelry to ear buds and more.
WOW CREATIONS LIFESTYLE GIFTING SUITE at the Luxe Hotel on Rodeo Dr.
Koreball handed out their collapsible and portable kettlebell workout system. Beantown Bedding gifted Laundry-free linens that are meant to be discarded after weeks of use, as they are completely biodegradable and compostable.
Other goodies included Radar Watches, body and bath products from Ranch Organics, jalepeno-infused jellies and relishes from HeatSweets and gourmet crackers from Cottage Kitchen.
Dana Feldman contributed to this report