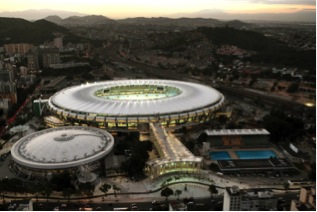 In the next five years, Brazil will host two of the biggest events in the world: the FIFA World Cup in 2014 and the Olympic Games in 2016, as well as the Paralympics. As the world prepares to turn its eyes to Brazil, we are hard at work preparing for what is ahead.
The Brazilian government is investing resources aimed at improvising training centers in 60 cities throughout the country that will host the international delegations. In addition, major investments are being made in stadiums in the 12 World Cup host cities through public-private partnership agreements. The goal is to spread the World Cup out so that as many local municipalities as possible can experience its benefits.
The World Cup and Olympics will have equally important sectoral impacts. In addition to investments related to sport infrastructure, the impacts of these big sporting events will be felt in other urban infrastructure and service sectors, such as public transport, urban mobility, airports, ports, hotels, telecommunications, energy, as well as safety and security.
Preparing for these international sporting events provides an opportunity for the development of the country in at least three important ways: improving infrastructure, enhancing public policies and generating business opportunities.
According to a survey commissioned by the Ministry of Sport, the 2014 FIFA World Cup alone will add around US$ 90 billion to Brazil's GDP by 2019, which represents an increase of 0.4% in GDP for the 2010-2019 period. It is estimated that the World Cup and Olympics will generate 3.6 million jobs in Brazil. There is a little over a year to go until the World Cup, but according to the Business Development and SME Support Services (SEBRAE), the mega event has already triggered over US$ 50 million in sales for start-ups and small businesses throughout the country.
The 12 FIFA World Cup stadiums were designed as multi-purpose grounds so that, in addition to football, they are able to host a variety of sport and cultural events.
An investment of US$ 3.7 billion is being made in the airports for the World Cup, allowing them to nearly double their capacity from 142 million passengers per year to 261 million by 2014. Investments in the order of US$ 6.2 billion are being made with the aim of improving public transport and urban mobility: monorail systems are being built, as well as Light Rail Vehicles (LRVs), Bus Rapid Transit systems (BRTs), replacing the old bus lanes, in addition to projects aimed at increasing the capacity of public roadways in the 12 World Cup host cities.
When the Brazilian government submitted their bid to host the 2014 FIFA World Cup and the 2016 Olympics in Rio de Janeiro, it looked beyond the immediate benefits that these events may bring. Above all, they thought of the legacy that will help drive the country's development, particularly the sports-related legacy.
A large number of Brazilians do not have access to sports; the number of high performance athletes is low, and there is a lack of diversity in the sports played in the country. Taking this into consideration, the Brazilian government developed a set of programs aimed at promoting the inclusion of sport, particularly among children and young people from society's most underserved population. Five thousand new sport courts will be built in public schools and another five thousand will be renovated to have roofs built over them. Three hundred sport centers will be built in the whole country, with priority given to poorer and more vulnerable areas.
Access to sports is critical for a healthy society, not only for the more obvious reason of public health, but also for their ability to promote social inclusion and mobility. In Brazil, the first modern day heroes from the poorest base of society were soccer players. Investing in sports provides a platform for talent, talent that might otherwise be overlooked, to shine.
The preparations for these mega-sporting events are intended to accelerate the rate in which sports access in Brazil becomes universal. However, we are aware that equipping the country with a modern infrastructure in all regions, particularly the poorest, is necessary, but not enough to ensure access to sport related activities to the whole population.
In order for this goal to be achieved fully, a wider reaching set of interventions needs to be developed, aimed at promoting, encouraging and enabling the practice of sports for the whole population. In turn, this implies in more than just building sport infrastructure, but also training public and community agents to promote and organize sport, turning it into a right of all citizens.
Photo courtesy Erica Ramalho/Rio de Janeiro Government
Calling all HuffPost superfans!
Sign up for membership to become a founding member and help shape HuffPost's next chapter