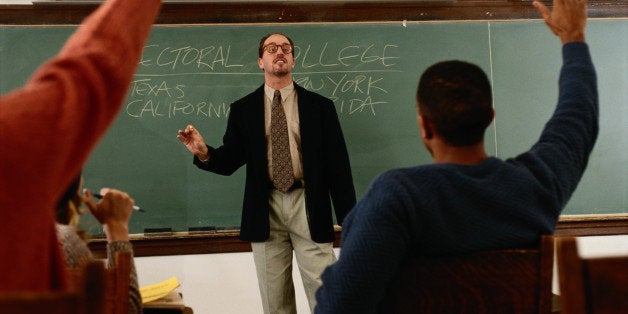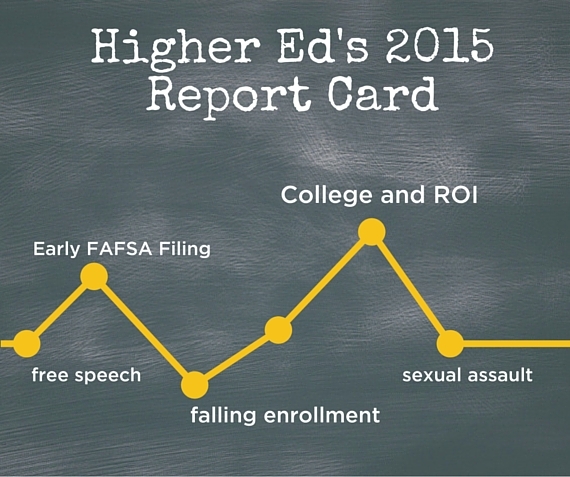 Every year we take stock of the state of higher education and find it markedly different than the year before. As we look back at the many ups and downs of 2015, we are grateful for some areas of progress and at the same time, cognizant of changes that need to occur in order to improve the higher ed landscape.
Here are my personal thoughts on the best -- and worst -- of the year that was:
College is Worth the Price
New data released this year reinforces the belief that despite the cost and many challenges faced by students today, a college education still delivers the best return on investment. A report by Georgetown University's Center on Education and the Workforce indicated that the difference in lifetime wages between a college graduate and a high school graduate is $1 million. While choice of school and major do make a difference, overall it pays to get a college degree in the long run.
Early FAFSA Filing
The Department of Education announced plans to remove a significant burden for low-income high school students who hope to continue their education by allowing them to use "prior-prior year" income data on the Free Application for Federal Student Aid (FAFSA). Currently, students cannot file their FAFSA until January 1st of the year they plan to attend college in the fall, and will not learn about their loan eligibility or Pell Grants until February or March, which means that they will not find out which schools they can afford until well after applications are due. The prior-prior year plan, slated to go into effect starting with the 2017-'18 school year, moves the FAFSA timeline up one year, enabling students and their families to take their time in researching which colleges they might reasonably be able to afford before application deadlines. This represents a fairly simple solution to a complex problem affecting so many.
Incomplete:

Free Speech on Campus
Both college administrators and students are to blame here. For some, academic freedom is only welcome if it fits their personal or political viewpoints. In the fall, a student at Hagerstown Community College in Maryland chose to sue her school when administrators denied her request to start a conservative club on campus. Earlier in the year students at Columbia called on the school to implement "trigger warnings" to alert them of potentially disturbing material from class curriculums, including those found in classic Greek mythology and Roman poetry. And now colleges are restricting protests to designated free speech zones on campuses, the clear implication being that you cannot speak your mind just anywhere.
It is time we remember that it is the responsibility of colleges to develop students' perspectives and expand their horizons. How is that possible if we limit opposing views or protect students from potentially troubling material?
Sexual Assault
The disturbing regularity of sexual assaults on college campuses entered the national consciousness at the tail end of 2014 when Rolling Stone published an article about an alleged rape that occurred at the University of Virginia and the school's disinterest in bringing the perpetrators to justice. Ultimately much of the story was found to be inaccurate, but subsequent reports trickled in demonstrating that sexual assaults happen routinely and college administrators too often turn a blind eye. As a response, 27 colleges participated in a survey by the Association of American Universities on campus sexual assault and misconduct. Several other schools opened their own investigations and updated their policies and procedures to address the issue.
Colleges, while striving to educate, sensitize and protect the campus community, must ensure that due process is followed. The release of The Hunting Ground, a recent documentary about campus rape, received criticism over its supposed inaccuracies. Obviously, colleges should be praised for finally addressing the problem, but they must find the proper balance between protecting the students and giving the accused individuals a legitimate opportunity to defend themselves.
Please See Me:

Falling Enrollment For Low-Income Students
On the subject of tuition, high sticker prices may be discouraging low income students from pursuing higher education. Data released this year showed that enrollment for the poorest students in the U.S. sustained a 10 percent drop, the largest in four decades. This drop may be due to several other factors beyond tuition, including the need for low income students to work while in school and the difficulty of securing employment while away at school. This situation might be remedied through an increased emphasis on commuter colleges and flexible programs.
The DOE Scorecard
In September, the President announced that the Department of Education will implement a Scorecard to rank colleges and provide potential students with the information they will need to find the school of their choice. This initiative is a great resource...in theory. In actuality, the Scorecard includes some outdated, often irrelevant numbers that may not truly reflect the quality of these institutions. For example, one of the Scorecard's measures of success is a student's earnings ten years after matriculating into a college program. But this fails to account for working students enrolled in part-time programs who may take six or seven years to earn their degrees, rather than the usual four. These students then have only three or four years to reach their ten-year Scorecard earning potential, whereas full time students have a full six years to reach this benchmark, thus skewing the data.
Now that I have shared my thoughts, I invite you to share your impressions of Higher Ed in 2015. What do you think?

Related
Popular in the Community