Gift lounges during the week leading up to the Golden Globes ceremony brought numerous vendors seeking to get their products into the hands of celebrities. Established brands like Pilot Pens, Pandora and Nautica stood alongside smaller, emerging brands such as Bright Baum and Canada Bliss. All vied for some one-on-one time from TV stars likes Viola Davis and Jeremy Piven and personalities like Amber Rose and Paris Hilton. Needless to say, a good time was had by all, with lots of mingling, picture taking and gift giving. Below is a sampling of what was offered:

Secret Room Events Style Lounge in Honor of the 2015 Golden Globe Awards at the SLS Hotel:
Fashion was big this year at the Secret Room. Designer Stella Carakasi had her collection of tops made with flowy, body hugging, eco-friendly fabrics that create a luxurious, elegant look. There were pull-on jeans by Golden Girls Clothing and fabulous faux-fur porcupine vests from Kathy Fielder. Heat Holders gifted their slipper socks, which keep feet warm longer than any other cotton or thermal sock. Moxie Jean gave out gift cards to its resale website featuring clothes for babies, kids and maternity wear. Visitors also received prepaid postage bags so they could send in their previously worn items for cash.
Skincare products included everything from the natural (Derma e) to the medical grade (Sente) to the customized (Ioma). Trinfinity8 gave out gift certificates for anti-aging facials at their spa, which uses quantum-based technology and algorithmic codes to rejuvenate the skin.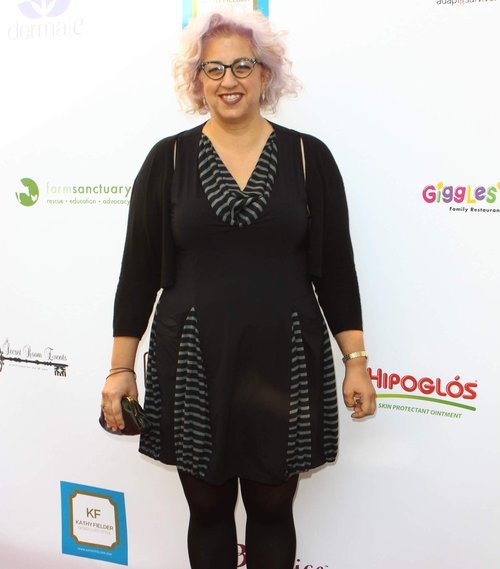 Orange Is the New Black show creator Jenji Kohan at the Secret Room
The suite also teamed with family restaurant and play space Giggles N' Hugs on the Bambi Baby Lounge featuring numerous products for the little ones and activities to keep them busy like face painting and animal-balloon making.
Big Slice products had to-go pouches of kettle-cooked apples for the ultimate tasty and nutritious snack. These ready-to-eat cooked apples come in a wide range of flavors including cinnamon French toast, cherry vanilla and peach Bellini.
Proceeds from the gift lounge benefited the Farm Sanctuary, which provides lifelong care for roughly 1,000 farm animals, and Hope for Paws, which rescues animals from desperate situations. The organization also films those missions and posts the heartbreaking and heartwarming videos online.
Celebs left with gift bags that included such goodies as earring and pendant sets from Zipsessory, lingerie from Farr West, handbags by Lola Blue and luxury flip-flops by Uzurii adorned with a variety of crystal gems, chains and other ornaments.
GBK and Pilot Pens Golden Globe Gift Lounge at the W Hollywood Hotel: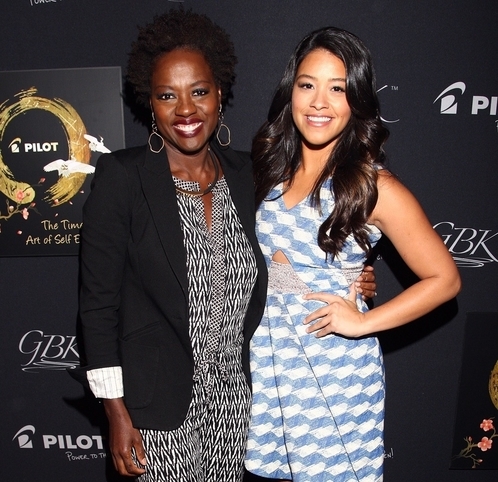 Golden Globe nominee Viola Davis and winner Gina Rodriguez at GBK
Presenting sponsor Pilot Pens gifted its gunmetal-grey Vanishing Point fountain pens with rhodium-plated 18K gold nibs along with leather notebooks and multicolored FriXion Clicker Erasable Gel Ink Pens.
There were women's leather bucket laptop totes and hybrid backpack-briefcase laptop bags by Solo. SHEEX gave out bedsheets and portable "Sleep Saxs" made out of performance athletic fabrics. Unlike regular cotton or silk sheets, SHEEX materials are moisture-wicking and temperature-controlled, with plenty of breathability and stretch.
Heather Marianna was handing out her Beauty Kitchen products such as lavender bath soaks and tropical smoothie skin polishers. Burke Williams day spa offered on-site massages, while gifting guests with day spa passes, products from their skincare and makeup lines, and gift certificates to try the new Advanced Eye Lift Treatment at its spa.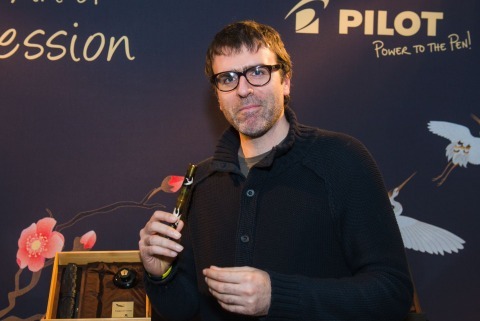 Birdman co-screenwriter and Golden Globe winner Nicolás Giacobone at GBK
Caribbean Living Magazine gave out five-day stays to Anguilla's CeBlue Villas & Beach Resort. The Puerto Vallarta Beach Club gifted three-night accommodations at its private beachfront enclave on the Mexican Riviera.
Online shopping club Beyond the Rack handed out $200 shopping credit cards to their site. Meanwhile, Canada Bliss had stylish newsboy knit caps, toques and slouchy beanies.
The charities that benefited from the event included Lambda Legal, which fights for the civil rights of gay, lesbian, bisexual, transgender and HIV-infected people; YES!, an organization that provides resources and support for those affected by advance cancer; and the World Vision Group, which had celebs put together Ebola caregiver kits complete with handwritten notes of support.
Golden Globe HBO Luxury Lounge at the Four Seasons Hotel in Beverly Hills:
Presenting sponsor Pandora had celebs play a round of Plinko that would determine which piece of Pandora jewelry they would "win" from categories that included rings, earring, bracelets and necklaces.
Nautica gifted waterproof rain breakers, and Big Buddha gave out stylish faux-leather handbags. There was fragrance by Gendarme and homeopathic medicine by Boiron. Montez Renault gifted grooming products for men, while DSW Designer Shoe Warehouse showcased their brand-name footwear including suede Nike hightops.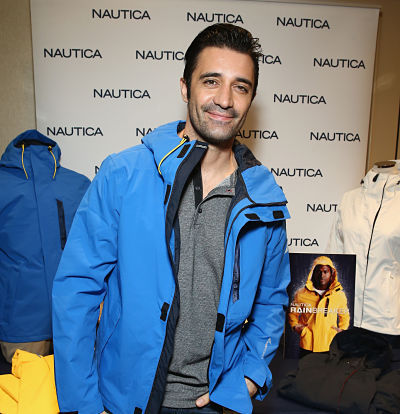 Gilles Marini tries on Nautica's rain breaker at the HBO Luxury Lounge
Kari Feinstein's Style Lounge Pre-Golden Globe Awards at the Andaz West Hollywood:
There were silk tops and scarves by VIDA, a San Francisco-based company that works with carefully selected artists from around the world to digitally scan their work and print it on fabric. The result is luxurious, modern pieces in limited designs. VIDA also provides livable wages and literacy programs for its factory workers in Pakistan so they avoid being trapped by the cycle of poverty and get empowered by education.
Bright Baum was giving out artificial LED trees perfect for home décor, landscape accenting or just to keep as very cool nightlights. These realistic-looking trees are handmade, hand-painted and constructed to withstand both indoor and outdoor elements. Bright Baum trees come in a variety of sizes, light colors and tree styles from bonsai and cherry blossoms to willow and maple.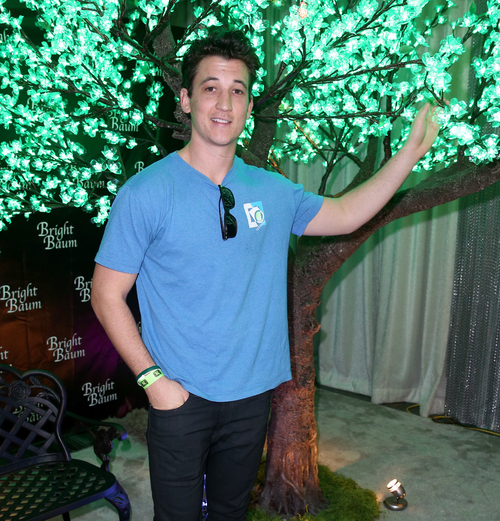 Whiplash and Divergent actor Miles Teller at Kari Feinstein's Style Lounge
Swish Suits had fitted wetsuits specifically designed for women's bodies. Now they can all look like sexy Bond girls! On top of that, Swish Suits are made from limestone, not fossil-fuel-derived neoprene, so they're eco-friendly as well. For non-scuba or non-surfing celebs, Swish also had colorful lightweight jackets and vests that are perfect for aquatic sports, yoga or working out.
Celebs also received the Alcohoot, a smartphone breathalyzer with police-grade accuracy so that you never have to wonder if you've had too much. The adjoining app helps track a user's long-term alcohol trends and consumption throughout an evening and offers nearby restaurants or taxis to help sober up and get home safely.
Jayneoni Presents the Boom Boom Room's Pre-Golden Globe Luxury Baby and Parenting Products Gifting Lounge at the Loews Hotel Hollywood:
Brilliant Baby Products had a slew of items including toys by German toy maker HABA (stacking cubes, magnetic puzzles), mini backpacks by Lassig and rolls of removable tape by Inroad Toys printed to look like roads or railway tracks for kids who love playing with toy trains and cars. There were also Melody Mates, light-up cushions with built-in plush toys and detachable blankets that play lullabies to help youngsters fall asleep.
Author Ylleya Fields was handing out copies of her award-winning Princess Cupcake Jones children's book series featuring too-rarely-seen African-American characters. Meanwhile, Adri & Sara gifted scarves and canvas bags inspired by author Miroslav Sasek's This Is... book series.
There was suede and leather baby moccasins by Freshly Picked and many unique clothing and accessories for babies, toddlers and moms by cool brands such as Wee Structed, Enjoy Essential and Loved by Hannah and Eli.
Posh Pak gave out samples of their subscription-based monthly gift boxes for young girls in three different age categories. Creator Shayna Hansen-Niksch partners with brands like Kate Spade and Band.do to curate age-appropriate items such as lip gloss, hair accessories and school supplies for tween girls.
The event benefited Los Angeles Foster Care Children.
Related