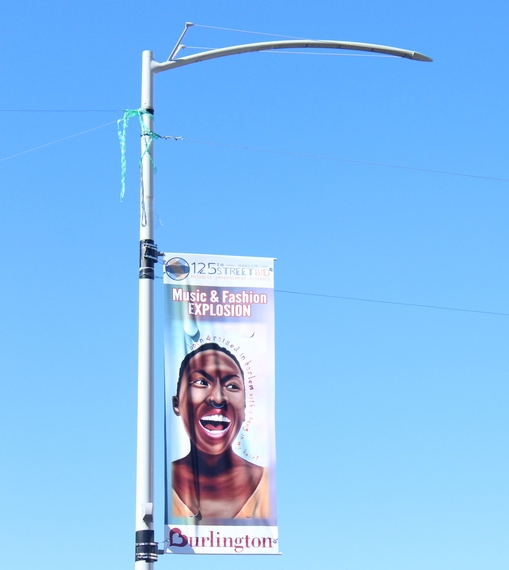 The 125th Street Business Improvement District announces the winners of its 2016 BID Banner Competition and is slated to unveil eleven new banner images created by local artists and placed on sixty-four NYC Department of Transportation's new LED street light poles, along 125th Street in Harlem. The announcement and unveiling of this unique street exhibition will take place on October 25th from 10:00 am to noon, at 261 West 125th Street in Harlem (next door to the Apollo Theater).
Invited guests include: Assemblyman Keith Wright, Borough President Gail Brewer, Councilwoman Inez Dickens, Councilmember Mark Levine, State Senator William Perkins and NYC Department of Transportation, Chief Operations Officer, Margaret Forgione.
The event will feature brief presentations by Assemblyman Keith Wright, who secured $556,000 of the $2 million in funding for the new lights, Representatives of the New York City Department of Transportation (DOT), Burlington (2016 Banner Project sponsor) and local art leaders. Additionally, audience members will hear comments from the banner contest winners who will be presented with award checks of $1,000 for each selected image.
The 2016 BID Banner Project features ten artists selected from a field of over forty local artists who submitted work to the competition. This year's theme, Music and Fashion Explosion, reflects the excitement and vitality of Harlem as vibrant and diverse community. A distinguished panel of judges reviewed the submissions and recommended the ten winning artists to the BID. The judges include: Ademola Olugebefola, artist; Paula Coleman, curator/gallerist; Jacob Tugendrajch, Museum of the City of New York; and, Jennifer Francis, Philadelphia Museum of Art.
Long supported by the 125th Street BID, the sixty-four sleek new LED lights on 125th Street will be the first installed in New York. "The installation of the City lights is another programmatic milestone for the 125th Street Business Improvement District as we pursue a prioritized streetscape improvement program to help enhance 125th Street's identity," said 125th Street BID President and CEO, Barbara Askins.
The BID Banner Project is a key aspect of the BID's efforts to highlight the important role that arts and culture plays in the life of Harlem and its centrality to economic health of 125th Street, Harlem's crossroads of commerce and culture. This year's project is sponsored by Burlington.
Artists selected for participation in this year's project are: Byron McCray, Ed Sherman Haile King Rubie, Lance Johnson, Laura Gadson, Omo Misha, Paul Deo, Stan Squirewell, Victoria Morales and Hubert Williams.
As data reveals that Harlem's famed 125th Street is emerging as a core destination in New York City. Harlem's unique history and cultural heritage along with major arts institutions are an important aspect of the area's attraction for the thousands of visitors and tourists that visit Harlem each year.
For twenty-three years the 125th Street BID has played an integral role in the development of the of the retail environment on 125th Street and in Harlem. In addition to providing clean and safe services, the BID has delivered marketing programs that promote the historic street to the Harlem community at large, to the city and to the national and international communities.
The BID will also offer highlights of their upcoming promotional activities including the 125th Street Holiday Lights event, "Harlem Light it UP!" and the tool for BID members, a new Harlem Happenings mobile APP that features up-to-date news and information on Harlem businesses, cultural activities and shopping opportunities.
Additional invitees include: BID board members, Members and officers of Community Boards 9 and 10; local business leaders, Leaders of Harlem cultural institutions, local artists and residents.
Copies of additional press material will be available on site.
Please RSVP by contacting the BID: officeadmin@125thstreetbid.com
Popular in the Community