2015 was a great year for CGI-filled films such as Jurassic World, The Avengers: Age Of Ultron and of course Star Wars: The Force Awakens. One would say "It's not possible to sneak in any more huge-budget films in one year." 2016 laughs. We haven't yet realized how crowded with blockbusters the next year is going to be. I would fear for the indies, but at least they have The Academy.
Here is a list I compiled with the most likely contenders to break the 2016 box office (domestically and internationally):
JANUARY
22nd: The 5th Wave
29th: Kung Fu Panda 3
FEBRUARY
12nd: Deadpool, Zoolander 2
26th: Gods Of Egypt
MARCH
18th: The Divergent Series: Allegiant
25th: Batman V Superman: Dawn Of Justice
APRIL
15th: The Junglebook
22nd: The Huntsman: Winter's War
MAY
6th: Captain America: Civil War
20th: Neighbors 2: Sorority Rising
27th: Alice Through The Looking Glass, X-Men: Apocalypse
JUNE
3rd: Teenage Mutant Ninja Turtles: Out Of The Shadows
10th: Warcraft, The Conjuring 2: The Enfield Poltergeist
17th: Finding Dory
24th: Independence Day: Resurgence
JULY
1st: The Legend Of Tarzan
15th: Ghostbusters
23rd: Star Trek Beyond
AUGUST
5th: Suicide Squad
SEPTEMBER
16th: Bridget Jones's Baby
OCTOBER
7th: The Girl On The Train
21st: Underworld 5
NOVEMBER
4th: Doctor Strange
18th: Fantastic Beasts And Where To Find Them
DECEMBER
16th: Rogue One: A Star Wars Story
21st: Assassin's Creed
In this list I focused on films with a great amount of budget. I can't possibly predict every movie that's going to become a blockbuster next year. With star-studded films like We Are Your Friends having one of the worst box office openings in history, I decided to only mention the safest picks of 2016.
I created a (gigantic) poster pinpointing these dates. You are not able to see it in full resolution here but if you click on it, you can check it out, save it or share it.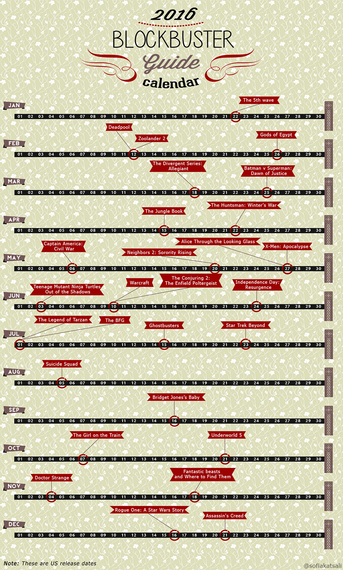 The poster doesn't include the long-anticipated animated films, Finding Dory and Kung Fu Panda 3 which are going to definitely crash the box office. I also skipped the upcoming Untitled Matt Damon/Bourne Sequel since it doesn't have an official title yet and the official US date has changed a couple of times.
With the movie ticket prices increasing at a steady rate and hitting a record high in 2015, 2016 is going to be a tough year for every faithful movie goer's wallet. I know it's going to be hard for mine. I've already sent my virtual goodbyes to a lot of Saturday night outs, new clothes and my emergency fund. But honestly, who cares. The freaking Marvel Civil War is coming.
Sofia Katsali is a Social Media & Online Community Manager, Co-Founder of the non-profit organization Echelon Donates & a Computer Science final-year student. She has been interviewed by MTV Act for her online charity work and has a great passion for all things digital, entertainment and design. You can find her in Linkedin where she occasionally shares her personal experiences.
Calling all HuffPost superfans!
Sign up for membership to become a founding member and help shape HuffPost's next chapter