From March through June 2016, the White House Office of Science and Technology Policy (OSTP) and the nonprofit Center for Open Data Enterprise ran a series of four Open Data Roundtables. These events brought together a total of 290 experts from inside and outside of government. Their challenge was to find ways to maximize the value and accessibility of open government data - publicly available data that anyone can use and republish for business, research, or the public good.
The Roundtables were designed to highlight best practices and case studies, explore innovative solutions to data challenges, and lead to new connections and partnerships. The participants in these Roundtables ranged from data scientists to climate scientists, lawyers to public-service advocates, corporate tech leaders to academics. Through the Roundtables, they heard talks from open data innovators and leaders including Megan Smith, the U.S. Chief Technology Officer, and DJ Patil, the U.S. Chief Data Scientist. We asked the participants to tackle some of the most difficult challenges and biggest opportunities for government data: privacy, data quality, sharing research data, and public-private collaboration.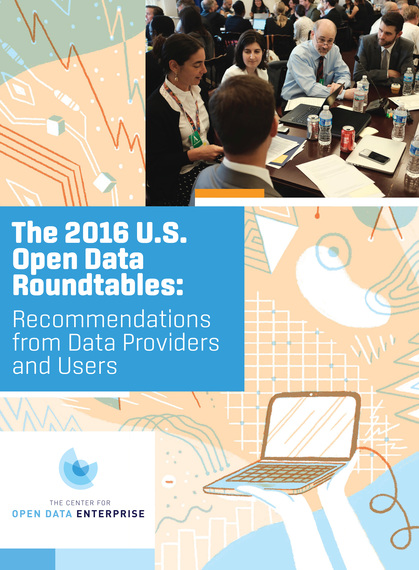 Today, we at the Center are pleased to publish the results in our report, The 2016 U.S. Open Data Roundtables: Recommendations from Data Providers and Users (read it here). This report represents the individual participants' recommendations as summarized by the Center for Open Data Enterprise. It also includes 21 case studies of ways that open government data is fueling scientific research, civic innovation, and advances in health, agriculture, energy efficiency, and other fields.
The report's first section includes recommendations that may be useful to a wide range of people working with open federal data. These include approaches to:
Data collection: Gathering data to serve a government agency's or organization's mission
Standardization: Developing common data definitions, formats, and metadata
Managing privacy: Ensuring that personally identifiable information in datasets is not released to the public
Data release: Publishing data in effective and appropriate ways
Quality improvement: Making datasets more accurate, complete, and usable
Curation, storage, and management: Managing datasets for maximum value
Communities and collaboration: Building user communities and collaborations between government, the private sector, nonprofits, and academia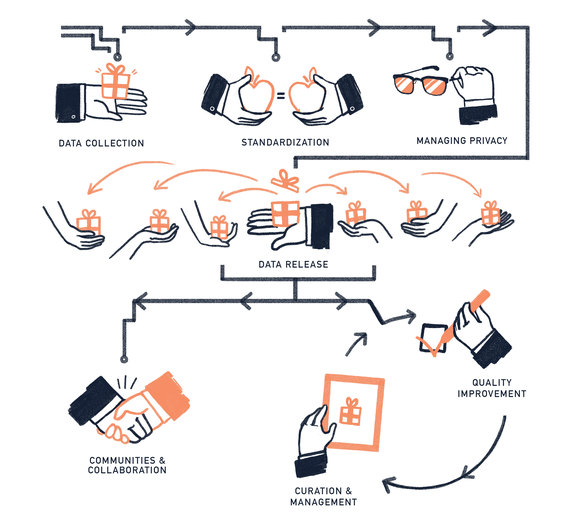 Its second section covers recommendations focused on specific research areas, including:
Arctic: Using satellite, energy, and biodiversity data to help make Arctic communities sustainable and resilient
Cancer and biomedical: Using data for cancer prevention, screening, diagnosis, and treatment
Climate: Using weather, geography, oceanography, agriculture data in climate science
Health: Exploring research data issues for patients, health care providers, academics
Infectious Disease: Using data to combat outbreaks
Materials Science: Using data to discover, manufacture, and deploy advanced materials more rapidly
Smart cities: Data-driven strategies to reduce energy use, combat traffic congestion, improve air and water quality
Oceans: Preserving and protecting oceans and preventing over-fishing
Soil and agriculture: Using data for precision agriculture, promoting nutrition, tackling hunger
Open government data has huge potential to fuel innovation and new discoveries in a wide range of fields. We encourage government agencies, businesses, nonprofits, and academics to join in improving government data resources and putting them to use.
The Center's work on the Open Data Roundtables was supported by Microsoft and Booz Allen Hamilton. To learn more about the Center, contact katherine@odenterprise.org. To download the Roundtables report, go to http://opendataenterprise.org/reports/2016opendataroundtables.pdf.

Related
Popular in the Community