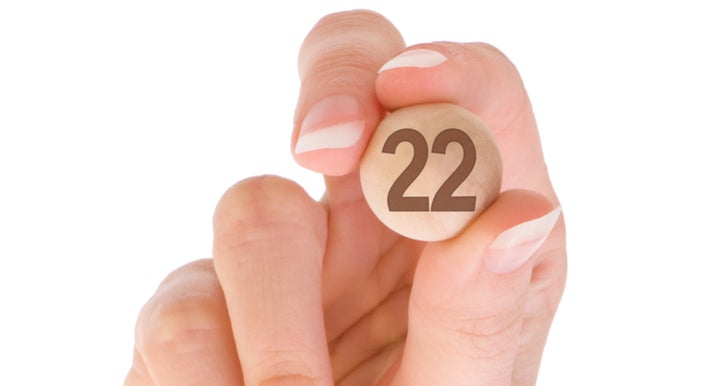 Pilates has the 100 and dieters have the Whole 30.
I created THE 22...22 things you can do during that weird time-suspension vortex (22 days)between mid-August and the end of Labor Day weekend.
The world gets strange and quiet during these days, although they could be the most critical time for building a strong 2018. Many people are "away"...interns return to school...recruiters aren't calling and companies aren't interviewing...social media activity gets erratic. Even the moon is eclipsing this year. So, what do you do?
As I was staring out at the empty pool in my building (which was abuzz with activity just 30 days ago), I compiled this list. You don't have to do all 22. Just pick one or two that speak to you. You'll be glad you did in September, when everyone gets back to "real life" and the pre-holiday/end-of-2017 frenzy begins.
Use this list as a handy-dandy business or life plan. Print it out (old school) and make notes. Or use a cool tool like Mindmeister as a roadmap.
Inventory. What do you have too much of in your business and life? What do you need?
Analyze. This is different from inventory. Study the math of your life What's producing results? What's not?
Purge. Literally and metaphorically. Get rid of toxic waste and cut ties with people and things that hold you back.
Invest. How much time, money, and energy can you spend on those things that will make you more successful and happier? Hire talent. Buy the right systems.
Automate. Embrace the Machine(R). Consider the time and effort you spend doing things manually and figure out ways to shortcut those tasks (without sacrificing quality). Commit to learning a new tech tool or machine language.
Save. What will you need money for in the future? Do you have enough? Work with an investment advisor or other smart person to help you get ready to live that life you dream about. (Thanks Nathan — the guy who makes me think about that stuff.)
Re-brand. I'm not just talking about your logo color and font. Look at your digital profile and make sure it reflects the genuine and accomplished person you are to the outside world. Streamline and upgrade your social sites. (I just re-invested in Sprout Social, my air traffic control system for social media.)
Register. Fall is the season for conferences (live and online). Sign up for one that will make you smarter and engage you with leaders and great people.
Join. Whether you want to be part of a Facebook or LinkedIn group, local business organization, non-profit, or co-working space like WeWork, having like-minded yet diverse people around you expands your perspective and network.
Travel. Been putting off that summer vacation? You can still find some truly amazing adventures and deals. Just pack a bag and get the hell out of town. If you have Wi-Fi, you can bleisure (combine business and leisure) anywhere.
Burn. I mean calories. Exercise is good for your brain and body. The winter holidays will be here before you know it and you'll be full of stuffing, so start your New Years resolution diet now. Some gyms, like Life Time even have a late August 60-day challenge. Want to know more about what exercise can do for you? Here are some more terrific articles.
Move. If you are tired of your home or office, get ready to make a change before the holidays. Touring on Zillow gets you into the right head space.
Feed. Enough with the BBQs and ice cream. Take advantage of late summer and fall farmers markets to eat healthier and cleaner. Here are some great facts about food and brain function.
Sleep. You know it's good for you. Figure out how to get more of it. Here are some tips.
Read. Subscribe to a new e-zine or bring a paperback to the beach. You'll be smarter for it.
Stock-up. End-of-summer is the rightt time to buy bathing suits and laptops.
Rock-out. Music is inspirational, uplifting, calming, and energizing. Start a new Spotify library, go to a concert, or just create a playlist in your head.
Give. Non-profits are always looking for volunteers and donations. What have you done lately for someone else? Mentor a young professional this fall or join a board or community group.
Forgive. We've all been screwed-over at some point. Personally and professionally. Now is a good time to let it go.
Love. Family, friends, and lovers often take second place for entrepreneurs and busy professionals. Find ways to let the important people in your life know that they matter to you.
Thank. We're often so busy that we don't show gratitude to the right people. Has someone done something good for you lately or during your lifetime? Tell him or her NOW!
Unplug. Screen time is essential. But life time (especially during these wonderful last days of summer) can be pretty amazing too. Recent research indicates that the digital generation may ultimately be the least happy generation. Stop reading, shut down your phone or computer for a few minutes, and think about doing something on this list!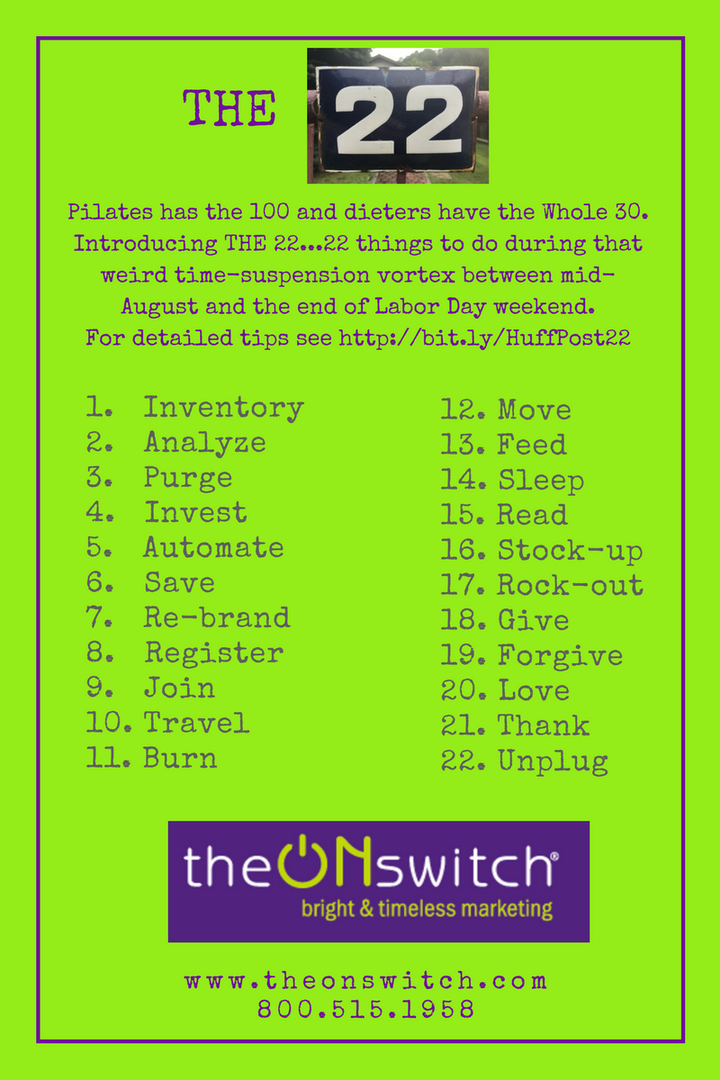 Related
Popular in the Community