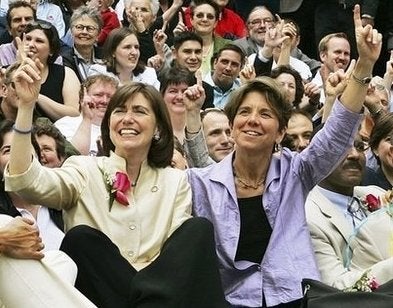 This morning, NPR carried a depressing story about the economic downturn and Atlantic City. Three casinos put up the money for a luxury express train from New York Penn Station to lure in new revenue--which they badly need.
Hotel layoffs are rampant. The economy and increased competition from neighboring states brought their gambling revenues down 7 percent last year. This takes a toll on New Jersey taxpayers since the state gets an 8 percent cut.
Anyone paying attention to Governor Jon Corzine knows what he's saying about the economy: it's "Priority #1, Priority #2, and Priority #3." He (along with nearly every other governor) is eagerly waiting for Washington to grow the federal deficit and inject money into the states ASAP.
Then why not enact marriage equality?
Go ahead and disregard that it's morally the right thing to do... Forget that the New Jersey Civil Union Review Commission said almost one whole year ago that the current law "creates a second-class status" for tax-paying citizens... Never mind that the word "marriage" matters in so many ways, legally and socially... You got it: economic recovery is the top priority.
So go get a marriage equality bill passed right now.
The reason? $248 million. Based on the economic impact to places with similar laws, the Williams Institute at UCLA projects that marriage equality would result in $248 million of direct spending in NJ over the course of 3 years. Resident couples and those from out of state would spend, spend, spend. Especially those from New York, whose wedded status would be recognized by their home state.
It seems like a no-brainer. We already know that civil unions don't work. What's the problem?
Politics, of course. New Jersey is one of the few states that holds off-year legislative elections, and even the most sympathetic legislators are worried about a backlash. But the thing is, they could say this every year... Oh wait, they do.
"He will sign a bill, but doesn't want to make it a presidential-election-year issue," Corzine's spokesperson said in February 2008, after the first NJ Civil Unions Review Commission report condemned the current system. When the commission's latest report was released in December, the Governor seemed to agree with its findings, "that civil unions may have widened that gap and fostered inequity by creating a separate class of relationships."
But... "While this administration is focused squarely on the economic crisis for the foreseeable future, it's clear that this issue of civil rights must be addressed sooner rather than later."
In other words, 'When the economy's taken care of (like that's happening any time soon), we'll get on it.'
But why can't it be a part of improving the economy? Call it 'The Equality Economy Act of 2009' or something of the sort. It's an honest title. While it would be a giant leap forward for so many New Jersey families, the majority of us who are straight will benefit from the $248 million in increased spending.
It's a great opportunity for New Jersey. This is essentially the same legislature that passed civil unions into law in late 2006. They can and should pass a marriage equality bill now. The economic dividends will be great, and so will the moral ones.
Calling all HuffPost superfans!
Sign up for membership to become a founding member and help shape HuffPost's next chapter