Co-authored by Jeff Himmelman and Kelsey Moty.
A cross-country road trip is on the bucket list of most Americans. While we have some incredible sights and landmarks across the country, half the fun of going on road trips these days is sharing the experience with friends and family!
While driving cross-country, recent UC Berkeley graduate Kelsey Moty took and posted photos on HelloWorld, a social app created at Y Combinator's hackathon earlier this month. The app allows you to keep in touch with friends through proximity-based status posts. Each post consists of a photo, status message, and your approximate location. Michael Carter, Ernestine Fu, Max Goodman, Jeff Himmelman, and David Li are on the hackathon team.
Moty drove from Stanford, California to Bethlehem, Pennsylvania while her friends followed the journey. They shared the suspense of having to call a tow truck when her car broke down in Ohio, to the triumph of finding one of the cheapest gas stations in the nation. Moty made her way through perilous storms and long days on the road before finally reaching the Keystone State.
Check out select photos and posts from the road trip below.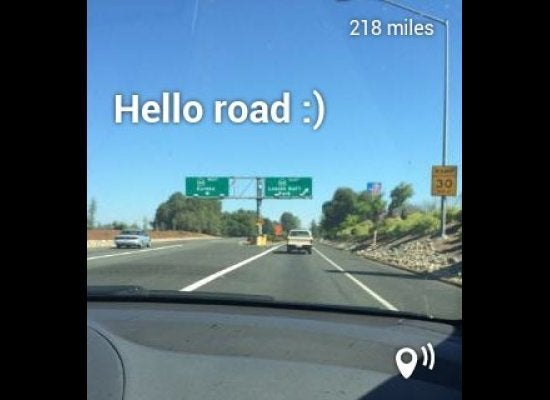 The 2490 Mile Cross-Country Road Trip with HelloWorld