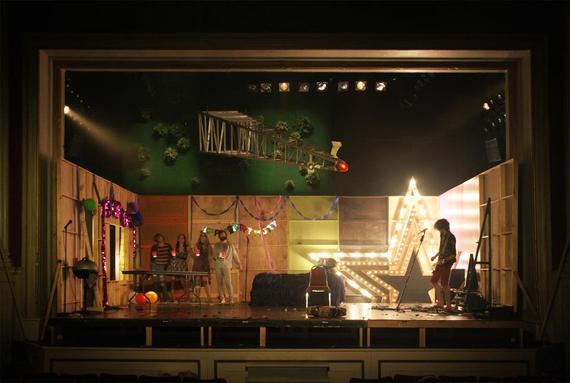 (photo: Matt Saunders)
Putting deceased rock stars onstage usually means a pasty musical wrapped in creepy facsimiles of dead celebrities. New Paradise Laboratory director Whit MacLaughlin avoids such pageantry substantively and even magically in '27' which just concluded its second run, this time at the Painted Bride Arts Center.
'27' refers to the age some heavyweight rockers flamed out, so his show puts forth the question whether they are on some separate cosmic trajectory, or part of the doomed alchemy of
superstardom. In MacLaughlin's scenario, it is a template for physical theater poetry and scalding cultural humor. From a list of some 45 artists and musicians who died young, MacLaughlin picked four of the most famous of the 27 club- Janis Joplin, Kurt Cobain, Amy Winehouse and Jim Morrison.
The show opens the show with a smoky cabaret version of the Doors Crystal Ship- Before you slip into unconsciousness/I'd like to have another kiss/Another flashing chance at bliss... In this context, morbidly beautiful lyrics as the Janis, Jim, Kurt and Amy are frozen in this time warp again. The fog rolls in; the radio tower upended and looming over the stage.in Matt Saunders' eerie, punched through another dimension set & sonic a rec room purgatory..
Slowly the stars animate, dashing around the stage amok, but with fluid choreography constructed from the stars' iconic physicality and personas. Kurt floats around in a stupor, burst forth in perilous vaults on and off tables. Amy clings to the petrify of the room, clawing at a microphone just out of reach, Janis jerks her upper body or freezes in her movements singing Ball and Chain. Jim's is poetic divo at all times, moving unctuously forward or tilting his head in poetic repose
MacLaughlin builds an accumulated lexicon to examine the absurdist lives of these very famous people, trapped in fragments of images of themselves. At times, they seem like buffoons, motifs on the absurd banality of their lives, but this is also a nihilistic meditation on their lost lives. Morrison stands in from of the mega-watt bulb lit Starhole into which they get sucked into.

In one of Morrison's more coherent moments, he muses on nudity onstage being cyclical, that he doesn't like gratuitous entertainment flesh in fact, but that artists should always have the right to bare all. Cobain talks about irritable bowel syndrome, Janis about needing a man, but also as a liberated manifesto and Amy claws around can't quite get any message out.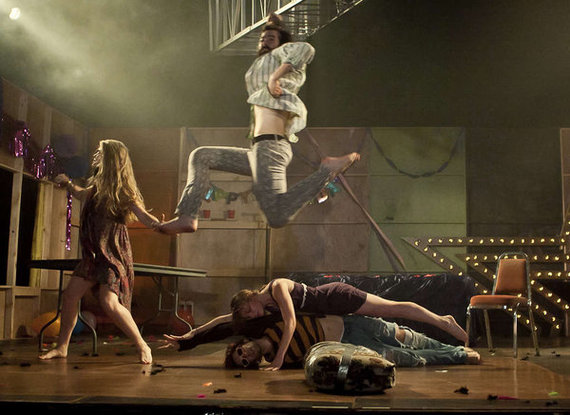 (photo: Matt Saunders)
Jimi drops in via the scorching guitar of singer/composer Alec MacLaughlin laces his original music for the show; make this among other things the best rock shows this town has seen in a long time. Much to his credit, MacLaughlin vocally has much to bring and doesn't indulge rock classics he performs with interpretive artistry.
Throughout, MacLaughlin speeds up or slows down the movement to keep everything dreamlike and perceptions off-kilter. Suddenly the victim of an auto accident, played by Emily Krause, maybe a eternal groupie, is initiated to the club to such drastic extent. (the one false note in '27') is her painful rendition of a Joplin classic.
Kevin Meehan gives Morrison his flat-footed, torso snaky gait that completely nails the aura. Matteo Scammell's Cobain is either comatose or flying into acrobatic leaps in expressing the singer's nihilism. Allison Caw's Joplin is always locked in the performance zone, hair flying, in epileptic performance moments. And Julia Frey, with her perfect bouffant and Cleopatra-eyed, druggy desperation, gives Winehouse a harrowing, cryptic physicality. The cast is moves with the precision of a dance troupe and 27 is exemplar of NPL's refinement in concepts of physical theater
www.newparadiselaboratories.org