Education is the highest correlating factor with income. Americans with a Master's Degree or higher earn twice as much (or more) than those with only a high school diploma.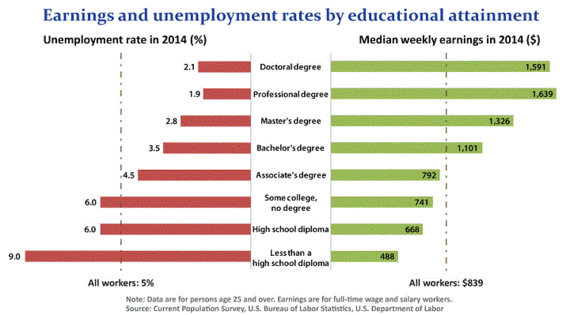 Perhaps even more importantly, if you have a diploma, chances are that you are employed. The unemployment rate among those with professional or doctoral degrees is 2%, while Americans with little or no college education are three times as likely to be unemployed. Businesses are having difficulty finding "skilled workers, especially in professional and business services and the IT sectors," according to the Federal Reserve.
So getting a college degree is pretty much a no-brainer - unless you emerge with quarter of a million dollars in debt, a degree in basket weaving and no hope of employment. The cost of getting an education is so high that, even though you have almost no hope of getting a good job without an education, there is a debate on whether or not college is worth the expense. There are many ways that you can cut costs, up your odds of getting into your first choice university and graduate with half of the debt of your peers.
Below are the 3 C's of Reducing Costs in College.
1. CoAbode.
2. Commute.
3. Community College.
And here are the details.
1. CoAbode. Rather than living in a single or shared dorm room, consider sharing a bigger place with a few room-mates. Not only will you pay less in rent, but you can reduce your food costs dramatically simply by having a kitchen and a refrigerator. There are many different kinds of co-housing options to consider.
• Your Parents. Can you convert the garage to allow for more privacy, or have an agreement with your parents to treat you more like an adult? Housing is one of the biggest expenses in life. Eliminating this bill for the duration of college amounts to tens (or hundreds) of thousands of dollars in savings.
• Your "People." Getting a place with "your people" means that you can start incubating your team. Facebook, Apple and many other successful businesses began in college with live/work teams of friends, operating out of a house.
• Your Tenants. If you (or your parents) have the resources to buy a home, quadruplex or small building, do the math and see if it makes sense to buy and rent out the rooms to other students. The rental income could be a low-maintenance, high-paying job, with the potential for capital gain on the value of the property, if you purchase at a good price. FYI: Housing has become unaffordable in many of the coastal regions, so you might be back to Option A: your parents, Option B: someone else's parents or Option D below, if you choose an area where renting or purchasing real estate is high.
• Au Pair. Are you willing to do your homework while eating snacks with someone else's kids? Working parents need childcare solutions, and students need free housing. Sounds like a win-win with the right family.
The Bottom Line: Getting creative on housing will reduce your costs dramatically.

2. Commute. Gasoline is one of the biggest expenses in the American budget. Live close enough to walk or bike to school, and save thousands a year at the pump.
3. Community College. There are multiple benefits to spending your first two years at community college, while completing your general education courses. Don't let pride or vanity prevent you from considering this smart move! I went to Santa Monica College for two years, earned a 4.0 GPA, qualified for grants and scholarships and graduated from the University of Southern California with less than 1/10 of the debt that most people do. See below for all of the ways that community college could pay off.
• Lower Cost. The costs of community college are typically a rounding error of universities. You could potentially get a Harvard diploma at half of the cost, simply by doing the first two years at a community college. Your degree will be from the 4-year university that you graduate from, not the college you started at.
• Better Options. Students entering universities as juniors have less competition than freshmen. Rather than settling for your 4th or 5th choice university as a freshman, you could potentially be admitted to the college of your dreams if you enter as a junior - particularly if you've excelled at the college level. I thought USC was out of reach, until I received their generous offer to attend!
• Smaller Classrooms. In many cases, the general educational classrooms at community colleges are smaller than at the university, offering better access to the professors, which should result in better grades.
• Great Professors. Many non-tenured university professors moonlight at the community college, where you'll learn in a more intimate setting and have direct access to the professor. Oftentimes your papers are graded by a Teacher's Assistant at the university, and the professor might never have any direct contact with your unique capabilities and qualities.
• Scholarships and Grants. The smaller classrooms, direct access to professors, extra academic support and honors' programs at community colleges offer extra support for you to excel, earn scholarships and gain admittance to great universities. Consider getting good grades your most important job. Take advantage of all of the personnel and resources at the community college to apply for all of the scholarships and grants that are available to you.
Getting smart about reducing your expenses in college is something that will pay off forever.
This blog post is part of the 'College 101' blog series, curated by the editors of HuffPost Financial Education to provide parents with the best advice for financing their children's college educations. To see all the other posts in the series, click here.
PHOTO GALLERY
Top 8 Financial Worries Of Americans
Calling all HuffPost superfans!
Sign up for membership to become a founding member and help shape HuffPost's next chapter