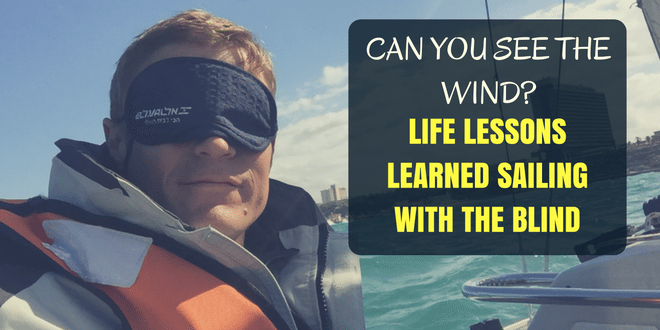 This article was first published on DaiManuel.com in December 2016.
"Can you see the wind?", our blind skipper asked us. Truthfully, I wasn't sure how to respond. I can certainly feel the wind, but see it?
While on a recent Vibe Israel trip to Tel Aviv, I had a unique experience that not only humbled me but in fact opened my eyes to a whole new perspective on life.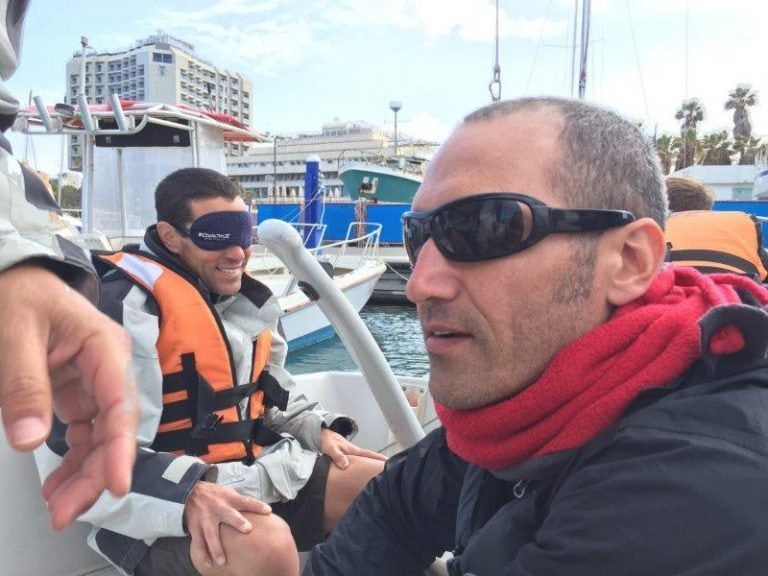 An Israeli non-profit called Etgarim, or "Challenges" in Hebrew, is the Israel Association for the Disabled. It was founded in 1995 by a group of disabled veterans of the Israel Defense Forces, disabled civilians, and senior rehabilitation professionals. Their focus is to help educate, inspire and empower those with various disabilities to participate in extreme sports such as sailing, cycling, rock climbing and beyond. Through their unique program, run entirely by volunteers, they aim to rehabilitate physically and mentally challenged and disadvantaged children, teenagers, and adults. And it doesn't stop there, a number of Etgarim's athletes have competed (and won!) at Paralympic events around the world.
A day on the water with my eyes wide shut… I've never seen things so clearly
My introduction to Etgarim involved a morning sail with the #VibeFitness team and a handful of blind and visually impaired sporting enthusiasts.
After our initial orientation and welcome remarks with the Etgarim team, we were promptly blindfolded and kitted up for a morning on the water. I placed my hand on my guide's shoulder and we commenced our walk from the clubhouse to our boat.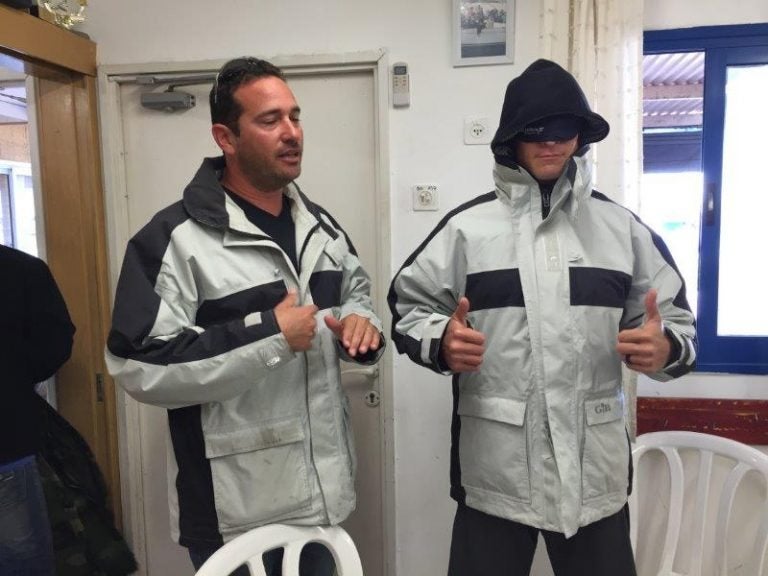 Distracted by my newfound blindness, I found myself second guessing every step, which only got worse as I became more aware of the growing lump in my stomach. Nerves were getting the better of me. It was challenging enough trying to situate myself in my surroundings while blindfolded, but to fully immerse in the experience, my guide led me part of the way without auditory or visual cues. My full trust was placed in my guide, and to signal him would involve me tapping or gripping his shoulder. Unbelievable right? And we hadn't even got in the boat yet.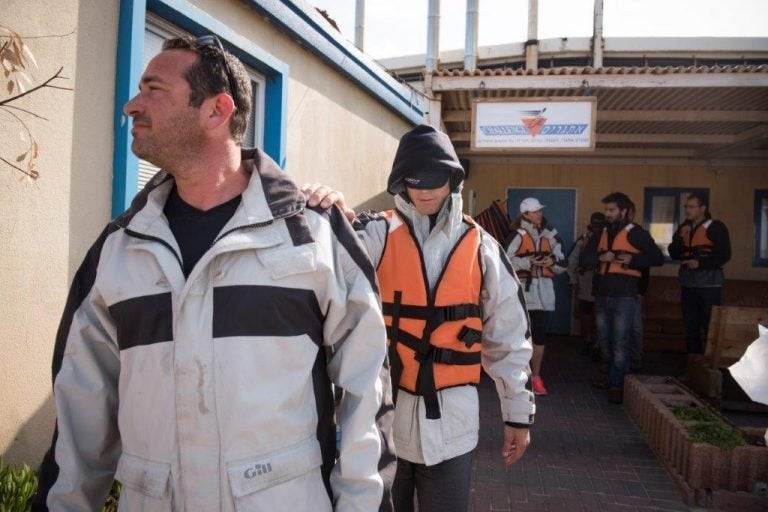 Once we made it down the dock, it was time to board the sailing boat. With a bit of trepidation, my guide directed me over the gap between boat and dock. Truth be told, I don't have sea legs and when you remove my ability to see, well, you can imagine how comical this experience actually was.
I envisioned myself tumbling into what must be a gaping chasm separating dock from the boat (in reality it was about 6 inches). My guide patiently helped me find my bearings as I plopped myself into the boat, guide handed me a line, and I was ready for the next phase of the adventure.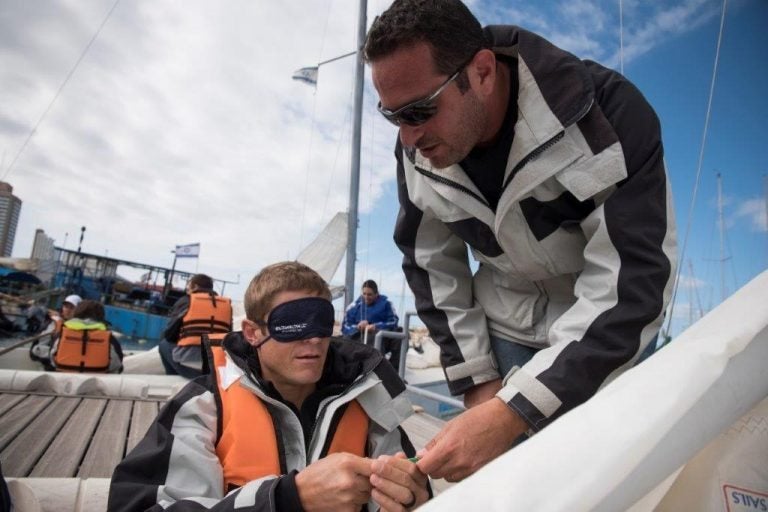 The sun was shining, winds were blowing and the waters were calm as we set off for a spin around the harbor. Admittedly, I found myself feeling 'off'. The boat was rocking, and we were picking up speed, and coupled with my inability to see where we were going, I found my other senses were being overloaded.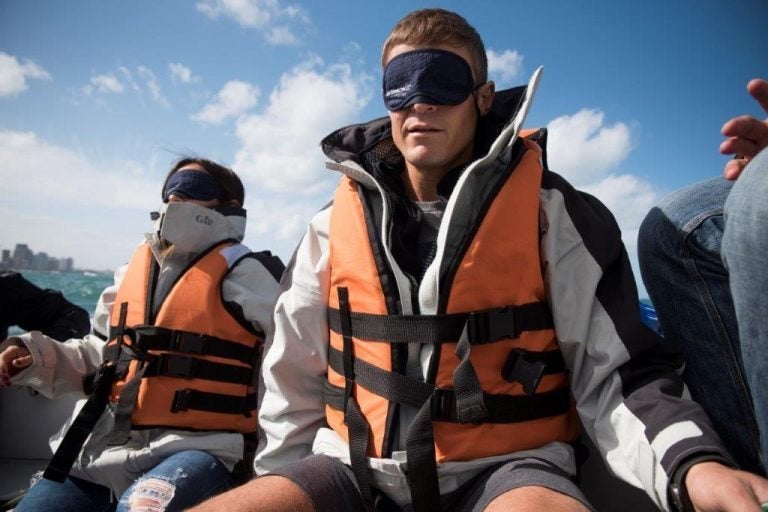 My stomach was churning more than the water beneath us. "Am I going to be sick?", I kept thinking to myself. I took a few deep breaths. For a moment, I retreated into my head, mindful of what I was experiencing. I was slowly finding my groove. I could feel my adrenaline spiking as my excitement grew…
OMG! We were blind and we were sailing. Holy mackerel, Bat-Man! (check out the short video below)
It was an epic once in a lifetime experience. And when I think back on it, here's…
The 3 Important Life Lessons Blind Sailors Helped Me to See
Life Lesson #1. When you're down, keep going! 
My first and most important take away were that no matter how bad it gets, it's in each of us to choose to keep going. Life has so many positive things to offer, no matter your situation, but when focused on the negative or things outside of our control, it can be hard to move on. Some of the sailors I met lost their sight in military combat, but they never lost their passion for life. To be honest, they see life more colorfully than most of us with 20/20 vision. We can learn a great deal from them.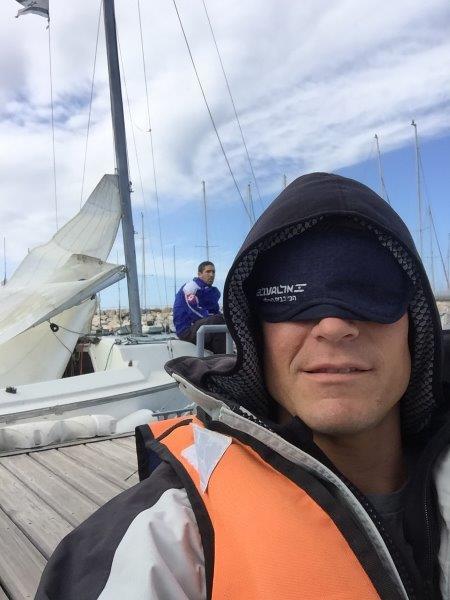 Life Lesson #2. You have other senses, so use them
Vision is arguably a human's most dominant sense, and having a morning without it was humbling. My other senses were on overload as I found myself better able to listen to instructions and take in the environment around me. I may not have been able to see the waves on the water or the dock below my feet, but through my touch, I had a new appreciation for everything. The wind on my face was sharp yet warm, reminding me of the openness on the water.  With my eyes covered, my other senses were truly heightened.
The blind sailors use their heightened sense of touch to their advantage. By feeling the breeze, they know exactly which way to turn to gain optimum speed. The ebb and flow of the water on the bow tells them how fast we are going and cues them of what's to come. It's really amazing how we take all of our senses for granted until one of them is lost. We can take a page out of the sailors' book and utilize our own senses to their full potential in everything that we do.
Life Lesson #3. Life is an adventure, so roll with it. What's your excuse?
A lot of you will be planning your new year resolutions for 2017. And like most years, about 90% of them will have fallen by the wayside by mid-Feb because of all the excuses (aka bad habits) that pop up. An interesting lesson I learned while sailing with blind sailors was that with a positive mindset and belief in your abilities, nothing is impossible. So the next time you plan to go for a run, but there's a slight drizzle outside, don't let a few drops of water stop you. Get up and go outside, man. Imagine you didn't have the ability to do so. Don't wait until tragedy strikes, seize the day and make it count, being grateful for all the great things that life provides us.
I'm truly humbled by my recent experience in Israel. Never in a million years would I have expected to experience sailing blindfolded in a sailboat skippered by a blind captain.
There's one thing for sure. The blind athletes I met that day see more clearly than a lot of people I know in my life. They taught me a lot about myself and my perspective on life in general. If I was asked, "Can you see the wind?" again, I know my answer now.
Yes. And it's a technicolor dream coat of awesome.
Life is beautiful, so don't you forget it.
For this tour we had five fantastic online influencers, from Spain, the U.S. and Canada, who of course were very high energy, inspiring people so we had an amazing week with them. We partnered with Jerusalem Municipality for the Jerusalem Marathon, then we spent a day at the Dead Sea chilling out and relaxing, and we ended the tour with a couple of days in Tel Aviv. It was awesome!
Calling all HuffPost superfans!
Sign up for membership to become a founding member and help shape HuffPost's next chapter
This post was published on the now-closed HuffPost Contributor platform. Contributors control their own work and posted freely to our site. If you need to flag this entry as abusive,
send us an email
.