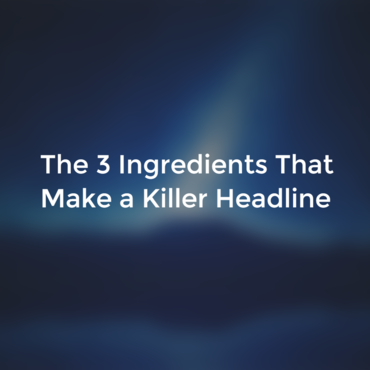 You write a lot of content and spend a great deal of time perfecting it, ensuring that it will be valuable and relevant to your readers. But how much time do you spend thinking about the headline?
According to Copyblogger, "On average, 8 out of 10 people will read headline copy, but only 2 out of 10 will read the rest. This is the secret to the power of your title, and is why it so highly determines the effectiveness of the entire piece." If you want to make sure people read your content, you need to craft that perfect headline.
In this article, I'll discuss three key ingredients for creating headlines that will entice your audience to read your content.
1. The Headline Has the "Curiosity Factor"
Your headline shouldn't be designed to completely give away what your content is about. Instead, it should offer readers a sneak peak, draw them in, and leave them wanting more. This is what I refer to as the "Curiosity Factor." One way to do this is by using the right adjectives. If your headline has a commonly used adjective in it, swap it out for an adjective that is under-used. QuickSprout discovered that click-throughs increased by 46 percent by changing just one word in a headline.
Here are some good adjectives to use in your headlines: tremendous, shocking, irresistible, outstanding, and remarkable. Try pairing an adjective with a phrase that entices people to read/ learn more. Check out these examples:
20 Irresistible Marketing Tips You Can't Live Without
How to Produce Remarkable Copywriting to Draw Readers In
12 Shocking Facts You Would Never Guess About Effective Copywriters
2. The Headline Has a Number in It
What I'm referring to here are numbered posts. They entice people because readers know they'll get a certain number of facts if they decide to read the content. Numbered posts also help ignite a curiosity and interest that other post types/ headlines don't often do. And keep in mind this interesting insight from Takipi: "The bigger the number in a post, the further it spreads."
3. The Headline is Tested
Upworthy, a website for viral content, puts a lot of effort into creating effective headlines and has built headline testing into their editorial process. One of the biggest keys to their success is that they continually test. In fact, they write 25 headlines for all of the content on their site and then determine which perform best. If you're new to testing, you can experiment with A/B tests, which is when you write two headlines and test them against one another. You can then choose the winner based on metrics like clicks and social media shares.
Headlines make a big difference when it comes to getting your audience to read your content. Don't hit "Publish" on that great post before thinking about your headline and making sure it, too, will be a success.
Calling all HuffPost superfans!
Sign up for membership to become a founding member and help shape HuffPost's next chapter