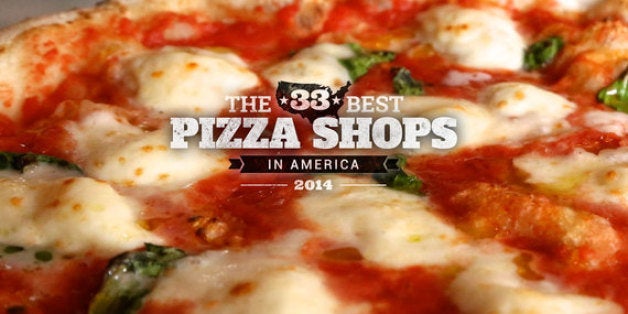 Pizza may have its roots in Italy, but by now it is intensely and utterly American. Aside from maybe hamburgers and BBQ, no other food in this country is so intensely regionalized, as evidenced by everything from the deep-dishes and pans of Chicago and Detroit, to the coal fire and clams in New Haven, to the inventive fresh ingredients topping Cali's wood-fired Neapolitan pies.
As this is our second year naming our 33 best, Liz and I scoured the country, talked to all of our editors, and happily ate so, so, so much pizza in an effort to give you a list that includes the greatest examples of our myriad regional styles, as well as the best overall pies in the country. So pull up a chair, put a napkin in your shirt, and enjoy this mozzarella, brick, Provel, and goat-covered slice of America's 33 best pizzas:
AL FORNO
Providence, RI
Pizza here is not the main course. It is an appetizer for your entrees, something to be eaten in moderate fashion. But that doesn't necessarily happen anymore. The inventors of grilled pizza (Chefs George Germon and Johanne Killeen) have been doing it for over 30 years, and, even though they make hundreds of pies a night, it's all done by the one grill guy, and they are delicious, which you'll realize as soon as you've gotten a taste of that maple charcoal-charred crust and the peppery oil-inflected mix of tomatoes and cheese. So, okay, maybe pizza is the main course.
ANTICO PIZZA NAPOLETANA
Atlanta, GA
The Neapolitan spot, the first to bring the style to Atlanta, turns 5 this month and returns for another year on our best of list. The dough is still tangy and crisp, cooked in a hot two-minute stint in the oven, where cheese melts into San Marzano-based sauce and fresh basil crisps happily. Grab the Pomodorini (cherry tomatoes, basil, bufala mozz, and garlic) for a twist on the simple style, or order the San Genero for a little bit more: the flavor combinations hit by the fatty, spicy sausage, sweet & spicy red peppers, mozzarella, and cipollini onions are a quick reminder of why you need to line up early for Antico before the pies run out.
BUDDY'S PIZZA
Detroit, MI
A holdover from last year's list, Buddy's has, since 1946, made that strange hybrid that is Detroit-style pizza -- using double-stretched dough cooked square in a pan to give it a caramelized crust, Wisconsin brick cheese, meats tucked under said cheese "to enhance flavor and prevent charring", and that "Red Top" flavor of a sweet tomato sauce poured over the top. Before I'd ever had one of these, I disdained this type of pizza. Spoke ill of it in public forums. But once I actually had it, things changed, and now -- if I'm staring at myself in the mirror when things are quiet -- I'd likely admit that it just might be my favorite style of pizza in the country. SHHHH. Don't tell California.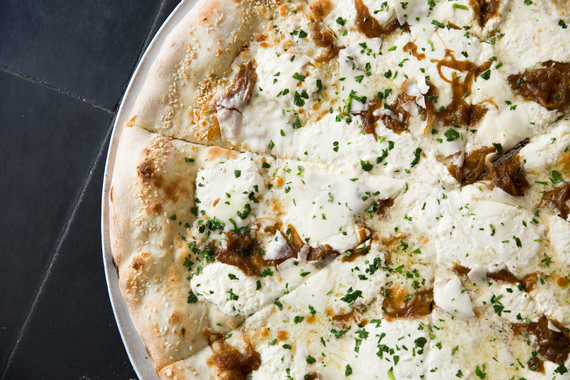 BEST PIZZA
Brooklyn, NY
The folks behind Brooklyn Star and Bushwick it-girl Roberta's took the maybe-not-intentional star of the latter's show and put it in a storefront that may be impossible to Google, but absolutely declares what Brooklyn pie-lovers will find: the Best Pizza. Pizza maestro Frank Pinello bought out the other BK folks two years ago, and continues to draw crowds who know to look for his sesame seed-studded thin-crust that announces the white pie, which buries tangy caramelized onions under gooey cheese. It'll change your idea of paper plate NY-style pizza, even if that was previously the highest honor you gave a slice joint.
BOCCE CLUB PIZZA
Buffalo, NY
Bocce Club looks like a basic, local pizza joint. And it is that, but it's also so much more, dipping its sauce-stained toes into the labels of mom & pop and local legends. Dino Paccioti, the current owner's dad, returned from his service as a court reporter for the Nuremberg Trials to work at what was clearly a Buffalo hotspot, Bocce Club -- a sandwich shop with bocce courts. He bought the club in '46, tinkered with a pizza oven he found in the basement, and created his Buffalo-style pizza with flavor-packed, fluffy dough that edges between thin and thick, a sweet, secret tomato sauce, and housemade mozz. Topped with thick rounds of pepperoni that happily pool bites of grease, Bocce's current pizza more than makes up for the lack of bocce courts we wish we could play on.
CANE ROSSO
Dallas, TX
At this three-location Dallas-area mainstay, pizzas cook in about one minute in a 900-degree oven. That might seem fast, but the pies are the result of an insane amount of prep. The chef -- Italian-trained by the Associazione Verace Pizza Napoletana - puts two days worth of love into dough batches, while the mozz is hand-pulled daily and layered over sauce that consists of fresh, manually crushed tomatoes. Thus, a simple Neapolitan Margherita is a thing of beauty, a lightly charred, chewy work of art days in the making. But if you want to really up your game, order up the Motorino, topped with locally made sausage, Calabrian chiles, and housemade burrata cheese. Regardless of what you get, make sure your dining partners get their own. Art like this is meant to be hoarded. Also, don't ask for ranch. Ever.