Talk about a production whose whole is greater than the sum of its parts. Directed by Ken Parks for the Norris Center for the Performing Arts, The 39 Steps adapted by Patrick Barlow and based on the novel by John Buchan and the eponymous movie by Alfred Hitchcock, presents an outlandishly funny and incredibly staged story of love and espionage.
Presented with a minimum of means, it's got the moment-by-moment wit of a Marx Brothers movie, the physical humor of the Three Stooges, and, if you can imagine it, the premise and atmosphere of a psychological thriller, the sort you find in, well, in Hitchcock films (the references to which are legion and clever). Though you admire each gag and each increasingly absurd development like individual jewels on a tiara, there's a coherent, structured story here, with a beginning, a middle, and an end. It's a spy story, it's a love story, both told against a backdrop of vaudeville. To his credit, Parks keeps the stories from getting submerged in the endless on-stage antics. In fact, it's miraculous how he manages to keep the whole production from spinning with centrifugal humor out of the theatre. Amazingly, it's done with but four actors and some unusually inventive staging, including a shadow puppet chase scene across a Scottish loch that features its resident monster.
Full of ennui, Richard Hannay (Jeffrey Cannata), has just returned to London. Craving some mindless entertainment, he decides, fatefully, to go to the theatre. A woman, Annabella (Karen Jean Olds), mysterious, alluring, and attractive in that 1930s foreign actress way, joins him in his box. She fires a gun to create the chaos (and cause the woman next me to shriek) that allows her to escape recognition from as-yet unseen foes. She tells Hannay that she's a spy, that other spies are about to ferret British military secrets out of the country. She spends the night (her European pronunciation of "haddock" as "hard dick," alas, gets him nowhere), he wakes up, and she's dead (a funny scene, considering).
Considered the prime suspect in Annabella's murder, he's on the run. On the run, he decides to conclude her unfinished business. To escape the coppers looking for him on the Edinburgh-bound train, he steals a kiss from Pamela (Olds) who becomes his inadvertent sidekick. Some near death experiences, some derring-do, and, faster than you can say Bob's your uncle, Britain's military secrets are safe. The story's resolution is more slapstick than noir; it ends up as a romantic comedy and it's fair to say that, with this production you'll never again look at film noir and romantic comedies the same.
The production abounds with slapstick that borders on magic and humor that melds seamlessly into hilarity. There's non-stop hustle and bustle. The stage feels busy, the scene changes are endless: there is one protagonist and a holy slew of 149 others. We're in a flat, a theatre, a train (and the roof of the train), a loch; we're on a bridge, on a hill (through the heather). There's endless movement (passage through doors and windows is especially notable). And there's a character that, in two different costumes (great sewing!), has a conversation with himself.
To quote the wartime Churchill, never was so much owed by so many to so few. Cannata and Olds were formidable in their roles as man and woman on the run, as was Olds in her other characters. Kenny Landmon and Louis Lotorto were staggering in their many, many characters.
For years, Parks was the driving force behind Long Beach's now defunct (boo, hiss) All American Melodrama Theatre & Music Hall. It's easy to see how the experience served him well here.
Performances are 8pm, Friday & Saturday, 2pm, Sunday. The show runs until February 9. Tickets are $40 adults, $25 children 12 and under. The Center is located at 27570 Norris Center Drive, Rolling Hills Estates, CA 90274. For more information call (310) 544-0403 or visit www.norriscenter.com.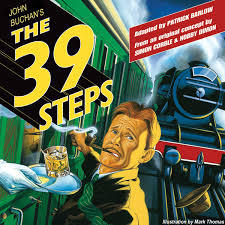 Related
Popular in the Community