This year's Atlanta Jazz Festival was held on Friday May 27th through Sunday May 29th at Atlanta's beautiful Piedmont Park and by all accounts it was another huge success. This is the 39th year for this auspicious festival which has become for many an annual rite of passage into summer season. The daunting job of obtaining sponsorship, coordinating artists, setting up stages and sound systems, managing the logistics of the site with all the vendors and patrons, maintaining order and sanitary facilities for so many people, not to mention the ever important task of getting lost children to their parents is no easy task and the Mayor Kasim Reed's team from the office of Cultural Affairs head by Camille Russell Love should be commended for making this year's Festival another success. The Atlanta Police Department should also be acknowledged for their unobtrusive presence that nevertheless made the event a safe, enjoyable and incident free experience that many families enjoyed well into the late evening hours.
The Festival itself was the culmination of a month long program of jazz oriented events around the city, at the clubs, in the parks and even bringing "live" entertainment to commuters with Marta Mondays at select Marta Stations.
I was unable to attend the Friday night concerts which featured the progressive group The Next Collective and the singer Joi. By all accounts those who went were not disappointed.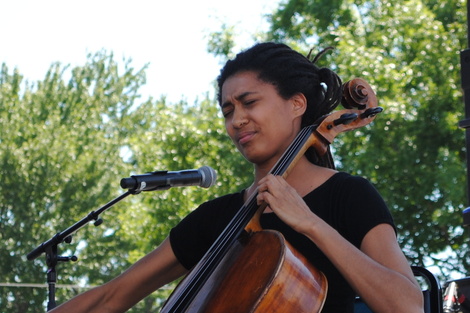 Cellist Tomeka Reid
I did attend Saturday and was able to catch Tomeka Reid's group on the main stage at 3 o'clock. The crowds were slowly building on this hot Atlanta afternoon, one that would reach into the nineties. Reid is a progressive jazz cellist from Chicago who is equally adept at chamber music, free jazz or as part of a large ensemble. Her band included the equally progressive Mary Halvorsen on electric guitar and effects, bassist Jason Roebke and drummer Thomas Fujiwara. Together they tackled a series of songs that were from a more progressive program that included generous use of pizzicato on both bass and cello, dissonance particularly on Halvorsen's guitar and angularity. The group operated as four almost totally independent entities, working loosely within an almost invisible framework, only coming together at certain critical junctures. Halvorsen's work was particularly out there with solos that bent and twisted the expected progression of the music in ways that were purposefully discordant. This music is not for everyone, but it was expertly played and challenges the norms that we sometimes come to expect in music. At its best this type of progressive jazz has the capacity to surprise and delight while at the same time disturb your sense of equanimity.

Guitarist Mary Halvorsen and Bassist Jason Roebke with Tomeka Reid's Group
Here is one of Tomeka Reid's Quartet more lyrical songs:
To the dismay of many jazz aficionados, between sets the main stage blared mostly dance and funk music that was sadly unrepresentative of the "jazz" genre that the festival is supposed to be touting. If the mixed crowd of music lovers is to be gently introduced to jazz at events like this, then the music played at intermission should be more representative of that music and the tradition. I know that there is a party atmosphere that draws many non-jazz loving people to events like these and I suspect it was thought that bringing a dance groove to the proceedings would encourage those who might otherwise be outside of their comfort zone.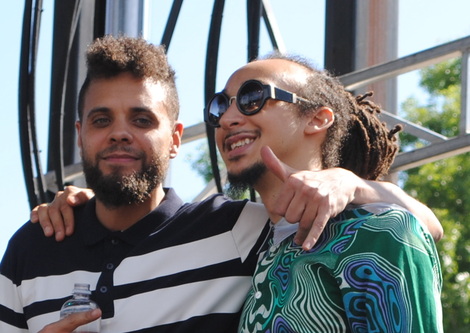 Drummer Kassa Overall and Trumpeter Theo Croker
The next set introduced trumpeter Theo Croker and his band "Dvrk Funk." Croker is the grandson of jazz trumpet legend Doc Cheatham, who played with Benny Goodman and Cab Calloway. The band is made up Croker on trumpet, saxophonist Anthony Ware, bassist Eric Wheeler, keyboardist Michael King and drummer Kassa Overall. Together these guys cook, with a tight front line that weave in serpentine precision and are backed by a powerful rhythm section that pushes the groove. There are multiple elements of the tradition present in Mr. Croker's music, funk, fusion, hard bop and pop all seem to amalgam through a fluid alchemy. His playing is inventive and facile and he has a joyful countenance that is accentuated by his cosmic glasses and his bundled hair. Songs carry monikers like "Raise Your Vibrations," "In Orbit" and "No Escape from You Bliss" which can give you an idea of where the music is headed. The crowd loved it.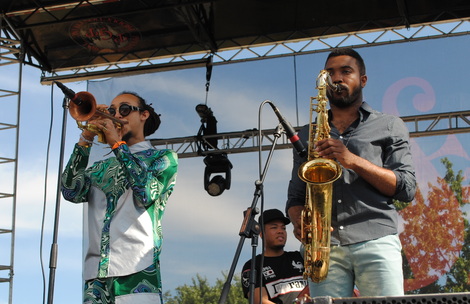 Theo Croker, Eric Wheeler and Anthony Ware on the Main Stage
Here is a sample from Croker's Escape Velocity
Sometime toward the end of Croker's set I took a walk, through the growing crowd and past the myriad of vendors, to catch what was happening at the International Stage. There, on stage, stood a diminutive Norwegian saxophonist performing with her trio. Johan Lindvall on piano and cellist Katrine Schiøtt were deep in concentration. As I approached from a distance I could barely make out the breathy sound of a deeply resonant tenor saxophone coming from the speakers flanking the stage. The saxophonist's full name is Mette Henriette Martadatter Rølvåg's, and she has an ancestry that descends from an indigenous Artic people known as the Sami in her native Norway; a place where for much of the winter daylight lasts but a few brief hours a day.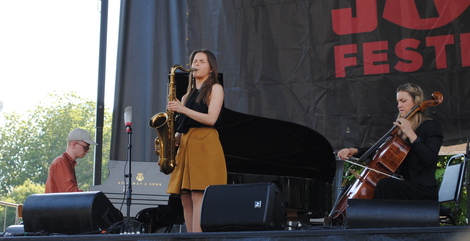 Johan Lindval, Mette Henriette and Katrine Schiøtt on the International Stage
From this cold, desolate landscape comes the warm, melancholic, deeply personal sound of Henriette. At once I felt an austere air, as the crowd immediately around the stage was clearly captivated by this woman's music. They were transfixed as pianist Lindvall and cellist Schiøtt softly played a chamber-like melody over which Henriette added her hovering saxophone sound. With her minimalist approach her delivery is much more about quality of sound than quantity of notes, and with such sparseness comes surprising emotional power. Much of her music sounds to me like the cool Scandinavian workings of saxophonists Jan Gabarek or the exploratory Euro sounds of English saxophonist John Surman. Despite her youth and petite size this woman astounds your senses with the depth of emotion she can elicit from her tenor, which looks almost like a baritone in her small hands. It was a surprising treat to hear this talented trio perform their calming, emotionally charged music before an appreciative crowd who were amazingly respectful and quiet throughout, and who gave the group a standing ovation at the conclusion of their set.
Here is a sample of her haunting music:
After Henriette's set the stage was quickly transformed to accommodate one of the highlights of this year's festival line up a group led by firebrand trumpet player /percussionist Etienne Charles.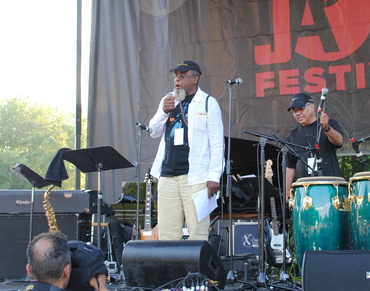 WRPG's Ralph Rice and James Ellison introduce Etienne Charles to the crowd at the International Stage at the Atlanta Jazz Festival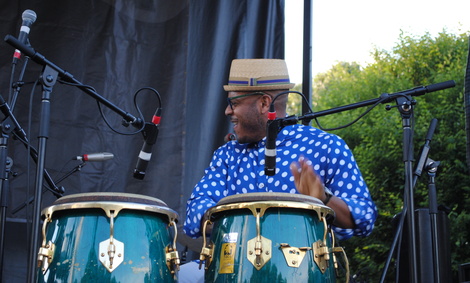 Etienne Charles Etienne Charles is a young jazz trumpeter player/bandleader who hails from his native Trinidad and brings with him a vibrant Creole based sound that infuses into it hard bop jazz/funk/reggae/calypso and soul groove elements, an approach that has garnered him and his music widespread appeal. After being educated in jazz programs at Florida State and at Julliard, Charles has released a series of three albums that have established him as an up and coming voice on the scene. Charles is an amiable character who has a big broad smile and a friendly demeanor. Besides being a leader and composer he is a multi-instrumentalist that can play trumpet, congas and percussion as well as steel drums and guitar.
Charles brought a powerhouse band to the International stage for his afternoon performance at the Festival. Charles played trumpet and percussion. Often jumping from one instrument to the other in the middle of a song. His trumpet was joined on the front line by Atlanta's own alto saxophonist Brian Hogans, a regular in Joe Gransden's big band, among other local groups. The rhythm section included guitarist Alex Waits, keyboardist Victor Gould, drummer John Davis and bass superstar Ben Williams. Together these guys kept a sustained pulsing groove that had the audience rocking. His selections included songs with titles like "Limon" a reference to a favored town in Costa Rica, and featuring a brilliant bass solo by Ben Williams. "Speed City" a song that was based on the travails of the San Jose Track Team and Bob Marley's classic "Turn Your Lights Down Low." Charles and Hogans meshed their two horns effectively and when each soloed they brought an acute sense of emotion to the song.
Here is some insight into the making of Etienne Charles' music:
After baking in the hot 'Lanta sun for most of the afternoon I called it day. By that time it was about 8:30pm and I could hear drummer /vocalist Jamison Ross was performing on the main stage to be followed by the Hypnotic Brass Ensemble. People were still pouring into the festival to catch these final acts for Saturday night.
One thing is for sure, if you plan to attend this festival you have to carefully choose what venues you want to see as there is such much music being performed on three stages that it is virtually impossible to be see everything.
Having spent the better part of Saturday in the scorching Hot "Lanta sun I decided to pace myself and just catch two of the later shows on Sunday. I unfortunately missed some promising artists like Joe Alterman, Assaf Kehati Tumi Morgorosi and Chandra Currelly. I also wound up forgoing the chance to catch Brazilian Eliane Elias' fine Quartet in favor of catching the venerable Benny Golson and left before the final act of soul/jazz singer Gregory Porter who by all accounts was a crowd pleaser.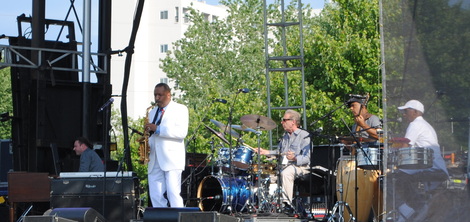 The Headhunters Jerry Z, Donald Harrison Jr. Mike Clark, Donald Severin & Bill Summers
My Sunday started with the fabulous Headhunters on the main stage. This is a group formed by drummer extraordinaire Mike Clark and percussionist Bill Summers, two veterans of Herbie Hancock's jazz fusion group from the seventies. Together these guys have been touring the country performing some of Hancock's period music to wildly enthusiastic crowds. Drummer Clark is the epitome of cool and hipness and is credited as being the most sampled drummer around. Besides his work with Hancock, Mike has performed with a veritable who's who in the world of jazz, funk and jazz fusion.

Headhunters Drummer and co-founder Mike Clark
Co-leader Summers introduced himself and the band members to the anxious audience and promised the crowd a funky good time. Set into motion by Clark's sticks the band erupted with non-stop powerhouse jazz funk. Bassist Severin held down the funky bottom as Clark, Summers and Z propelled the rhythmic drive. The lone horn of Donald Harrison Jr. provided more than enough saxophone sass to take the unit to another level. Harrison is a New Orlean's based saxophonist hwo has a powerful and fluid sound and can make his horn sing. This group cooked and it was obvious that they both enjoyed playing with each other and for the crowd. The music was tight, rhythmic and at times gymnastic but the groove was always present even when they went off into exploratory improvisational mode with Harrison, Severin or Z. They did Hancock classics including "Sly," "Watermellon Man" and they ended the extended set with "Chameleon"
Here is a video of the Headhunters performing Herbie Hancock's "Watermellon Man"
After the Headhunters stirred up the crowd the stage started to be set up for the legend saxophonist Benny Golson. Golson epitomizes the great jazz tradition. At eighty-seven years old the master tenor player was in amazingly fine physical condition, dapperly dressed and could still tell a good story and play a mighty saxophone solo. The early night was plagued by a sound system that seemed unbalanced at times and like a true professional Golson was having none of it. He spoke on mic to the sound crew trying to get the persistent hum from his mics. Eventually the system was corrected and Golson started his set. His band included bassist Cochran Holt, and a pianist and drummer who I did not know. Golson is from Philadelphia and is known for his fine compositions, some of which have become jazz standards including "Whisper Not," "Stablemates," "Killer Joe" and "I Remember Clifford." On this evening he performed "Whisper Not" a slow sensuous ballad with his deep mellow tenor sound, which also featured a nice solo by bassist Holt. Like any true entertainer, Golson knows how to tell a story and with him the stories usually revolve around the history of jazz. He spoke of realizing a dream, getting to work with Dizzy Gillespie a one-time idol. His association with Clifford Brown and his recollection of the trumpeter's tragic death in a car accident, an event that inspired his writing "I Remember Clifford," which he also played on this evenings program. He retold how the song was supposed to be debuted by Gillespie but was first recorded by another great trumpeter Lee Morgan.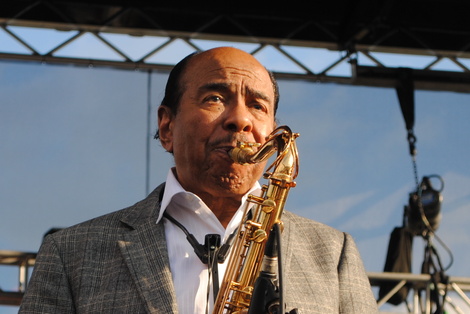 Benny Golson
It is moments like these that make a performance by Golson and artists of his generation such a special event and the Atlanta Jazz Festival should be commended for giving these legends an opportunity to perform once again on the big stage. His stories are like an oral history and should be relished. His playing was clean and emotive and although not as robust as he once was, Golson showed the crowd enormous energy and enthusiasm. The vital Golson will be continuing to tour this year with dates in Europe for most of the summer season.
Here is video of Golson and group from the festival:
Calling all HuffPost superfans!
Sign up for membership to become a founding member and help shape HuffPost's next chapter