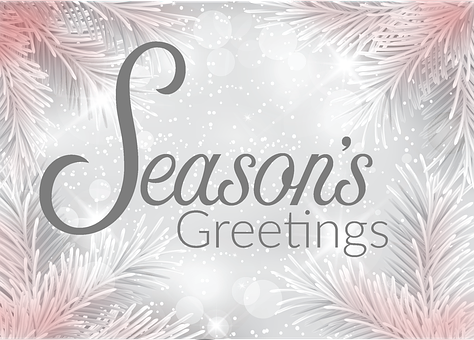 The holiday season, a time of great joy, can also be a season of stress and even grief. There is a rush of excitement in the air and an unmistakable energy. Taking good care of yourself is essential as the next few weeks can quickly become a blur. The 4 C's of Mindfulness™ serve as a roadmap to effectively navigate the holidays. Increase your happiness and reduce your stress!
Breathe. Take 3 slow, deep belly breaths throughout your day. Deep breathing is a skillful response to the swirl of activity and the emotional climate of the season. Regardless of stressful conditions, breathing is always an option. How? Simply inhale slowly through your nose, filling up your belly and then chest. Exhale slowly through either your nose or mouth allowing your belly to gently squeeze toward your spine. Just a few rounds of unhurried, full belly breathing relieves stress and quickly re-centers you.
To become calm, we must practice being calm. This is why we call it "mindfulness training." Mindfulness practices and principles serve as a reliable path to that state. Taking time-outs or "sacred pauses" throughout the day enables us to moderate the level of stress we are experiencing. You might consider a brief walk, sitting in nature, a short meditation, a few yoga poses, or maybe relaxing with a cup of tea.
So, amid the lights, music, expectations, gatherings and emotions, a state of calm can be steadily cultivated in simple, reliable ways. Your mind-body will thank you!
This is the season for compassion, right? And yet, we may not be feeling so compassionate due to the pressures and stress of the holidays. Thanksgiving through the new year brings to mind the idea and practice of gratitude but compassion may not get the same kind of notoriety. And, if we are already our own worse critics, that critical voice can grow louder during this challenging time of year. As emotions become magnified, the softening effect of compassion is required.
We begin with ourselves. While it may go against the grain of what we have learned along the way, starting with self is necessary. In a plane, you must place the oxygen mask on yourself first before you can effectively help others. In the same way, self-care, self-honor and self-compassion allow us to be our best selves. Then we are better able to assist other people. You can't pour from an empty cup.
Compassion is at the heart of mindfulness and it is a vital ally during the holidays. At times, this may mean saying yes to yourself and no to others as a kindness to yourself. Having healthy boundaries is practicing compassion. It really is okay to release the pressure of expectations from ourselves and others. You deserve to enjoy this time of year without too much drama. Where can you soften in your self-talk, be kinder to yourself? How can you be more compassionate with yourself and others this holiday season?
Unsure about going to that holiday party? Uncertain about how long to attend the family gathering or how many presents to buy? Our best suggestion in order to gain clarity: Stop. Slowing down long enough to meditate, sit back or simply breathe can go a long way in getting clear about next steps. That wise, inner voice cannot be heard very well while we are in motion.
Remember the last time you gave into an impulse to call someone, fire off an email or say something while you were upset? Unskillful behavior leads to unskillful results. Practicing mindfulness causes a literal shift in the brain and nervous system which then creates space between stimulus and response. We move from habitual, reactionary patterns to skillful responding, and this is where our power lies..
Another vehicle to clarity is sleep. Getting adequate sleep is a way to obtain clearer thinking. Sleep not only bolsters our health but additionally allows our brains to recharge. When that happens, our minds refresh which leads to more clarity about wise next steps.
Exercise is a tried-and-true tool for "clearing out the cobwebs." Ever notice not only how your body responds to exercise but your mind as well? Inserting regular exercise into your day can improve your mental state.
How can you decelerate even during the holidays? How can you create more healthful habits for greater clarity and wisdom?
Today is indeed a new day! Each day is like a blank slate, filled with possibilities and our ability to choose. The choices we make today, internally and externally, will put us where we will be next year. Make choices that are aligned with your highest and greatest good. Invest in your well-being.
Whether it's family drama, old grief or conditioned reactions to the season, we can shift in an instant. Our primary teacher, Thich Nhat Hanh speaks to this when he says, ""Mindfulness is like that—it is the miracle which can call back in a flash our dispersed mind and restore it to wholeness so that we can live each minute of life."
In this minute, in this very moment, we have the power to choose. You can alter relationships, a way of thinking about yourself, or an unhealthy habit. You can choose to release something that is no longer serving you. Freedom can be accessed at any moment by a decision to let go of something that is no longer connected to your highest and greatest good. What might you need to release today to realize your full potential? Invest in being your best self, and enjoy a happy, healthy holiday season this year!
Invite us to bring Mindfulness & Stress Management to your next conference or into your organization! We have many formats and approaches for every client – keynote speaking, workshops, programs, and individual and team mindfulness coaching. Contact us at solutions@pathtobestself.com to schedule an initial consultation. Learn about our full range of services. Download your free mindfulness meditation. Listen to us being interviewed on Newstalk 1160 AM Radio here on "Mindfulness in the Workplace":
Popular in the Community