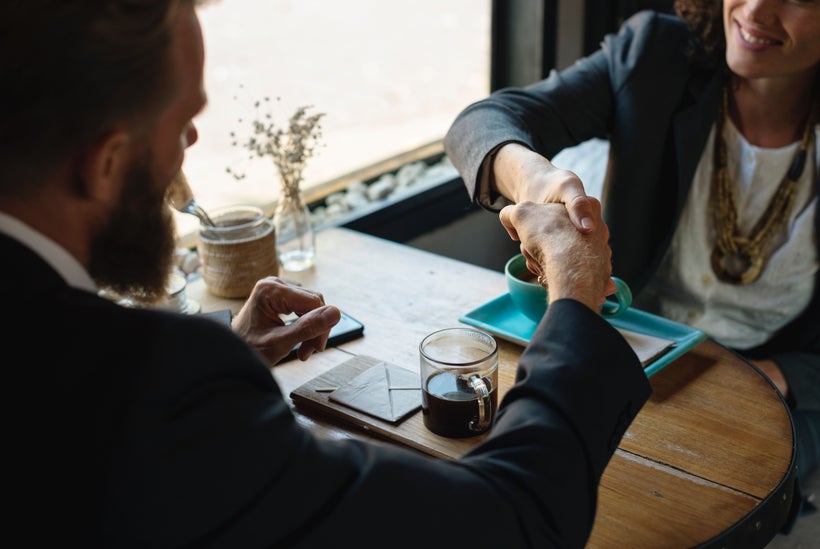 When I read in The Guinness Book of World Records that the youngest book author was six, I cried.
I couldn't set the record.
My mom consoled me, telling me that the girl probably had parents with great connections in the publishing world.
Eventually I was able to get over being upset. But I never got over wanting to write a book.
Accountability Lesson #1: Make the Agreement
One day, when I was in my late 30s, I was staying with my friend Mel in London. We were having the conversation that wanna-be book authors always have—about how we wanted to write novels.
She asked me something, ahem: novel: why didn't we become one another's accountability partners?
Accountability partners? Whaaa?
We could, she said in her charming British accent, send one another 500 words every week of the books we always said we'd write. We wouldn't, she explained, read each other's work. We both had too much to read already. We would just know that someone was expecting our work and so we'd actually do what we'd long said we would.
She pushed me to come up with a book idea. I had a vague concept for a novel so I sketched out the official idea from her kitchen table: a girl who'd always been a wild and crazy party girl gets a job documenting her wild and crazy life once she's sober and so she has to create a persona based on who she used to be.
It was a story I knew well: a few years earlier, at two months of sobriety, I'd gotten hired to do a column called "Party Girl" for Premiere magazine.
I tucked that idea away and went home.
Accountability Lesson #2: Follow Through
Mel did something shocking the following week (at least to someone who lives in LA, aka The Land of The Flakes): she sent me her 500 words.
God damn it, this Brit was serious!
Because I didn't want her to know I'd doubted her, I quickly tossed off 500 words of that novel I'd sketched out from her kitchen table.
Tucked that away. Went about my business.
And then—again to my shock—I received her second set of 500 words in my inbox the following Sunday. She'd been serious twice!
God damn it. Out came my next 500 words.
By then, I'd gotten the message: we were really doing this. Over the next few weeks, accustomed to the routine now, I wrote and then sent her my 500 words.
Suddenly I had 2000 words. Of my book. Even though I'd tried writing books before, this somehow felt different. I had an idea. I had a plan.
Turns out that was all I needed.
About eight months later, my agent sold that novel, Party Girl—the first 2000 words exactly as I'd penned them during those panicked first few weeks—to my first choice publisher, Judith Regan. She was then the doyenne of the publishing industry, a woman who had her own imprint at HarperCollins.
It was the f-ing accountability factor that did it.
Accountability Lesson #3: Become Accountable to Yourself
The Cinderella part of my story did hit midnight eventually—Judith Regan was fired in the biggest scandal to hit publishing before my release date and Party Girl was released under a fake imprint Harper made up, which seriously impacted the sales. Still, in the ensuing years, I've been lucky enough to publish five more books, three of the them with Harper and one with Simon & Schuster. One of them became a New York Times bestseller.
I've also been lucky enough to publish hundreds of articles, in places like The New York Times, Time, Playboy, Cosmo, Vanity Fair, Women's Health, Esquire and Marie Claire.
But it isn't just that I'm lucky.
And that's because I'd learned to be my own accountability partner.
Accountability Lesson #4: Apply This to All Areas of Your Life
I didn't, as it turned out, need Mel throughout the entire journey of my book publishing career. She actually got her dream job a few months into our agreement and ended up having to abandon her novel altogether.
But by then I'd learned to be accountable to myself—and to other people who came along. My agent. My publisher. My editors. One led to many.
I also learned about accountability in my recovery program. Sponsors had me write my steps on certain topics—my powerlessness, my resentments, my defects—and I agreed to do this writing so that I could share it with them by a certain time.
I've also learned to be accountable in my relationships—a once entirely foreign concept to me. I (usually) show up when I say I'm going to show up. I am (usually) on time. Many people may come into the world with an "Well of course, what else would you do" response to that. For me, this is all, relatively speaking, new.
How Do You Know You Need Accountability?
If you've ever told yourself that you'll do something and not done it, I believe you need an accountability partner or partners.
There's a reason I believe all this accountability stuff is so important: many people have gifts they're not embracing, goals they're not meeting and health desires they're not living.
I know because I was once one of them.
Want to Be the First to Hear When I Open My Accountability Group?
REAL LIFE. REAL NEWS. REAL VOICES.
Help us tell more of the stories that matter from voices that too often remain unheard.
This post was published on the now-closed HuffPost Contributor platform. Contributors control their own work and posted freely to our site. If you need to flag this entry as abusive,
send us an email
.