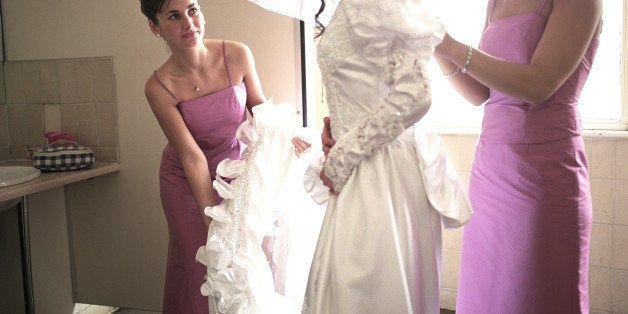 Asking your bridesmaids to stand beside you on your special day is a big deal, and it goes without saying that it's important to choose wisely! The best friends and/or family members you choose to include in your bridal party will be with you from the start to finish of your wedding planning whirlwind, and you'll be depending on them to support you when you're inches away from an apocalyptic bridal meltdown.
While your bridesmaids are going to be there for you, that doesn't mean you should abuse your bridal power! No one likes a bridezilla, but as some of you past brides must know, sometimes walking the line between bride and friend is tricky. Want some tips on how to make sure your friendships stay intact after you're back from your honeymoon? Here are four things you should never, ever ask your bridesmaids to do for you.
1. Never ask your bridesmaids to diet/lose weight.
I feel like this one goes without saying, but you should love your bridesmaids the way they are and the way they look. When you stand up there on your special day with your best friends, you're not only celebrating your marriage, but you're celebrating the people closest to you who have supported your relationship. That means celebrating your best friends, just the way they are.
2. Never ask your bridesmaids to approve haircuts/tattoos/other appearance changes with you.
It's okay to ask for your bridesmaids to wear a certain dress or do their hair a special way for the wedding. However, that should really be the only day you're asking them to look and dress a certain way. This means if they want to cut off all their hair the week before your wedding day, that should be okay!
3. Never ask your bridesmaids to spend more than necessary.
Be considerate to your bridesmaids' wallets. Being a 'maid is not only a big time commitment, but it's a big financial commitment as well. Take into consideration what they can afford before you pick out $500 bridesmaid dresses and ask them to have their hair done for the rehearsal and ceremony.
4. Never ask your bridesmaids for specific bachelorette/bridal shower party events.
I'm sure you've always envisioned your bachelorette party playing out a certain way, but the truth of the matter is that it's up to your bridesmaids and maid of honor to plan the party. If they're your besties, they'll know exactly what to do without you getting involved. Telling them what you want for a bachelorette or bridal shower is a big no-no, so trust them to do it right.
Hopefully you brides won't actually need these tips. If you're ever in doubt and wondering whether or not you're crossing the line, just follow this one simple rule: be nice! And those four rules above are pretty good guidelines too. Former bridesmaids: any rules we forgot?