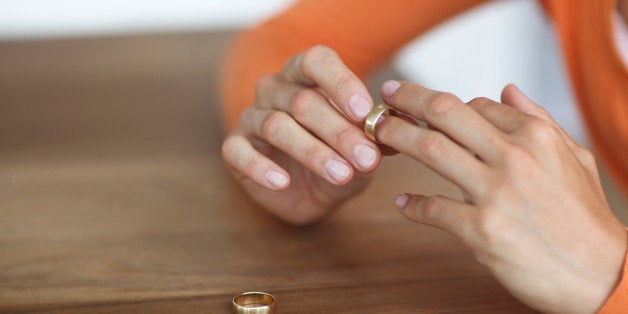 Even in the best of circumstances, divorce is a dramatically life-changing event. You are not the same person whom you were before the process began. Yet for some, the challenge of redefining themselves as divorcees is even more difficult than the divorce itself.
This is particularly the case for women, who are frequently the family's care-givers to the detriment of their own identities and health. They ensure that their spouse's needs are met, the kids are fed, and their nests are in order. Amidst the cooking, cleaning, worrying, and loving, the can lose themselves. And when the divorce is final, they face an identity crisis.
I recently spent the weekend with a group of women who were at the literal apex of this journey: near the peaks of the Smoky Mountains of North Carolina.
Chicks Unhitched
On the drive up, there is no big-city garish signage. Instead, beautiful vistas of fall foliage and the sloping Smoky Mountains hug the road to refuge.
Upon arrival at Lakeview Resort, I walked into a room that smelled of "pure bliss," which apparently is comprised of sandalwood, lavender, and other special ingredients. I entered candlelit, intimate happy hour of wine and artisanal cheese with the sense that I was visiting an old friend, even though I had never been in the state.
Tetia McMichael, the founder of Chicks Unhitched, has a personality as warm as the accommodations. While she describes the rooms as sparsely European, I found them to be lushly arranged with fluffy white bedding and generous kitchens that could comfortably host a fondue party or offer the intimacy needed for a fearless, solo night of reflective indulgence. Best of all: there were no televisions in the room, giving you no choice but to open your door and breathe in the crisp air (or, in my case, go to the world-class spa!).
"So many women get stuck in a rut for years. They live in the confines of frozen food and sweat pants, unable to see life beyond their cul-de-sac," Tetia told me. She explained that many of her guests felt as if their life had shrunk to nothing more than neighborhood gossip and the needs of their family; they were clueless about building a different identity.
Tetia describes her work as reminding such women that there is still a big beautiful world out there that is just waiting for them to claim it.
Transformation from the Inside Out
Many of these have spent years neglecting their core values and avoiding self-care. Tetia promotes a holistic approach that does not just address emotional and spiritual needs, but which also encourages physical health.
While the retreat offers plenty of hiking and biking opportunities, Tetia also promotes self-care through proper nutrition. She teaches her guests how to cook fresh, simple meals; or as Tetia puts it, "to become a prepping princess."
Guests learn a few simple tricks that allow them to eat like a Hollywood star with limited effort. Relying on fresh herbs and local ingredients, guests learn to construct colorful, healthy, and delicious meals in only 15 minutes.
The experience is structured as a physical and spiritual journey towards becoming "unstuck." The guests, ranging from empty-nester divorcees to younger career women (with or without children), have all been devastated by divorce or a breakup with a life partner. There are several similar opportunities around the country, with Chicks Unhitched differentiated by its focus on giving women the tools to become a whole person again.
For such women, retreats like the one offered at Chicks Unhitched can transform their hurt into hope.
Breaking the Boundaries
Tetia believes that the key to launching your spirit in a healthy direction is to get far out of your comfort zone. Her typical retreat includes outdoor activities like hiking, biking, and white-water rafting as well as daily yoga.
What surprised me the most about the journey was that my favorite part was not the spa services ... but the zip-lining.
(In the picture to the right, I am near the top of the mountain with my girlfriends who joined me on the trip, Amy Woodruff and Hope Morgan)
Now, I am about one of the most risk-averse, scaredy-cat women when it comes to combining adrenaline rushes with extreme heights. However, with Tetia's encouragement, I challenged myself to climb into the treetops for the first zip platform air. Looking out over the canopy of the Smoky Mountains, I was amazed to find the courage to step off a ledge that was hundreds in the air.
The result was immediate and lasting: a sense of profound accomplishment and self-confidence that made me feel ready to conquer the world. The internal critic was turned off because all of my mental and physical capacity was consumed by the rush for survival. It felt fantastic.
Coaching and Encouragement
Another big difference in Chicks Unhitched is that it offers guests far more than just pampering and adventure. Those treats are the "carrot" that many divorcees need to begin the hard work of rebuilding their lives on a purely practical level.
According to Tetia, some of her guests haven't been able to do something as simple as grocery shopping in 28 years--because their Ex did it. Other women have shared that, despite their significant net worth, they have no idea how to make a deposit in a bank account. Chicks Unhitched has developed a tool box for most of the problems that such women face as they ascend from the depths of divorce woes.
Chicks Unhitched provides women with a life coach, a financial planner, a yoga master, and a nutritionist. Throughout these sessions, Tetia serves as a comforting guide who is always ready with a glass of wine, some words of wisdom, or a Kleenex if needed. The wounds of divorce are mutli-faceted, so Chicks Unhitched takes a holistic approach to the healing process.
"I want women to leave feeling inspired, rejuvenated and beautiful," says Tetia.
"Divorce was tough...You are tougher"
In my ten years as a divorce attorney in Dallas, I have represented over one thousands clients in a family law case. Yet my four-day trip to the Smoky Mountains taught me that post-divorce transformation cannot be consigned to a place or a program. It requires a paradigm shift.
As the retreat's motto appropriately expresses, "divorce was tough...You are tougher."
Chicks Unhitched works so well because it provides the four things that women need to recover from a messy divorce:
Pampering - to reassure them that they are still valuable;
Breakthrough Experiences - to jar them out of their comfort zone;
Skills Development - to give them the tools they need to build a new life;
Friendship - to encourage them not to give up.
Through the tales of the women I met in the Smoky Mountains, taking these steps gave them a vision for a life that would be better than any that they had before... not just for themselves, but for their whole family.
Related