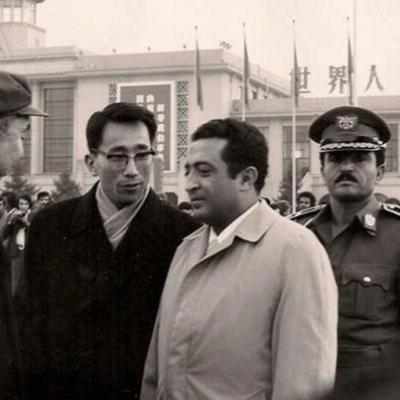 North Yemen's charismatic President Ibrahim Muhammad Al-Hamdi was mysteriously murdered in Sana'a on October 11, 1977. President Ibrahim Al-Hamdi's brother Abd Allah Al-Hamdi, who also served as a top military general in Yemen, was also killed together with him. President Al-Hamdi seized power through a white military coup against the government of Qadi al-Iryani on June 13, 1974. Once in office, Al-Hamdi's government embarked on ambitious economic development plans to help bring North Yemen closer to 20th century modernity. Al-Hamdi worked vigorously to establish the rule of law in a country torn by a decade of civil war. Within a very short period of time, Al-Hamdi gained the political trust of an overwhelming majority of Yemeni citizens at home and abroad.
However, there was a small group of tribal leaders and military officers who felt threatened by Al-Hamdi's policies and increasing popularity. They saw the building of modern state institutions and the application of the rule of law as a danger to the existing structure of political power. Shaikh Abd Allah Hussein Al-Ahmar opposed Al-Hamdi from his stronghold tribal center in Khamir. Moreover, Al-Hamdi's personal appeal to the leaders of South Yemen greatly concerned the Saudis, who viewed the socialist regime in the south as an existentialist threat. It thus came as no surprise that Al-Hamdi was killed on the eve of his visit to President Salim Rubai Ali in Aden.
According to his family, President Al-Hamdi was invited to lunch at the house of his vice-president Al-Ghashmi. The invitation was made to look like a last-minute casual invitation and most of the invited guests were either ministers or close friends of Al-Ghashmi. Upon his arrival, Al-Hamdi was taken into a room where he found his brother dead. Some have suggested that President Al-Hamdi may have tried to dissuade his would-be assassins from their plan by proposing to resign. However, the conspirators were likely frightened of Al-Hamdi's unshakable popularity among Yemenis who would have taken to the streets had Al-Hamdi resigned. Both Al-Hamdi and his brother were killed in cold blood.
The killers then misled the Yemeni public by fabricating one of the most egregious assassinations of character ever attempted in the Arab world. Their cover story was so repulsive that even Shaikh Al-Ahmar—Al-Hamdi's key tribal adversary—described it as shameful in his autobiography. The killers assassinated two French women who happened to be in Yemen, although there were multiple conflicting reports regarding the purpose of their visit and the source of their invitation. The late David M. Ransom, who served as the Deputy Chief of Mission (DCM) for the United States embassy in Sana'a from 1975 to 1978, admitted meeting these two women at a local business in Sana'a. He managed to speak to them briefly in French before Yemeni security guards assigned to the women interrupted their conversation.
According to Mr. Ransom, the bodies of Al-Hamdi and his brother were taken to the house of the dead French women and the four victims placed together to imply that the president and his brother were having an affair with the two French women. The killers subsequently suggested that tribal fundamentalists decided to kill Al-Hamdi, his brother, and the two French women after learning of their illicit relationships. The Yemeni public unequivocally rejected this false story and millions of Yemenis sadly mourned the death of their beloved president. Yemen has never been the same since the assassination of Al-Hamdi.
Al-Ghashmi, Al-Hamdi's vice president, was obviously a key suspect in the deaths. Because the killing took place at his home at his personal invitation to Al-Hamdi and his rapid assumption of power left little doubt of his evil role in the assassination plot. Indeed, the assassination of Al-Ghashmi less than a year after Al-Hamdi's murder was a direct result of his deep involvement in the conspiracy. But the question remains as to who else was behind Al-Hamdi's death. Mr. Ransom maintained that a group of army officers had convinced the Saudis that Al-Hamdi's approach toward South Yemen was dangerous to their mutual interests and sought the Saudi's consent, if not their support. Incongruously, Mr. Ransom discredited the idea that the Saudis were directly involved in the assassination plot although he may have simply meant they did not actually fire the weapons.
Abd Al-Baree Itwan, a London-based Palestinian journalist, admitted in a rare TV interview following the Yemeni uprisings that former President Saleh once confessed to him in Sana'a that he took power in Yemen through the use of force while removing his personal curved blade dagger (Janbiya) from its sheath. Many Yemenis took this statement as an indication of Saleh's role in the assassination of Al-Hamdi.
However, Nassar Al-Jurbani, a top Yemeni military officer during Al-Hamdi's government who led an unsuccessful military coup against Saleh in October 1978, publically accused Saleh of executing Al-Hamdi in 2011 and blamed Saleh for benefitting financially from Al-Hamdi's assassination. For many Yemenis, Saleh's vehement efforts to eliminate all references to Al-Hamdi from Yemen's public life and refusal to allow any official investigation of his assassination speaks volumes about Saleh's probable involvement.
The assassination of Al-Hamdi continues to loom over Yemenis' collective political memory with more questions than answers. During the Yemeni uprisings of 2011, portraits of Al-Hamdi were held high by youth activists—most of whom were not even born when the tragedy occurred. The late US diplomat Mr. Ransom had indicated that it took the Americans some time to put the pieces of the puzzle together, but it was obvious that he knew the identities of the military officers who had supposedly been involved in the assassination plot. What did the Americans, French, and Saudis know about the assassination plot? Why were the French so upset with the Americans at that time? Why did the French DCM in Sana'a think the whole story was an attempt by the Americans to embarrass the French because the latter were successful in securing an important telephone contract with the Yemeni government that the Americans had wanted? Why didn't the French bother to investigate the death of the French women or at least seek answers from the Yemeni government? Why did the Saudis encourage the Americans to continue normal relations with the Yemeni government after Al-Hamdi's death? Forty years later, these questions still desperately need answers. Hopefully someday there will be an official Yemeni version of the Warren Commission to investigate the death of Al-Hamdi, as well as a book or documentary movie to honor the life and death of the legendary Yemeni statesman. Mr. Al-Hamdi, may your soul rest in peace!