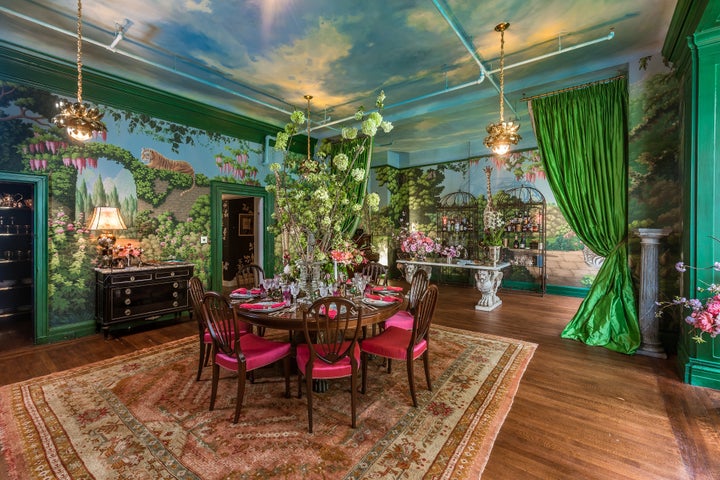 The 45th Kips Bay Decorator Show House opened to the public on Tuesday, May 2nd at 125 East 65th Street in Manhattan. The historic Charles Platt townhouse featured the creativity and innovations of eighteen of the nation's most acclaimed interior designers and architects. The annual crème de la crème interior design event benefits the Kips Bay Boys & Girls Club to help provide afterschool programs for over 10,000 youth in the Bronx.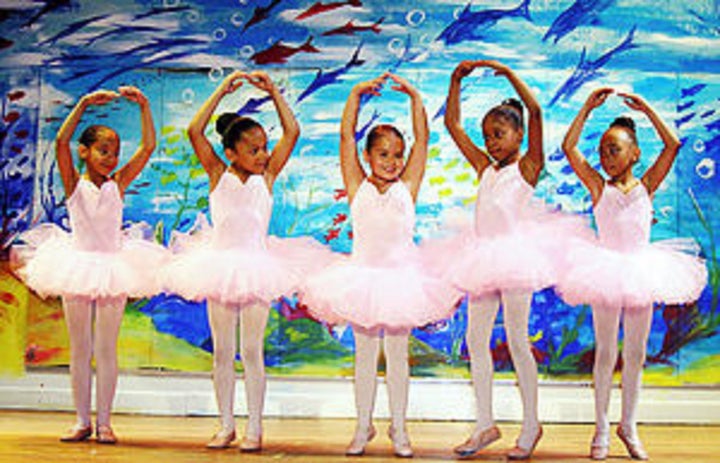 Bakes and Kropp,Neal Beckstedt Studio, Billy Cotton, Dineen Architecture + Design, Janice Parker, Kate Singer Home, Ken Fulk, Kirsten Kelli, LLC, Lichten Craig, Susan Ferrier of McAlpine, Nick Olsen Inc., Powell & Bonnell, Richard Mishaan Design, LLC ,Robert A.M. Stern Architects, Robert Stilin LLC ,SAVAGE Interior Design, Scarpidis Design and Timothy Brown are the A listed talent who participated in creating the extraordinary experience. After the townhouse was gutted, each design team was given approximately six weeks to transform their assigned space. Designers and architects rose beautifully to the unique challenge of their townhouse area. Farrow and Ball was used throughout the showcase.
Interior designer Ken Fulk created inspiration for the dining room with an entertaining tale of Madame's Magical Menagerie. Madame F's zoo garden was reflected in the Stark carpet, British hand painted wallpaper from de Gournay and Pierre Frey drapes. The opulent dining room was dressed in linens, crystal and china from Hermes, Saint-Louis and Leontine Linens for a fanciful dinner party. The Grande dame's legendary dinner parties were surrounded by witty period treasures from Newel Antiques and Billy Baldwin Studio.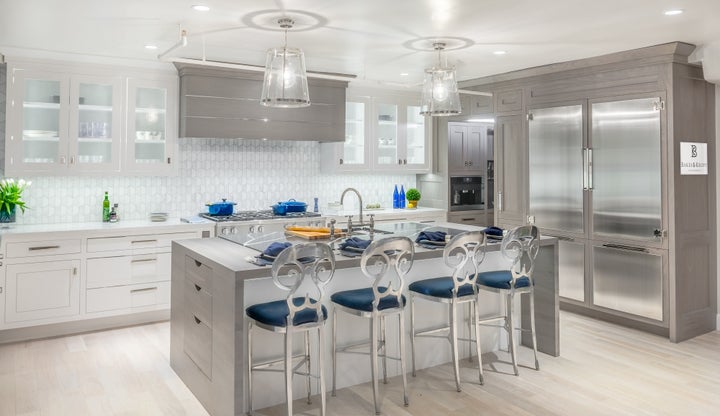 Baker & Kropp skillfully played farmhouse country and modern silhouettes to reinvent the classic white kitchen. Quartz countertops and cabinetry blended seamlessly with top of the line Miele kitchen appliances complimented by cobalt blue Le Cresuet cookware.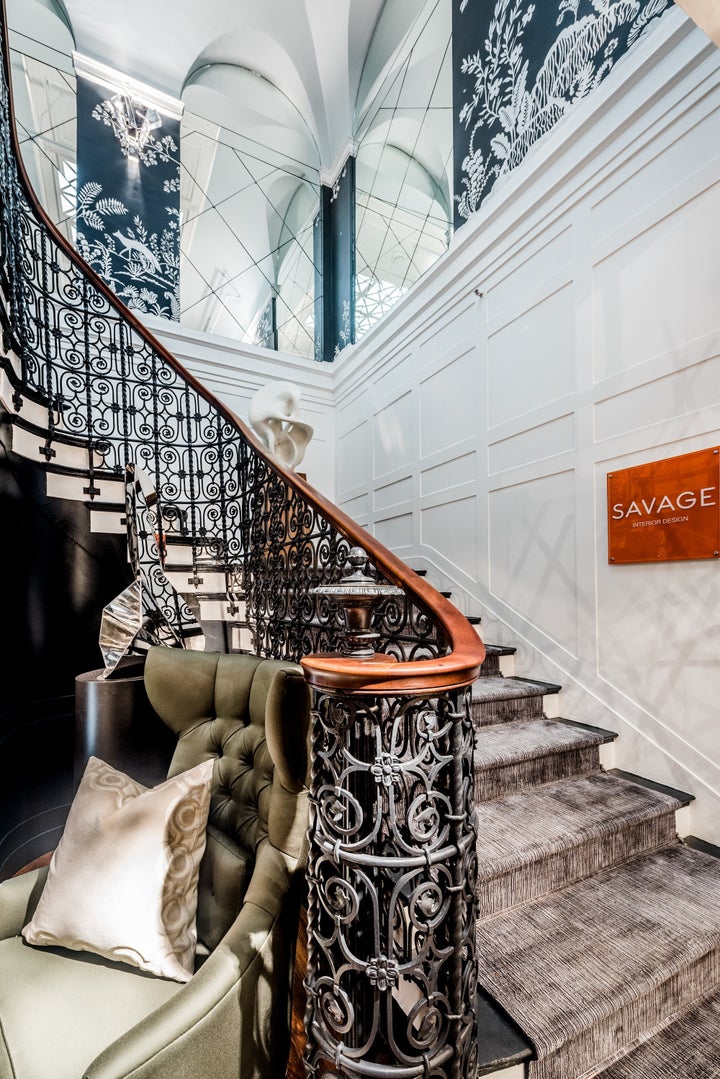 Savage Interior Design utilized the dramatic two story winding grand staircase. Jonathan Savage highlighted the black Neo Georgian ironwork with MJ Atelier black and white chinoiserie wall covering. On the landing he used a Saint Clair Cemen's sculpture, artist Stephen Antonson plaster console table and a custom made settee.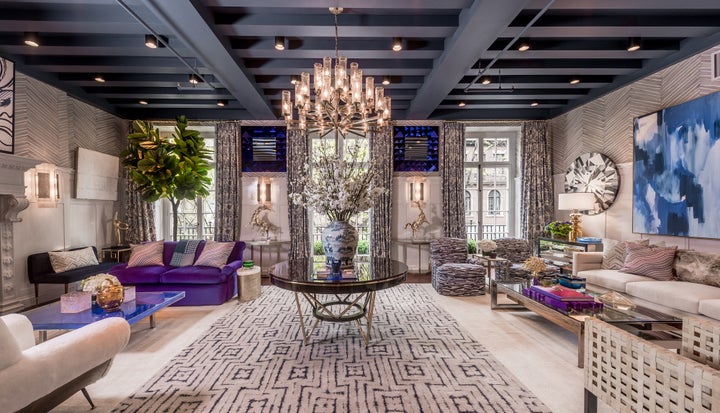 Interior design team Kristen Kelli went full on glamour in their sophisticated living room design. Kirsten Fitzgibbons and Kelli Ford spared no space with sexy details like pops of color vases, a Kelly Wearstler chandelier, and artwork from Ellsworth Kelly, Damien Hurst and Roy Lichtenstein.
Richard Mishaan Design turned the Parlor Room into the perfect space for reading, relaxation and living. The seductive mix of culture and travel with the use of historic wall coverings from Syria, museum quality silk loomed brocades from Beviliacqua, hand printed Fortuny fabric, an antique Serapi Persian rug layered with orientalist art, African and Moroccan artifacts.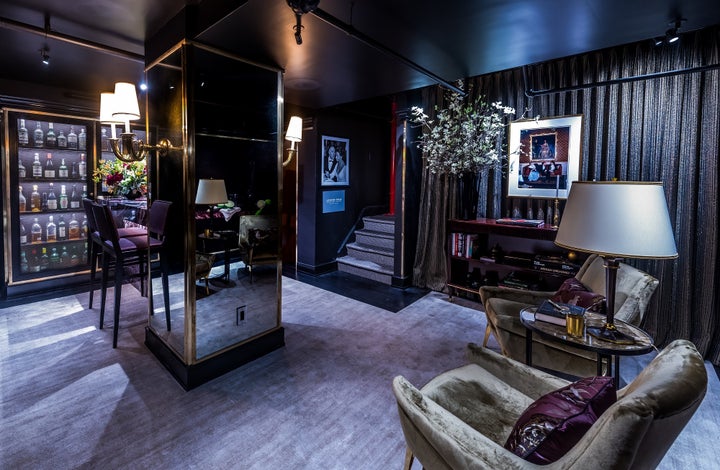 Lichten Craig transformed the basement into a seductive speakeasy bar with a burgundy Italian marble tabletop facing a trump l'oeil mural painted by Anne Harris Studio. Two Charles Ramos armchairs in champagne silk invited comfort and conversation against walls covered in warm charcoal de Gornay silk panels outlined in bronze. The intimate powder room is styled with an L'Antiquaire chandelier, a brecciated grey marble vanity, Black and white photography from Staley - Wise Gallery and Kohler black and brushed bronze fixtures.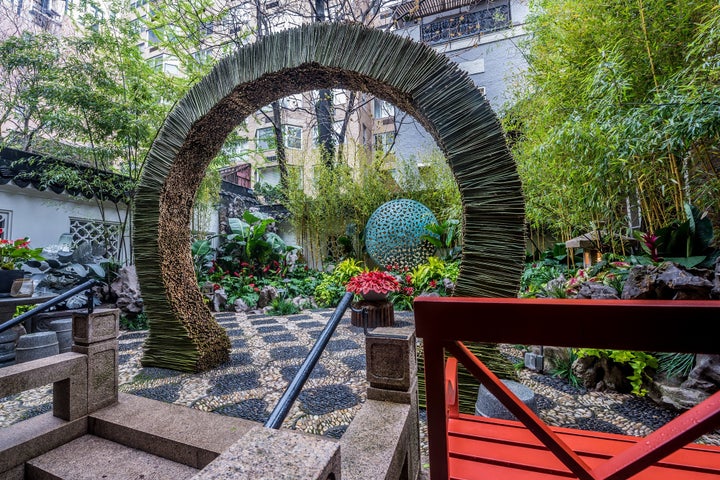 Landscape architect Janice Parker created the traditional Chinese Garden in the townhouse garden. Her influences came from the film "Crouching Tiger, Hidden Dragon", Tony Ducquette and Bermuda. Janice designed the bamboo 'Moon Gate' for the terrace entrance. Sculptor and artist David Harber provided the Luna Mantle sculpture made of verdigris finished bronze. The natural Bamboo Court boasted an exotic tropical garden, red birdcages, a red cane bench and grey stone tables and stools. The historic handmade pebble mosaic floor was restored for the showcase.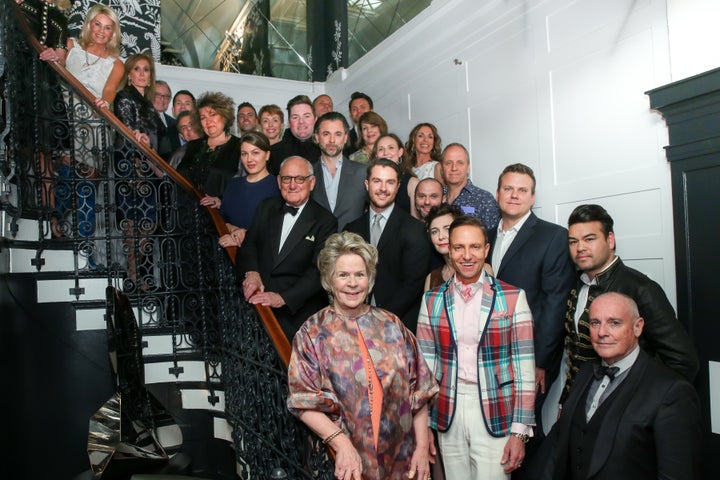 The 45th Annual Kips Bay Decorator Show House Opening Night Cocktail Reception was held at 583 Park Avenue on the evening of Monday, May 1st. The fabulous evening included a viewing of the showcase house. Show Sh House Chair Bunny Williams, Show House Vice Chair Jamie Drake , Show House Committee James P. Druckman and KB+GC Executive Director Daniel Quintero welcomed over 1,000 guests including Martha Stewart, John McEnroe, Nicole Miller, Fran Drescher, Caryn Zucker, Chef David Burke and Dennis Basso in addition to each of this year's esteemed designers.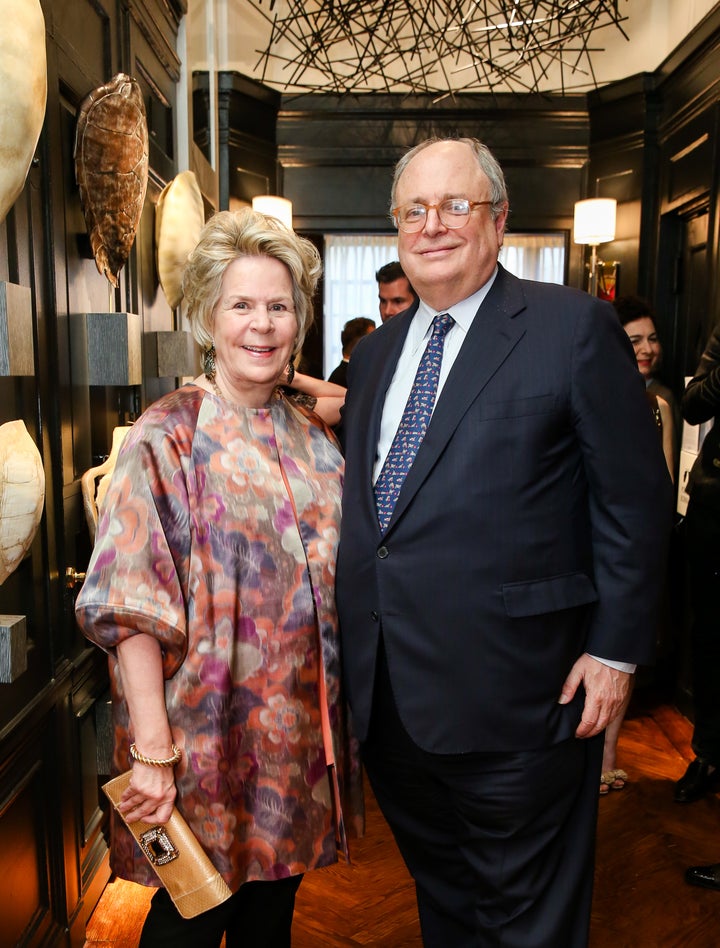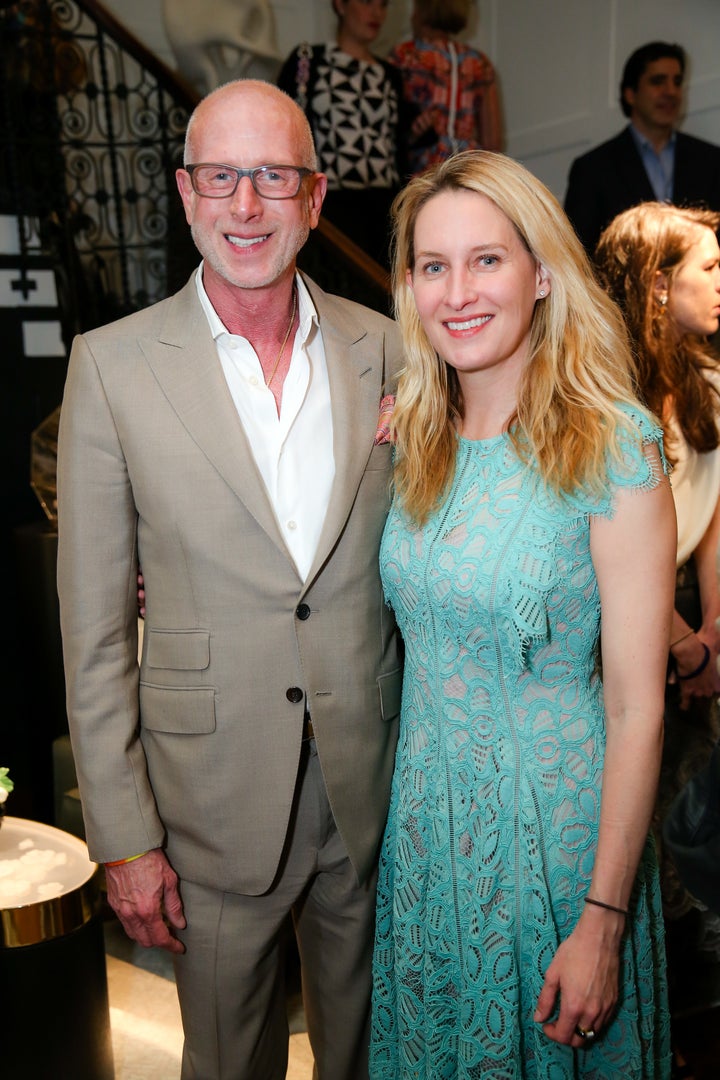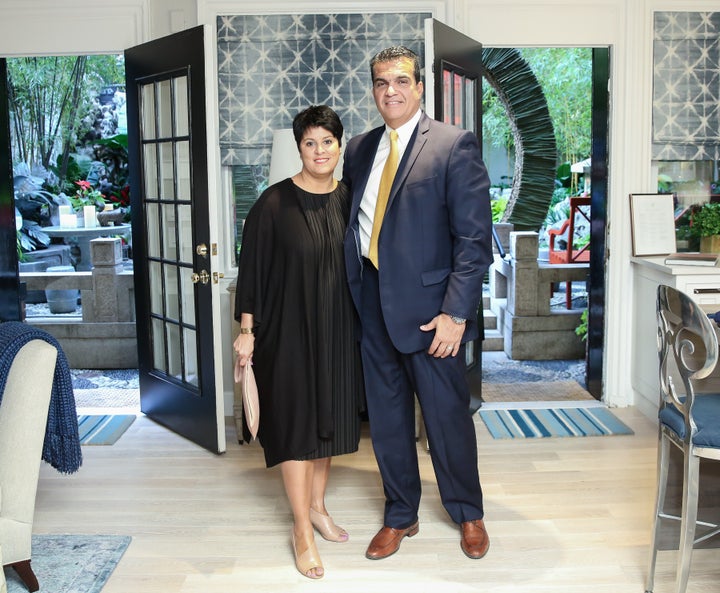 Waiters passed silver trays of delicious bites of lobster roll, duck egg rolls, lamp chops with dipping sauce, caviar on potato canapés, pigs in a blanket, tuna tartare, and BLT and guacamole cups.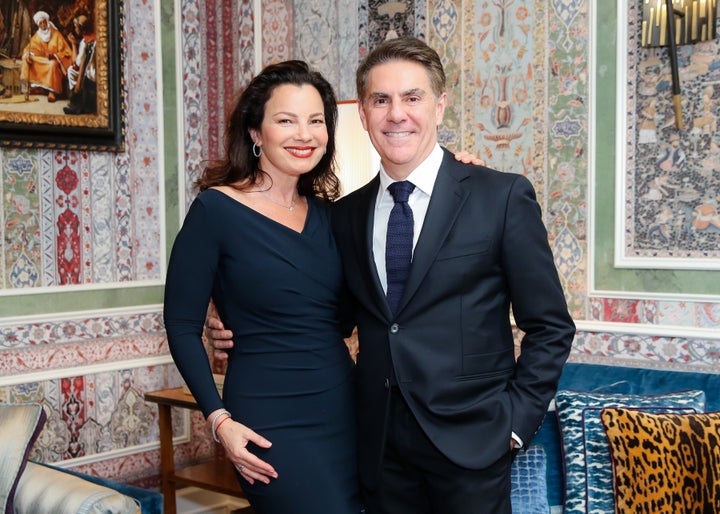 Guests enjoyed the open bar while viewing items on the silent auction. The electronic silent auction featured everything from ten day trips to Mexico, Africa and Italy to designer handbags from Louis Vuitton, Kate Spade and Michael Kors.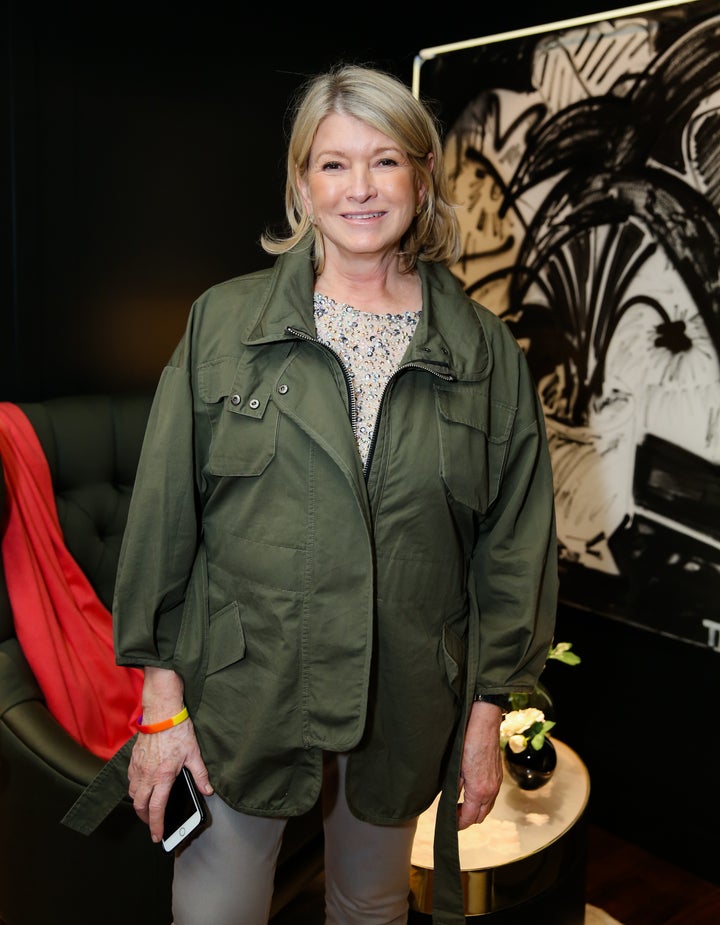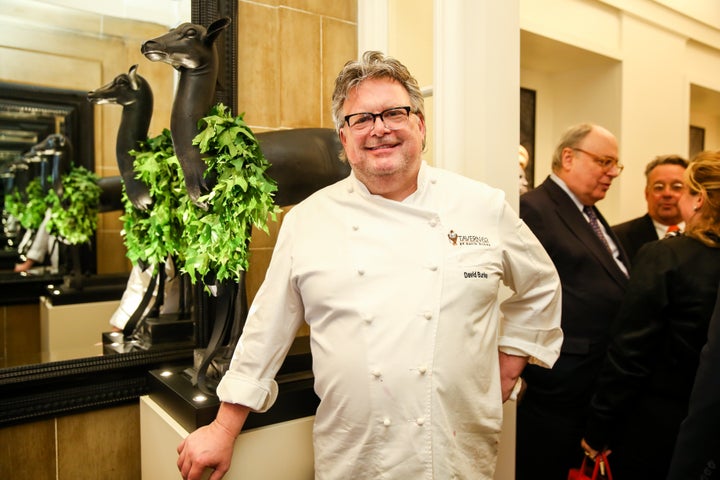 Proceeds from the reception and the public viewing are the organization's fundraiser for Kips Bay Boys and Girls Club in the Bronx. The Kips Bay Boys and Girls Club enriches the quality of life for young people between the ages of 6-18 who come from disadvantaged and disenfranchised circumstances. Character and Leadership Development, Performing Arts, STEM Programming, Computer Literacy, Visual Arts, Sports, Fitness & Recreation and Immigration Outreach programs enhance education and life preparedness.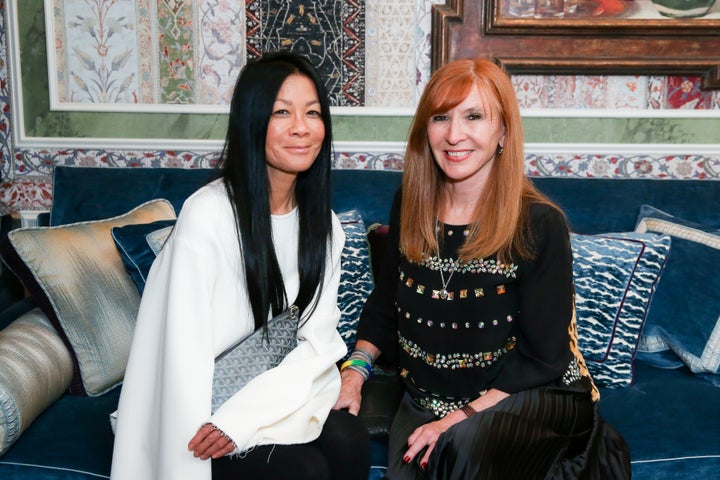 Visitors of the Show House will also be able to shop a selection of curated items including antiques, fine art, home furnishings, and vintage designer clothing at the Kips Bay Show House Shop, located on the Garden Floor. The 45th Annual Kips Bay Decorator Show House located at 125 East 65th Street in New York City's iconic Lenox Hill neighborhood runs through June 1st.
Popular in the Community