Beautiful souls swinging their tangled tendrils, orbs of fire tracing invisible geometry, rumbling bass that vibrates your innards, Palo Santo arousing olfactory bliss, and artists caressing canvases with their paintbrushes. This imagery evokes a sense of home within me, a familiarity even if its in an unfamiliar place.
This is the world of the music festival. A place where people come to gather, grow, share, love, give, play, watch, listen and learn. The festival paradigm is unified but also diverse. There are similarities shared by all festivals which is what creates its growing community. However, each festival offers its own distinct flavor which is what keeps this community diverse.
Infrasound represents a new style in music festivals based on sound system culture and intelligent dance music. A refreshing change from the usual predictable lineup and crowd. - Taylor Winum, co-founder of Infrasound Music Festival.

These idyllic festivals are popping up all over the world, even in unlikely, but not unbelievable, locales. The 4th annual Infrasound Festival will be held on May 28th-31st of 2015 on a pristine lake in Black River Falls, Wisconsin. Like many of the world's greatest music festivals, Infrasound humbly began in 2010 as a warehouse party in downtown Minneapolis. The first official Infrasound Festival took place in Houston, Minnesota in 2012 and then moved to Black River Falls in 2013, where it has found its home. The founders of this Midwestern festival are Alex Heiligman, David Liberman, and Taylor Winum, whose entire lives are focused on bringing good music to the U.S. The Infrasound family also hosts Infrasound Equinox, another diverse event which is held during the autumnal equinox in September at the same venue.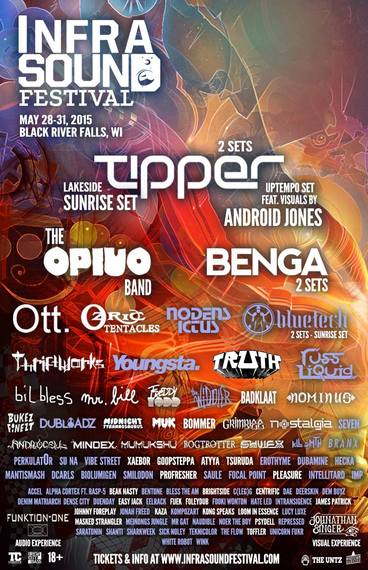 With a lineup decorated by superheroes of the electronic underground, festival patrons from all over the country rushed to purchase their tickets. The lineup includes Tipper, The Opiuo Band, Benga, Ott, Bluetech, Thriftworks, Russ Liquid, Mr Bill, Mumukshu, Perkulat0r, AtYyA, and many more. Android Jones will be providing Tipper's kaleidoscopic visuals, a combination that is sure to send you to another dimension. Set amidst an oxygen-rich forest and beneath a delicious looking Milky Way, the venue and the event exist in perfect symbiosis. Festival-goers may enjoy a cool dip into liquid or watch the sunrise paint the glassy water in hues of pink, orange, peach and yellow during Tipper's lakeside set.
2015 has brought Infrasound Music Festival an enormous amount of attention, so much in fact, that the event is almost sold out. Online ticket sales have ended, however there is still hope for those who have not yet purchased their festival passes. The founders have decided to use an application process for the remaining tickets. The application aims to ensure that those who are the most passionate and supportive of Infrasound and the intimate culture of the festival will get one of these final tickets. The application process will begin on Saturday, May 9th at 2 pm CST and conclude on Friday, May 15th at 11:59 pm CST. Everyone who submits an application will receive a response between May 19th and May 21st.
Infrasound grew out of my boredom with most festivals and shows all over the country and I wanted to create something different. It's been crazy to watch it grow from a warehouse party into a sold out festival. - Alex Heiligman, co-founder of Infrasound Music Festival

With yet another mystical, magical, and majestic music festival to add to the bucket list, Infrasound promises to be the destination for those who seek the unique. With lakeside sunrise sets, all the fresh air you can breathe, and a community of respectful, creative, inspiring, imaginative and kind human beings, Infrasound Music Festival is not to be missed. The prefix infra- means "below" and infrasound means frequencies that are below the human spectrum of audibility. To be below the sound means to immerse yourself deep within its vibrations and drench yourself in the liquid sound waves of bass music. Together at Infrasound we will dance upon the Earth, above judgement, and below the sound.
Calling all HuffPost superfans!
Sign up for membership to become a founding member and help shape HuffPost's next chapter