For BRIDES, by Roberta Correia.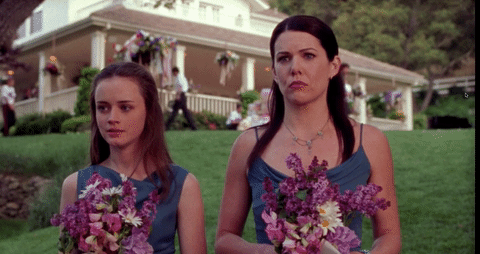 Fewer things get us more excited than weddings, but the upcoming Gilmore Girls revival might just do it! The Netflix series's official date was just announced and we're counting the days until Thanksgiving 2016. And while we'll have to wait and see if the rumors of a Lorelai and Luke wedding are true, that doesn't stop us from looking back on some of our favorite wedding moments from the beloved series. From Sookie and Jackson to Richard and Emily, here are the cutest wedding moments from The Gilmore Girls.
1. Sookie and Jackson
Sookie and Jackson's long-awaited wedding is anything but drama free, for the Gilmores at least. Christopher-shippers everywhere got their heart broken when he announced he was having a baby with Sherry, and Jess fans got the Rory and Jess kiss they were dying to see. Obviously this is Sookie, so the food was perfect. Too bad Lorelai and Rory were two very sad bridesmaids.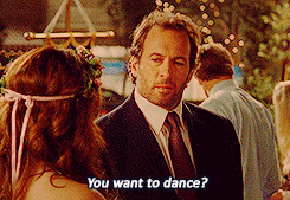 2. Liz and TJ
OMG, Lorelai and Luke FINALLY have their first date. Sure, it's at Luke's sister Liz's amazingly Renaissance-themed wedding (we won't talk about TJ's tights), but that at least gives Lorelai the opportunity to wear a really sweet flower crown.
3. The Gilmores' Vow Renewal
Was there ever any doubt that Emily Gilmore could throw one heck of a wedding? The grand dame of event planning (all of those D.A.R. luncheons!) threw herself a gorgeously glam vow renewal with all the traditions — even a drunken bachelorette party, Stars Hollow style. As with any wedding, drama ensues — Rory and Logan, Luke and Christopher, oh my!
4. Lane and Zack
We should really count Lane and Zack's walk down the aisle as two separate events. After a very traditional Korean ceremony, Lane gets the rock n' roll wedding she had always dreamed of — complete with a rocking mod mini and boots look courtesy of one Lorelai Gilmore. A Hemp Alien performance and a very drunk Lorelai later, Lane Kim gets her happily ever after.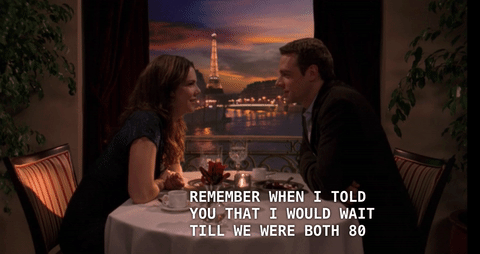 5. Lorelai and Chris
The Lorelai and Chris wedding was perhaps the biggest tease in Gilmore Girls history. After two engagements (we miss Mr. Medina too) Lorelai FINALLY had her bridal moment, and we were denied it! We totally felt Rory's pain when she was less than thrilled her parents decided to elope in Paris without including her — we waited a long time too, Rory.