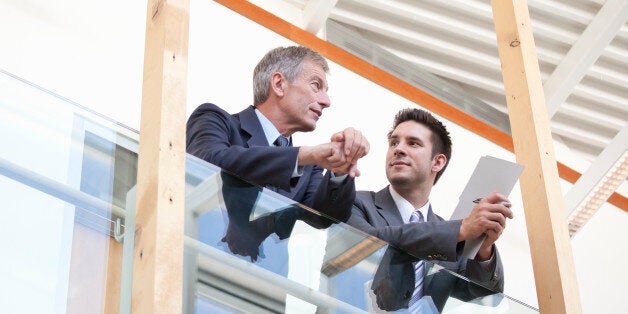 Whether you're launching your startup or taking it to the next level, having friends in high places can make all the difference. In fact, the Startup Genome Report, an in-depth survey of 650 tech startups, cited "access to helpful mentors" as the number one influence on success. Furthermore, the report showed that those entrepreneurs with access to active mentors were seven times more likely to raise capital and three-and-a-half times more likely to attract customers.
"Whoa," you're saying. "With numbers like that, every entrepreneur should be racing to pick up a mentor." And it's true that mentors are a great way for cash-strapped startup founders to find ways to grow their business. But be aware: Mentors aren't a "one size fits all" proposition. In fact, if there's one thing I've learned as the founding director of JumpStart's Burton D. Morgan Mentoring Program (a nearly two-year-old program for high-growth startups which is based on decades of mentoring best practices), it's that because entrepreneurs come in all shapes and sizes, their mentors need to as well. In short, it's of vital importance that entrepreneurs choose their mentors carefully and prudently.
So how do entrepreneurs figure out who is their right mentor? First and foremost, by having a strong sense of self, they can be better positioned to know what communication and relating style is most beneficial to their growth and development. But there are also some very specific types of mentors -- with well-defined personality traits -- that can serve as useful guidelines to steer entrepreneurs in the right direction.
The Challenger: An entrepreneur's drive needs to come from within, but many of them also need a healthy push to heighten their sense of urgency and keep them moving forward. The Challenger's role is to push an entrepreneur to put in the hard work, to sweat the details that matter, to hit key milestones and to outwork his/her competition. It's also The Challenger's responsibility to confront assumptions and ask the tough questions that ultimately prevent an entrepreneur from making costly errors.
The Cheerleader: As my Northeast Ohio colleague Robert Hatta recently wrote here on The Huffington Post, nobody is going to say it's easy being an entrepreneur. In fact, it's a rare occurrence to have an entrepreneurial journey that isn't fraught with challenges; the path is steep, rocky, slippery and long. Having the positive support of The Cheerleader can give an entrepreneur the motivation and energy needed to persevere. That energy is also found in a supportive spouse, parent or in good friends, but it really helps to have someone with relevant experience and credibility say, "You can do this."
The Educator: Starting a business is the steepest learning curve anyone can experience. The tests of building a business are frequent -- and lessons are ongoing. The Educator is someone who sees in an entrepreneur a desire to learn and is willing to sit down and teach him/her when needed. From business basics to complex ideas and practices, they'll take the time to understand knowledge gaps and help entrepreneurs avoid the costly mistakes that can be caused by being too proud to ask for help or advice.
The Ideator: Are you dreaming big enough? Are you being as creative as you can be? When an entrepreneur is buried in executing day-to-day tasks and sweating the small stuff in the trenches, taking the time to pause and survey the bigger picture is critical for keeping a business moving in the right direction. The Ideator loves to play the role of thought partner as an entrepreneur thinks critically about how to build a creative and differentiated business.
The Connector: Remember the old adage, "It's all about who you know?" Well, it's who you know -- along with who they know, and to whom they are willing to introduce you. The Connector willingly opens up their network to help move an entrepreneur and his or her business forward. Whether it's staking their credibility on helping find a first customer who's willing to take a risk on an unproven entity, or making that connection to a critical hire, The Connector is one of the most valuable mentoring assets a startup can have.
As it turns out, a truly great mentor often embodies more than one of these personality profiles. It's about mentoring dexterity -- having mentors who know when to push, when to caution, when to teach and when to inspire. (Kate Mitchell, co-founder of Scale Venture Partners, calls it a "composite mentor.") But as each entrepreneur naturally has his/her own unique combination of personality attributes, in the end, it's about finding the right mentor-mentee combination -- at the right time -- that matters most.
Related
Popular in the Community