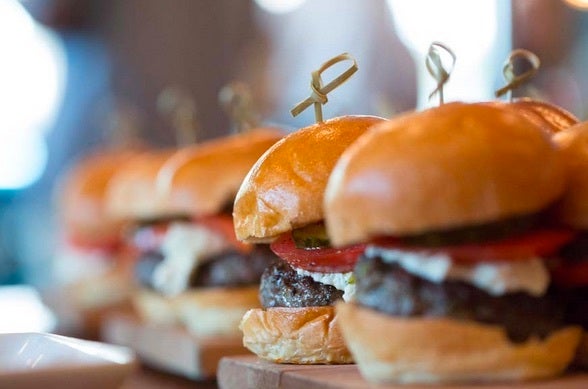 There are tons of trendy new foods hitting store shelves this year—from seaweed snacks to animal-free "meat" and "dairy" products to fungi edibles. Most of these buzzy bites are focused on one central theme: plant-based everything. That's because more and more people are seeking out foods that are kinder, greener and healthier.
Here are five healthy eating trends to sink your teeth into in the new year.
Kale's New Rival: Seaweed
Meet the new super veggie that's making kale green with envy: Seaweed. Seaweed has been a staple in Asian cuisines for thousands of years, but you'll see more nutrient-rich and sea-stainable wakame and kelp salads on restaurant menus (well beyond sushi bars). At supermarkets, sales of delicate and crispy seaweed snacks are soaring and are poised to exceed sales of kale-based snacks, according to data from Mintel. Like veggies, seaweed is low in calories and fat, and provides several essential nutrients, including vitamins A and C, B vitamins, fiber, iron, iodine, zinc and magnesium. Annie Chun's Organic Roasted Nori Snacks have just 25 to 30 calories per serving compared to 150 to 160 calories in most fried chips. What's more, preliminary research suggests compounds in seaweed may even help tamp down hunger.
Ancient Grains Are New Again
Quinoa has some competition! Chefs are experimenting with novel ancient grains like amaranth, millet, Kamut, sorghum and spelt, says registered dietitian and Culinary Institute of America instructor, Sanna Delmonico. "Whole grain flour made from ancient grains is being used in baking to make breads to desserts," she says. At Lincoln restaurant in LA, chef Christine Moore makes a hearty farro bowl with kale, roasted fennel, onion and almonds topped with a smoky romesco sauce.
Ancient grains vary in their nutritional value, but all are minimally processed whole grains. They are all generally good sources of protein, fiber, B-vitamins and iron. Most are gluten-free, but spelt and Kamut are varieties of gluten-containing wheat. Reams of research show that plant-rich diets with plenty of whole grains reduce the risk for heart disease, type 2 diabetes and certain types of cancer while making it easier to maintain a healthy weight.
Who doesn't love a good burger? Clearly, most Americans do because we eat an estimated 50 billion of them a year. That's a lot of beef, which just happens to have one of the largest environmental footprints of all animal-based foods we eat. To help, chefs are reinventing burgers to be healthier and more sustainable…without compromising the taste.
The James Beard Foundation's Blended Burger Project calls for chefs across the country to blend at least 25 percent fresh chopped mushrooms into a burger patty. At Cedar's Café in Melbourne, Florida, the menu features a beef burger blended with portobello, shiitake and cremini mushrooms. "In the past few years, the blended burger has been adopted by some of the nation's most creative and adventurous chefs and the foodservice industry," says Kristopher Moon, vice president of the James Beard Foundation. "We are delighted to see the widespread enthusiasm and acceptance for this plant-forward take on the burger."
There's nothing new about pasta, but after sliding sales during the height of the low-carb craze, pasta is making a comeback. Data from Google trends show that, based on search results, consumers are buying, preparing or ordering more rigatoni, tortellini, penne, fusilli and linguine. Top chefs are also featuring lighter pasta dishes on the menu. At the trendy and plant-forward ABC Kitchen in Manhattan, chef-owner Jean-Georges serves his fettuccine with a mushroom Bolognese.
Pasta is perfect for health-conscious consumers, and it also has a light environmental footprint. The wheat-and-water staple is a cornerstone of the Mediterranean diet, which is considered the gold standard for healthy and sustainable eating. And it's made from semolina, a protein-packed wheat variety; a 200-calorie cup of cooked pasta has six grams of protein and a low glycemic index to help keep you fuller, longer.
Silicon Valley-type technology is being used to create plant-based protein and fats to replace traditional meat and dairy ingredients that are nutritionally superior and more sustainable than animal-based products. Nutrient-rich algae made via a resource-efficient fermentation process is the hot new plant-based ingredient. For example, TerraVia's lipid-rich whole algae, which is high in beneficial monounsaturated fat and low in saturated fat, can replace eggs, cream in butter in baked goods, sauces, dressings and ice cream without affecting the taste or texture. Foods with algae are now in every aisle of the supermarket. What's more, algae naturally provide essential nutrients, carbohydrates, protein, healthy fats and fiber.
Popular in the Community