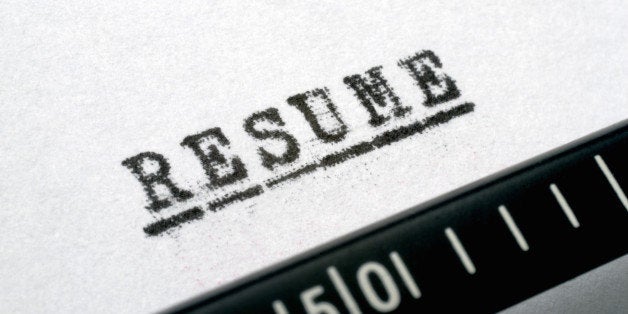 I am a big fan of LinkedIn and I check it two or three times a day. One of the most common articles I see posted on Pulse (LinkedIn's online magizine) are articles about resumes and CV's... and this is year round. Around graduation-time, I see articles on resumes and CV's posted not just on LinkedIn, but everywhere online and in print.
Outside of LinkedIn and graduation-time, an article about resumes and CV's will show up on the news sites I occasionally read, such as, the Sun, the Guardian, CNN, Huffington Post, etc. Since I am job searching at the moment, I receive emails from job agency's promoting their resume services; I am always being bombarded with resume adverts.
The most common theme I find on these posts are the five mistakes commonly found on resumes; this may not be the exact wording, but it is a reoccurring theme.
So, I thought I would chime in and give my opinion on the five mistakes I saw -- and still see -- when I worked in HR.
1. Typos and Grammatical Errors
I've written on this many times. My last post on LinkedIn was on this very subject: "Your Resume: Spelling and Typo Mistakes." I don't want to beat a dead horse, but I think (as well as others) that spelling and grammar may be the most common mistakes made on resumes and CV's. You can read more here so I don't bore you.
2. Personal Information
You do not need to give the prospective employer all your personal information. This is especially true in an age when personal information is being stolen from companies, whether it is from stolen laptops, credit fraud, or hacking into company information banks. Really, all you need to put on your resume and CV is a name, cellphone number, and an email address; there is no need to give more.
There is also no need to put other people's information at risk. So do not include your reference's personal information. As a matter of fact, references do not need to be given at this stage. If you make it to the next level -- the interview -- then personal as well as professional references will be asked for.
3. Ignoring Keywords
Unless the company you are applying for is small -- very small -- then your resume or CV will be scanned by a computer. This is the reality in an economy where there are hundreds, if not thousands of people applying for the same position. Do you think the hiring agents want to sort out thousands of resumes looking for specific words?
In the age of computers, most resumes are emailed and then the resumes are electronically scanned for keywords.
These keywords aren't hard to find, they are usually located in the job description. If there is no job description -- a very rare situation -- you can always look for the same job on LinkedIn and find the most common keywords used for that
position.
4. Too Much Information
People take the argument of resume/cv length as gospel. Some people will swear by the two-page resume (in which I have written about and you can view it here) and because of this, they try to pack as much information as they can in two-pages.
Twelve-point font is the most common font to use and 11 point font is a popular font to use also. Do not use eight-point or 10-point font. Have you ever tried to read a resume where an applicant's entire work history is typed in eight-point font with half-inch -- or less -- margins? Your resume has turned into a sea of blackness. Have a bottle of Tylenol at your side.
This also brings up my last point: Formatting.
5. Formatting
I have seen adverts from resume services which offer resumes in multiple colors. These resume services also advertise resumes with multiple fonts and font-sizes. Unless you are applying for a job as a graphic designer, this might, MIGHT be acceptable but I don't recommend it.
The most common and acceptable formatting for a resume is one-inch margins and 11 or 12 point font. You could use italics for the heading of categories and you could get away with using bold-type for your name only at the top of the resume. These are the acceptable resume and CV formatting rules. They may vary a little, but just a little.
Any reputable resume/CV writer will use these as guidelines. If you are going to use a resume/CV writing service, ask to see samples of their past work . . . it couldn't hurt.
There are many other common mistakes I see on resumes; I am not the only one to see these. I just thought I would give my two-cents on the subject. You can always google resumes and CV's to find good examples as well as bad examples.
You can always take your resume to the DOL and they will look over it for you; they even have classes on how to write a resume -- beginners and advanced. If you have graduated from a college or university the Career center should be able to help you also. And lastly, if you are a veteran, then the VA should have job services available and can look at you resume. I have taken classes from all these services and they all are excellent.
Again, if you are going to pay for a resume service to write your resume, research and ask for samples of past resumes.
This was originally posted on LinkedIn.
Related
Popular in the Community