This "Bachelor" finale, the first part of which aired on Monday night, was heavily promoted by ABC as the most stunning in franchise history. Of course, "The Bachelor" can be so insistent that each finale is the most heartbreaking, the most dramatic, and the most shocking yet ― in its 22-season run ― that most fans of the show have learned to roll their eyes at host Chris Harrison's tantalizing teases.
But for once, Harrison wasn't over-promising. Last night, fans of "The Bachelor" were united on one issue: The show's season finale was, to use contestant Becca Kufrin's word, utterly "brutal."
Bachelor Nation was transfixed on Monday night when Arie Luyendyk, Jr. proposed to Becca ― then, just a couple months later, sat her down on a couch during a weekend getaway and told her that he wanted to end their engagement so he could pursue his runner-up, Lauren Burnham.
This switcheroo isn't unprecedented in "Bachelor" history ― Jason Mesnick famously did the same, and is now married to his runner-up, Molly Malaney.
But this time, the breakup wasn't relayed to the audience through a stiff studio sit-down with Harrison. Instead, production played uncut footage of Arie dumping an unsuspecting Becca, who apparently had little to no idea that a breakup might be in the offing. The encounter stretched on for nearly an hour, cameras held close to the couple's anguished faces, as Becca struggled to take in her fiancé's words.
The result: An extremely realistic, and utterly compelling, episode of television.  
The co-hosts of HuffPost's "Here to Make Friends" podcast recapped the tortuous finale with Jacqueline Trumbull, who also dated Arie before her own teary departure several weeks earlier in the show.
One thing we could all agree on: It was an utterly gut-wrenching three hours of TV ― for many reasons. Here are five moments that hit us particularly hard: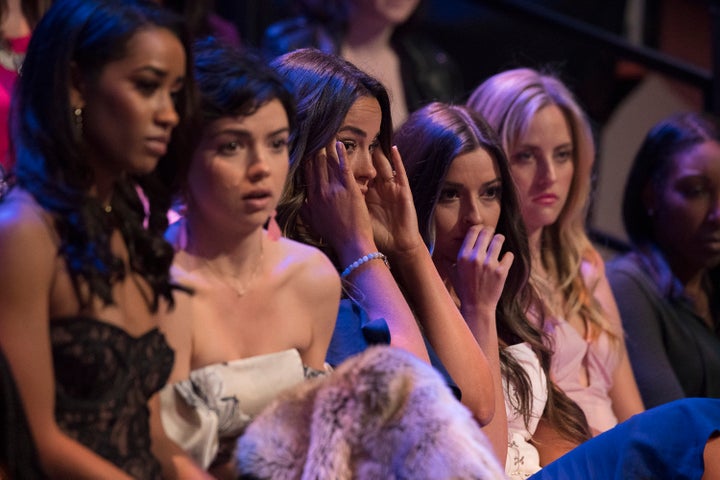 1. Arie sends Lauren home without shedding a single tear.
Claire Fallon: This was the [Jason] Mesnick 2.0 season. Jason sends Molly [Malaney] home before his proposal [to Melissa Rycroft], and is so distraught that it's hard to imagine how he could have gotten himself back together enough to propose to someone else that same day.
Emma Gray: He's sobbing over a balcony.
Claire: Arie sends Lauren home, and I see NO emotion. That was surprising to me. I thought we were going to see a little Mesnick, a little tear ― the most distraught we see him is when she's giving her pre-proposal to him, talking about how he's the only man in the world for her, he sort of grimaces and shakes his head. That is the most emotion we see from him.
Jacqueline Trumbull: He's an emotional person, too. He was very emotional during our breakup.
Emma: That's why I'm very confused! We almost saw more emotion from him during that breakup than anything last night.
Claire: And Lauren seemed quite emotional, but in a very restrained way. She was crying, but not sobbing. She doesn't yell at him. She says she's very confused. "Why did you do that?" And finally gets in the limo and leaves, and says, "I don't know how he could," as he just told her, "not be sure who he's picking until that morning and then be ready to propose that same day."
Emma: She made some really valid points in her exit. She said, "Are you really getting on one knee if you didn't know until three hours ago?" To me, that was a Lauren with a little more edge, a little more personality than perhaps we've seen the whole season.
Claire: This is what they did with Lauren. They were like, "She's a little more reserved; let's crack her open emotionally and see what comes out." I was so pissed at Arie, the way that he coaxed her open and found out about all of her fears, and then almost used them as a justification for why she wasn't ready enough for him to propose, and let her go when he had finally gotten her to feel confident and comfortable. It just seemed gratuitously cruel. I know that's not what he was doing on purpose, but it was really hard to watch.
Emma: We also saw him say, "I feel a little bit like a monster. All I want is to tell Lauren that I love her, and instead I'm saying goodbye." And he does, he does say "I love you" after he has broken up with her.
2. Arie proposes to Becca by saying he'll choose her every day.
Emma: Arie looked like he was on the verge of throwing up the whole time.
Claire: He tells her that his love for her is "unmeasurable," and that they're a team, and that she is beautiful and elegant. It was a very detached declaration of love.
Emma: And yet we see this unbridled giddiness [from Becca]. Afterwards, he says, "We should start having children tonight ... " And he says, "I choose you today, and I will choose you every day." Which is just, if you didn't know if you wanted to propose to either of them until three hours ago, don't make declarations like that.
Claire: It almost feels like he is telling himself what he is going to do rather than declaring what he believes he wants to do. He's like, "Here's what I'm going to do. I will continue choosing you. One day at a time. Can't be that hard. Just going to keep putting one foot in front of the other."
Emma: I appreciate the immense pressure he was under, but if you are that unsure, do the harder thing, and the truer thing, and say, "I'm not proposing to either one of you. I need more time."
3. Becca shows off her engagement ring to the cameras, just minutes before getting dumped.
Claire: The breakup happens at a "Happy Couple" weekend. There are film crews there. [Becca is] doing in-the-moment interviews.
Emma: She must be slightly confused.
Claire: She seems completely unfazed by it… Maybe if I'm Becca, I'm like, "Oh this probably always happens but they just don't use the footage. Gotta go through the whole routine." So she's saying, "Arie's not here yet. Look at this ring, it's so big, he did such a good job."
Emma: Oh, the fact that they asked her about the ring just to prime her ... it was [Pauses] UGH.
Claire: And [the ring] was enormous, by the way.
Emma: Poor Neil Lane just did not get the romantic promo he normally gets on this show.
Claire: Maybe that's why they had her talk about how great the ring was. They were like, "Uh oh, Neil's gonna be upset. At least Becca thinks the rings are cool."
Emma: Now his rings are cursed.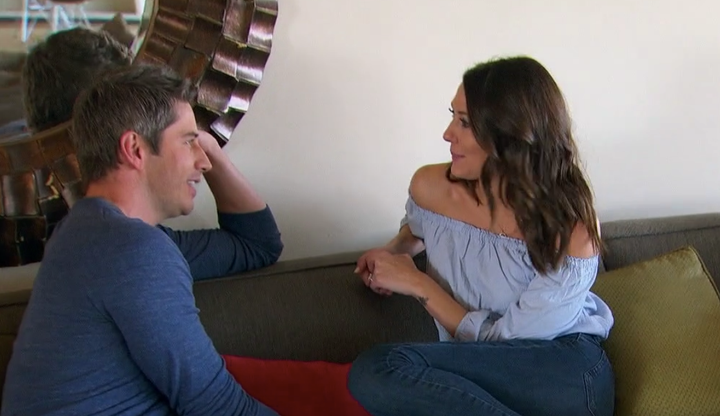 4. Arie tells Becca that "hanging out" with her took him further away from pursuing a relationship with Lauren.
Emma: I need to call out one of the lines that Arie said twice that made me so furious. He said, "I think for me, the more I hung out with you, the more I felt like I was losing the possibility of maybe reconciling things with Lauren." As though that's the justification, like, "by pursuing our relationship, I wasn't pursuing the other relationship ― and I kept realizing that. Don't you get it now?" Why would you ever say that to another person?
Jacqueline: I loved how he goes, "You don't deserve for me to only be half in." And [Becca] goes, "Well, are you gonna be half in with Lauren?" Like, this logic doesn't make sense.
Claire: Whenever he clarified in any way, it was always insulting. He was like, "The thing is I'm trying to give my all to you, but I can't because I'm conflicted." And she was like, "So you're gonna be conflicted with her?" And he's like, "No, I'm gonna be totally sure."
Emma: "I gave it a lot of thought."
Claire: For him, a lot of thought is, like, 20 minutes.
Emma: I love that she essentially calls out, yeah, that is the premise of a relationship.
Claire: Yeah, the longer you spend on a relationship, the further you are from starting a different relationship. And that was the end of his little opening speech.
5. Becca tells Arie to leave — repeatedly — and he stays.
Claire: She says, "Please leave." He leaves, he comes back, he knocks on the door, "Hey, are you OK?" No, she's not OK!
Emma: You don't get to be told what you did is OK when when you hurt another person. Breakups happen. People get hurt. That other person isn't OK and it is not on them to reassure you. When you have the control in a relationship, what you give up is the ability to be comforted by that other person.
Claire: I would've been so angry, if I were her, that I had managed to stay calm and collected until he left, and then he ambushed me crying. No. That's one thing that I wanted you to not get from me ― watching me crying over you. And [Arie] just casually saunters in, like, "Hey, I see you're crying over me."
Jacqueline: She even said that, like, "Well, you've finally seen me cry."
Emma: During this second round of conversation, she says, I think five different times, "Please leave."
Claire: And he keep saying "OK, I'm leaving. OK." Motionless.
Emma: I get one time. But when you've been asked to leave five times, get the fuck out of there.
Jacqueline: The only thing I can say in his defense, 'cause I have to do this ― it is probably very difficult to walk away from an engagement, even if you are the one ending it. And you just seek out those last few seconds of togetherness and being in that relationship. And it's hard also to walk away from someone who's hurting.
Emma: Absolutely. You want to reach the conclusion that feels conclusive. And he did not get that from her.
Claire: I relate to that. I would not want the conversation to be over after 10 minutes. I've always been the person who has breakups that last 7 hours.
Jacqueline: I got so much criticism for kissing Arie during our breakup, but those are the moments where you seek intimacy, is when you're severing.
Claire: There's a thing called breakup sex. [All laugh.] But Becca did not want breakup sex. She did not want to be touched.
Emma: It's not that I don't understand why he wouldn't want to leave. And I do empathize with him not wanting to leave another person that he cares for, who is hurting. At the same time, at a certain point it becomes a disrespect of her boundaries. What she needed was for him to leave her presence so she could process. And he did not do that.
Claire: Especially 'cause she is sort of moving through this home trying to get away from all of these intrusions on her emotions, and he is following her.
Jacqueline: It's amazing. She came off as such a badass. It was like the whole weight of male disappointment was on her shoulders.
*BONUS: Arie didn't utter the words "I'm sorry" until 49 minutes into his breakup with Becca.
A note to men (and women) everywhere: Be better than this.
To hear more about the most dramatic finale in "Bachelor" history, listen to the full podcast:
Do people love "The Bachelor," "The Bachelorette" and "Bachelor in Paradise," or do they love to hate these shows? It's unclear. But at "Here to Make Friends," we both love and love to hate them — and we love to snarkily dissect each episode in vivid detail. Podcast edited by Nick Offenberg.
REAL LIFE. REAL NEWS. REAL VOICES.
Help us tell more of the stories that matter from voices that too often remain unheard.