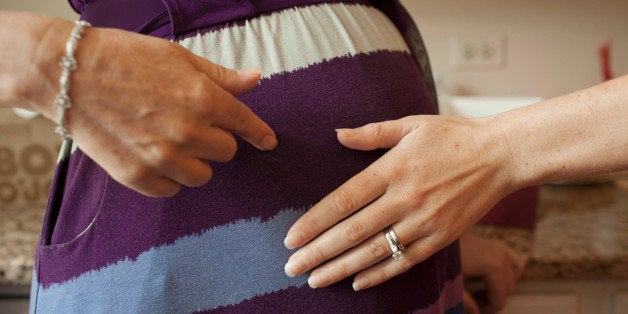 My husband and I have recently started letting people know that we are pregnant, and it has been so exciting, but also very interesting. It is our first child and let me just say that you get treated very differently when people know you've got a bun in the oven.

Up until about my mid-twenties, I was pretty sure I never wanted to have kids. There were many factors that affected my lack of enthusiasm; if I listened to the often shocked and judgmental comments I received, it would be because I was selfish. Because clearly that is the ONLY reason a woman wouldn't want to have children. I was twenty-something so certainly I am sure it was not entirely false in some respects, but not one of the reasons.

I did eventually grow into the desire to have kids. Up until the moment that I knew I was pregnant, however, I had maintained a very "If it happens, then it was meant to, otherwise..." attitude about the whole thing. I know it is not an easy process, nor one I have a bit of control over, so I tend to let go of the reins a bit in these situations. Therefore, I did not anticipate how over the moon I would be when the day came, albeit equally scared out of my wits. What has been very amusing to observe, though, is how acquaintances, friends, and family react to the news.

I know from my experience as the reactor that pregnant women can be a beacon for inappropriate word vomit. I have a few statements that I have regrettably uttered over time that still make me cringe. Although that "ability" isn't necessarily isolated to pregnant women for me, so I don't know if I can truly blame that.

However, aside from just plain offensive statements, I have observed about five types of responses that consistently surprise me, both in frequency and intensity...

(The often condescending) "Misery Loves Company"
I was mentioning the very strange things that have started to occur in both my body and mind and a very funny, poignant "mom friend" replied with just "Welcome".
While this made me laugh, there are many other people that just love to let you know that you're lovely (apparently) pointless, responsibility-free life is about to come crashing down all around you. All too often I hear, "Oh, well you can forget that once you have kids". What? No shower, sleep or happiness again?! Do I need to rethink this one, I'm starting to feel like I bought a lemon here? Anyone, anyone?? Bueller??

The "Kumbaya/Group Hug/Circle of love" people
This group came as more of a pleasant surprise. Many of my acquaintances or friends that are moms have reached out in the most lovely ways, offering encouragement and just plain genuine excitement. It's like I am finally in this fun club that I didn't know existed. I sure hope there's wine, though, because when this whole nine months is over...let me just tell you.

The Interrogator
Clearly everyone is curious and wants to know all about this exciting time, so I am not talking about that. I mean the person that rapid fires 10 - 20 questions your way and typically isn't someone that you would discuss such topics with in the first place.
(These are some actual questions) Did you give up caffeine? Was this planned? Do you plan on breastfeeding? How long did it take you to get pregnant? Are you going to work after? If so, why? Are you working out? You should probably work out? Have you started saving for college? Don't older people have a greater chance of passing on, um, genetic issues? Are you sending them (them?) to public or private schools? Do you have a financial advisor? How many kids are you having? How far along are you? You don't look pregnant? You should probably eat more?
What are you a cop? I mean geez people, I appreciate the concern, but do you even know my last name? Moving on...


The Judger
Often the Judger is usually just a special form of "The Interrogator". Once you are dumb enough to answer the Interrogator's questions (mostly based on your perusing of "What to Expect..."), well look out, because you are about to have your dignity handed back to you in a paper sack that says "stupid idiot".
Fellow newbie pregos, I strongly urge you to not discuss any tests you are taking, books you are reading, or foods you're consuming with some people; for the sake of their safety and yours. Certainly everyone is entitled to their point-of-view, but it's not a good idea to make a hormonally-charged woman angry.

The Childless ("I thought WE were never having kids") friend
This might be my second favorite group of people to tell because things tend to get uncomfortable. As you drop the bomb, you can almost see them playing "Another one bites the dust" in their head or marking you off the mental "last minute happy hour" invite list. I am sure I was this person once, so I can appreciate it.
The verbal response usually begins with a wavering "Ohhhh" like you just admitted to some heinous crime and they are trying to maintain non-judgy, neutrality. Once the shock wears off, the reality of how many of your relationships might shift and change starts to hit you.

As a typically sensitive person, none of it has really bothered me yet. Perhaps my propensity towards verbal blunders has made me more tolerant or it's the prenatal vitamins, either way; I have mostly found the whole pregnancy experience to be quite enjoyable. When it is not, I can usually find some humor in the situation, so here's hoping that trend continues. If anyone tries to rub my belly, though, all bets are off.