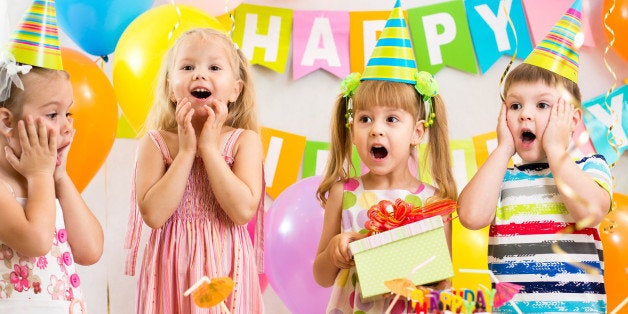 When my wife and I look back at our family photo albums we see a lot of the same pictures -- birthday parties, first days of school, and Halloweens (the year both our daughters dressed up as Wonder Woman is insanely adorable). And while we cherish all these moments, these are milestones of inertia, our kids were bound to run into them. I've realized what I appreciate even more are milestones of autonomy -- times not when they've completed a task set before them, like attending preschool, but rather instances when they solve their own problems. Of course everyone already celebrates the biggest of these feats, like eating solid food or getting potty trained, but here I'd like to offer five underrated milestones to help round out your photo albums.
1) The day they first pump their legs on the swings.
Pushing your kids on the swings is something every parent does and every parent loathes -- especially if you have kids like mine who demand an underdoggie every third push (this is when you run underneath them and pray they don't fall). Not only is pushing a swing boring but if you forget to switch up your arm you can get swing elbow (or so I've heard). But then comes the day when your kid says, "I've got this Dad! Look I can pump myself! Why don't you just sit down on the lawn chair and look up sports scores on your phone while casually checking on me every few minutes or so?" And that day is glorious.
2) The day they buckle their own seat belt.
Buckling a child's safety belt is about as much fun as tying a sailor's knot in a dark closet. The task usually involves contorting over your kid in some Cirque Du Soleil position, jamming your hand into a tight crevice to free the latch from a gooey seat cushion, and then ramming the buckle awkwardly into what you think is the right latch only to find out it's the wrong one. Now you have to yank the belt to get more slack and that's when your two year old decides to pop you in the head with his Spiderman toy. But then one day just as you're about to climb into the back of your minivan, you hear a click and your kid gives you a contented smile, and you want to cry in joy.
3) The day they no longer need you to celebrate another kid's birthday.
I actually used to look forward to attending birthday parties for my kids' friends. It was a good way to meet other parents and swap notes. That is until my 20th party being on my hands and knees rescuing my kid from a moon bounce obstacle course or trying to make sure she doesn't impale herself on gymnastic equipment. (And no, the sugar high from the cake afterward doesn't even come close to making up for the preceding hour of pain.) But then one day you open an invitation and you have to sit down for you are so touched by reading the most poetic words ever written. "Pickup is at 4:00 pm."
4) The day they put things away without being told.
In addition to keeping our children safe from all the harms of the world, my wife and I are also their innkeepers. Sure we try to cajole them to clean up with Mary Poppins-esque mind tricks, but more often than not clean up usually starts after their bedtime and ends when one of us waves the white flags and plops down on the couch. But then one day you look in kids' rooms and see it's not a complete disaster even after they've been playing in there for an hour. You're sure you've just been Punk'd so you check -- but there's no trace of Ashton Kutcher anywhere.
5) The day they dress themselves.
It's completely fun buying clothes for kids and dressing them up to make them little versions of yourself. I especially like putting my kids in Phillies gear to make sure they have their baseball allegiance straightened out from an early age. But once they gain a few motor and verbal skills nudeness prevention becomes a more trying task. For our pickiest of dressers adherence to strict protocol is required: First, no less than three outfit combinations must be selected. Next, all apparel must be properly splayed on the bed for inspection. Finally, assistance must be provided in all buttoning, snapping, and zippering of various pieces of fabric together. Even after you've finished, you're just one poop diaper away from having to start again from scratch. And then one morning they come downstairs not wearing their pj's, but fully dressed for school. This causes you to spit coffee all over the kitchen you just spent the last half hour cleaning up.
Each one of these moments has brought my wife and I great joy, and often bewilderment. Yes, we constantly remind our kids to try things on their own, but we never think they'll actually listen to us. To be honest, giving them the space they need to be more autonomous is a learning process for us too, and we're trying to get better at letting them make their own choices -- just as long as they pick the right sports jerseys to wear.