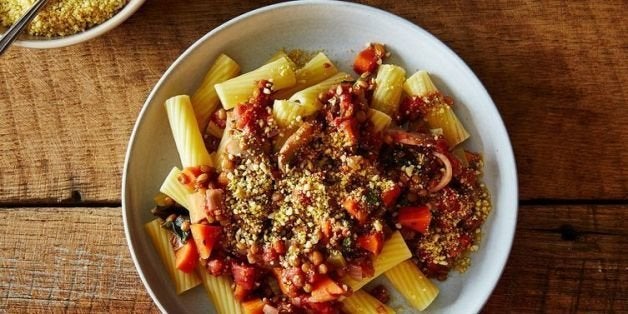 Today: Former Top Chef contestant and chef Fabio Viviani shares with us the five pastas that are always in his pantry -- and should be in yours, too.
"I HATE cilantro," he told us in his thick Italian accent before launching into a story about having to move after he discovered he had purchased a home adjacent to a cilantro farm. His animated condemnation of the offending herb convinced us -- if just for a moment -- that we should never touch the stuff again. When I called Fabio a few weeks ago to ask his thoughts about pasta, he was just as frank about the things he hates ("Some people think you've gotta soak your pasta under cold water after you cook it, but that is the stupidest thing I have ever heard!") and passionate about the things he loves -- like the five types of pasta that are always in his pantry:
Fabio recommends spaghetti, possibly the most recognizable pasta, with tomato and basil sauce, carbonara, or seafood -- as long as you don't break it. "If you are a person who has to cut spaghetti and eat it with a fork and spoon, I hope you never eat pasta again for the rest of your life! Poor spaghetti."
Once you've put your perfectly pristine, unbroken spaghetti into the boiling water, he said to adjust the salt based on the dish you're making. Fabio suggested keeping the water salt-free if you're pairing the spaghetti with an already heavily-seasoned sauce like pesto, but adding some salt when making a cheese or simple tomato sauce.
One of Fabio's favorite things about penne is its versatility: He favors it with a four-cheese sauce with sausage or meat sauce. He said, "The fact that penne are hollow helps them collect and hold sauce very well."
According to Fabio, fusilli is for one thing and one thing only: "You can only make fusilli with pesto. Any other way [of serving it] is a waste of time." He suggested using a pesto that has a lot of pine nuts. "The pine nuts fit perfectly between the curls, and the greens of the pesto fill the gaps in the pasta."
The shape of orecchiette, or "little ears" in Italian, is perfect for holding chunky, creamy sauces. Fabio recommends it with sausage and chopped broccoli.
5. Rigatoni (or farfalle for kids)
If he's being honest (which he always is), Fabio doesn't care much for farfalle, "but it's good for kids." Rigatoni, on the other hand, is one of his favorite types of pasta. He said, "Rigatoni uses the same principle as penne, but they're wider so they're perfect for chunkier dishes with things like diced pancetta and diced tomatoes."
Photo of fusilli by Alpha Smoot; all others by James Ransom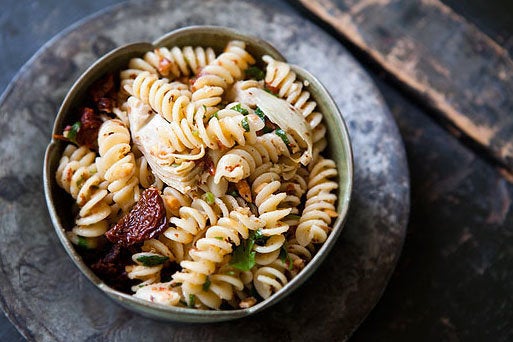 The Best 12-Minute Pasta Recipes