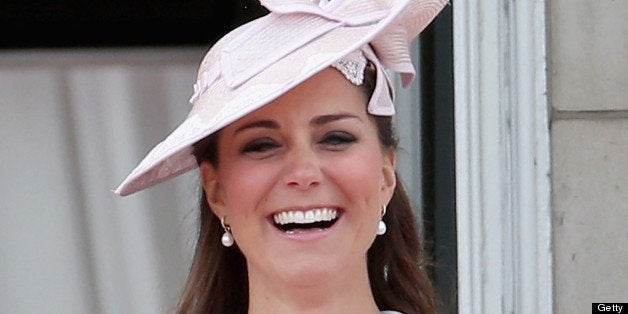 The world is waiting with bated breath for the birth of the royal baby. But as the days wear on, we are all reminded of a simple fact: Birth cannot be planned, even on a private ward in St. Mary's Hospital, London. The gorgeous and poised Kate Middleton won't be picking the due date and cannot be assured that she will have the sort of birth she thinks she desires. For heaven's sake, she might end up with a cesarean after all the buzz about the hoped-for "natural birth." So, what is a princess to do?
Some people might tell Kate that the birth experience doesn't really matter -- that all that matters is the healthy arrival of the third in line to the throne. Hogwash. Kate is a princess, but she is also a human being who will soon be a mother. Women care about the experience and remember how it happened (ask your 80-year-old neighbor if she remembers the day her first child was born -- I'm willing to bet she does); birth marks our lives, and we all want -- for ourselves and those we love -- our births to be good.
For Kate, the world will cast their vote about whether it met that mark (it can feel that way to many of us absent cameras and scrutiny). But it is not up to the world, or nature's caprices. According to the findings of The Good Birth Project (a large study I conducted with more than 100 childbearing women), there are five "secrets" to a good birth according to women who've been through it -- things they all consistently say are fundamentally at issue. They hold true for so-called "natural" births and cesareans, for straightforward and complicated births, for mothers who are also poets and teachers and dog-walkers and pastry chefs. I daresay they hold for princesses too.
1. Agency
A good birth is one in which we have a hand in shaping, that is informed by the things we value, in which we feel involved and present. This doesn't mean you have to micromanage every decision, nor does it mean that you have to actually push the baby from your body. Rather it's about feeling you are the person giving birth rather than being delivered, about remembering and being acknowledged for all you did to bring this baby into the world, whether that is enduring weeks of unrelenting nausea (as Kate and a double-digit percentage of pregnant women do), using your body to grow another human being, or playing the starring role the collaborative efforts that delivery always requires.
2. Personal Security
A good birth is one in which we feel safe and secure, in trustworthy hands. No doubt every effort has been made to keep Kate and her baby physically safe in birth, but a good birth requires that she feels safe too. That might mean having Pippa and her mom close by, feeling comfortable (whether via a soothing mantra on a hypno-birthing CD or a functioning epidural), having trust that the pair of obstetricians attending her has her best interests in mind, or feeling that somehow her privacy will be respected, that whatever details she hopes to hold close to the chest will remain her own.
3. Connectedness
The degree to which we feel meaningfully connected to our loved ones, our care providers and of course our baby. Most are waiting for the royal baby to "arrive," but in fact, something different is going on for Kate. She has been accompanied -- so to speak -- for nine months, a baby under her skin; for many moms, birth feels like a separation, a rending and reforming of one of life's most intimate relationships. There is no single, perfect script for navigating those choppy waters, but its important to feel assured that we are not alone as we become parents. Time for William to stop flying helicopters.
4. Respect
A good birth is one in which we feel others respect us, our newborn and more broadly, birth as a meaningful event in our lives. This will be a hard one for Kate. Our culture marks birth with what sociologists call sacralizing behaviors -- birth has a special, sometimes sacred status, and understandably so. Like death, birth is a bookend of life, an event that demands not just interest, but respect. But respect can get lost in the fluff of much childbirth advice literature, missteps of unthinking or nervous practitioners -- or a media circus outside the hospital entrance. I'd tell Kate to look beyond the fanfare and find the sacred in her own experience, in moments she was moved and felt something magical. It may take some looking, but it's nearly always there.
5. Knowledge
A good birth is one in which we have enough information before and during the event that we have a sense of what is happening and why, but it also depends on the wisdom we garner by virtue of going through it. Despite the (good) advice that expectant moms "do their research," none of us can know everything. No doubt it's helpful to gather information, know your options, have someone by your side who can explain things to you. But as a doctor and a mom and a researcher of nearly 20 years, I've found that there is nothing like going through it -- that one of the gifts of birth is the wisdom it imparts. It can be a precious gift, even for a princess who seems to have it all.