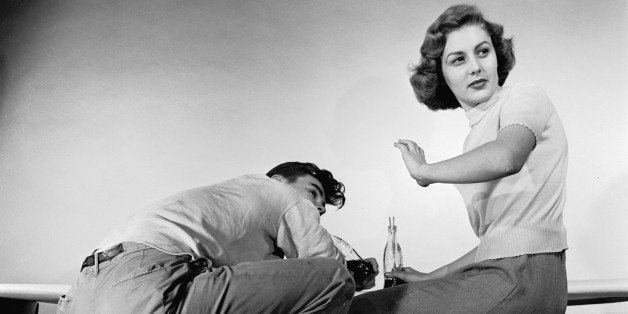 Dating after divorce is tough territory and it needs to be done right and it can be, as long as you use common sense, date when you are truly ready, and avoid getting your heart invested with the wrong people.
Here are 5 toxic people you will meet in your love journey. Please be sure to avoid them at all costs. Thank me later.
1. The Hornball with Charm
This usually pertains to women dating after divorce.
The Hornball is sowing every single one of his oats as quickly and as often as he can.
He is injured emotionally from his divorce, or is a lifelong bachelor that can't help but "taste the variety."
He is vicious and you are vulnerable. Watch out!
2. The Damsel in Distress
She's hurting. You're hurting. Or if you're not hurting, you can still relate to the damsel's pain.
Avoid her. She will have you leaping off of burning buildings and climbing numerous metaphorical trees to save her cats -- or in other words, to repair her issues and prove your undying love.
You can't. You can't cure her issues and no act will be great enough to prove to her how much you love her.
She is wounded fatally. Let her bleed. (Metaphorically speaking). Tourniquets can be applied in the case of actual blood.
Man or woman, the "Separated" party claims to be getting a divorce yet somehow, this person is not really moving forward with the divorce.
He or she will get involved with you deeply: romance, love, friendship and all other intimacies will abound, yet where's that divorce agreement? Where's that property settlement agreement?
Oh, what do you mean you saw your ex again?
Oh, what do you mean you're confused?
The "separated" will be all over the place and push and pull you in a million directions as you deal with his or her divorce drama.
Even worse? Don't be surprised when the "divorce" is called off and suddenly, you're dumped.
The Angry one is mad about everything. If he or she is divorced, it turned out poorly. If he or she is single, life is being unfair to him or her.
The Angry one thinks that you, recently divorced person, will be just as angry and sympathetic to his or her angry cause, but you won't be because you will be healed from your divorce and not dating until you are!
If the Angry one is divorced, the divorce pain lives on and is electric. If you touch this person you can feel the vile hatred the divorce caused in his or her whole entire body.
Watch out before you are engulfed in flames!

5. The Child Haters
Let's say you're dating with kids.
You'll meet someone who is ok with it at first.
Then suddenly it's a whole other ball game.
Your "child" is an inconvenience.
Your "child" doesn't allow you to pay enough attention to him or her.
This person is a big fat baby.
Dating after divorce can be excruciating but with this go-to guide, perhaps I can spare some of you some unnecessary pain.