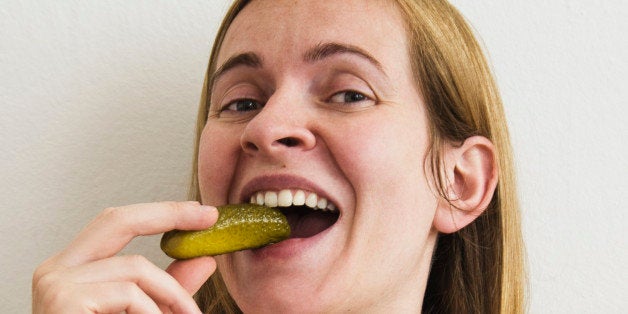 You're so close, Mumma's. You're in the last week of this massive journey and you're probably wondering how on earth you're going to get through these last days. I've been drinking Raspberry Leaf tea (hasn't done anything) and ate curry (spent two hours throwing it back up)... the whole wives tale shebang.
Given that today is my last day of pregnancy, I thought I'd share the 5 very real things that actually have happened over the past week:
Especially if you put on some nice music and it makes you think of your baby/ies. Or if you see something that reminds you of a nice memory. Or if someone is especially sweet. Pretty much anything.
2. You just want to be nude.
Too big for any kind of clothing anymore, you just simply don't want any fabric restrictions on your body. I've been rocking around in a large grey bathrobe that has literally made me resemble a baby elephant. I'm also pretty sure my neighbours have accidentally seen a bit too much of my pregnancy flesh through the curtains (and there's plenty of it let's face it) these past few days. Whoops. Must remember to send an apology when home from hospital.
God help anyone who gets in your way this week. Hormones are at an all time high and the 'don't mess with me, I'm about to give birth' instinct is palpable. You will unapologetically call out numerous people (friends, family or strangers) for things you would probably be a lot more laid back about 9 months ago. Any person who unfortunately chooses this week to be inefficient / offer an expensive quote / lack empathy towards you will probably be quickly made aware that it's unacceptable. I love the empowerment and I say go for it (within reason obviously); we are busy baking babies here!
4. You literally can't move.
I am making a lot of old man grunting sounds just to get out of the bed this week. It's super sexy. I also put off going up to the corner store for 2 whole days because I just simply did not have the energy to waddle the 50 metres. Admittedly I was craving cake so it wasn't exactly a dire emergency, but still... When I did go it took me 20 minutes to get home. Make your precious steps count. More importantly, make sure the cake is worth it.
I'm having twins and have a small group of twin Mumma's that I know around the world who have been totally invaluable throughout my pregnancy. I sent out a group message asking them how they got through these last days and received some incredible 'final week' advice. These were their top tips:
- Prep the kitchen with high protein snacks
- Create the Whatsapp contact list for your inner circle to let them know the news from the hospital
- Legs up... total enforced couch time
- Make sure any additional support you need is confirmed for when you get home from the hospital
- Do any final beauty treatments. This doesn't need to be expensive; I tinted my brows and lashes and did my own nails (hands... I haven't been able to reach my feet for a while, so I gladly paid someone to do that).
Tomorrow is delivery day and I now feel totally ready to go. Could just do with a little more cake but I'm sure we'll survive; not sure about the poor neighbours though.