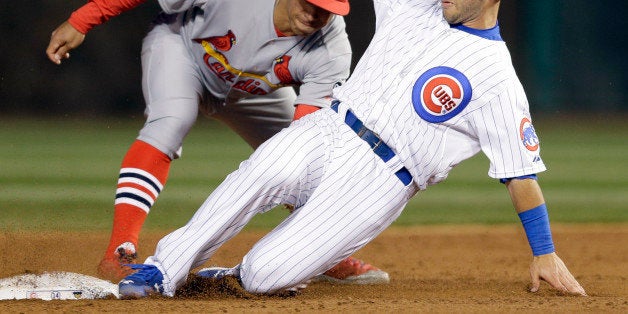 The baseball season is now upon us. "Whoever wants to know the heart and mind of America had better learn baseball," wrote Columbia University scholar Jacques Barzun in 1954. That observation remains true today and in the intervening years our national pastime has inspired great poems, music, plays, films, novels, and thousands of biographies, autobiographies, histories, essays, and other nonfiction works.
Baseball reflects every aspect of American life and culture. Baseball has become a big business. It is deeply intertwined with American politics. Its players created the most successful labor union in the country. In these 50 nonfiction books, you can read about colorful players and managers, remarkable feats of athletic prowess, and fascinating stories about fans, scouts, owners and executives, and even umpires. But you can also learn about labor strife, racism, sexism, the rise and decline of cities, the growth of the suburbs, the resilience of small towns, homophobia, immigration, and even American imperialism and militarism.
These books will provide baseball fans with great enjoyment and food for thought. But readers with little interest in baseball will also discover much they didn't know about American society through the lens of this fascinating sport.
I've left out "how-to" books and compilations of statistics and trivia. I've also excluded fiction, although baseball has inspired some of our greatest novels, including Ring Lardner's You Know Me Al (1916), Bernard Malamud's The Natural (1952), Mark Harris' Bang the Drum Slowly (1956), Robert Coover's The Universal Baseball Association, Inc., J. Henry Waugh, Prop. (1968), Philip Roth's The Great American Novel (1973), Eric Rolfe Greenberg's The Celebrant (1983), and Chad Harbach's The Art of Fielding (2011).
Rather than ranking the 50 greatest nonfiction baseball books, I've listed them in alphabetical order by author. Scroll down the list and find books that will entertain and educate. And if some of your favorite baseball books are missing, post a comment and let the rest of us know.
1.Charles Alexander, Our Game: An American Baseball History (1991). This is the best of many one-volume histories of baseball. Alexander, an academic historian, weaves anecdotes and profiles with analysis of how baseball reflected changes in the larger society, including the rise of cities, immigration, race relations, and other topics. He chronicles the sport's history from the beginning of the professional leagues. Reading this book, and watching Ken Burns' documentary series, provides anyone with the essential Baseball 101.
2.Roger Angell, The Summer Game (1972). At least once a year, Angell - the longtime fiction editor of The New Yorker - entices readers with an essay about baseball. The Summer Game is the first of several collections of his baseball writings. In this book, he reports on Sandy Koufax, Tom Seaver, Carl Yastrzemski, Willie Mays, Roberto Clemente and other players as well as the decline of the Yankee empire, baseball in Montreal, the pleasures and perils of watching (and playing) baseball inside the Astrodome), the agony of the miserable Mets of 1962, the growing popularity of other pro sports challenging baseball's hegemony, and other topics. Angell is an expert observer of the baseball world, but his essays are as much about American culture as about the sport itself.
3.Jean Hastings Ardell, Breaking into Baseball: Women and the National Pastime (2005). The growing interest in women's participation in professional baseball began with Kelly Candaele's 1988 documentary film "A League of Their Own," based on the experiences of his mother, Helen Callaghan, a left-handed center fielder who played five seasons in the All-American Girls Professional Baseball League and won the batting title in 1945. That documentary inspired Penny Marshall to make the 1992 Hollywood version with the same title, starring Tom Hanks, Geena Davis, Madonna, and other stars. Gai Berlage's groundbreaking history of women's baseball -- Women in Baseball (1994) was the first book to mine this untapped history. Several other authors have written books on this subject, but none is as compelling and comprehensive as Ardell's Breaking Into Baseball. She looks at women's involvement in the sport as players (pro and amateur), fans, umpires, front office executives, sportswriters, and what are often known as "Baseball Annies" (players' groupies - ala Susan Sarandon in "Bull Durham"). She managed to find and interview many women whose contributions to baseball had been forgotten. She includes profiles of some fascinating individuals, including the Brooklyn Dodgers' bell-ringing super-fan Hilda Chester, owners Effa Manley, Joan Payson, and Marge Schott, and umpire Pam Postema. She writes about the Colorado Silver Bullets, an independent team that barnstormed across the county from several years, and the Philadelphia Bobbies, a team of fourteen women (with a male battery) that played the Northwest and Japan in 1925. Ardell's thorough research produced a well-written account of this topic. It even comes with 24 illustrations and with a foreword by Ila Borders, the first woman to play more than three seasons of men's professional baseball. Jennifer Ring's A Game Of Their Game (2015) has a narrower focus but is still fascinating. Ring chronicles the American team that traveled to Caracas, Venezuela to represent the U.S. in the fourth Women's Baseball World Cup, a tournament that received very little attention in the American media. Ring includes oral histories of eleven of the teams 20 members, describing how they fell in love with and learned to play and excel in the sport.
4.Eliot Asinof, Eight Men Out: The Black Sox and the 1919 World Series (1965). The fixing of the 1919 World Series by gamblers and eight Chicago White Sox players was baseball's biggest scandal, even more than corked bats and steroid use. In a "you are there" style, Asinof vividly describes the unfolding controversy, as the White Sox players, angry at their low pay and mistreatment by the team owner, and eager to cash in on this opportunity, threw the series against the Cincinnati Reds. Asinof takes us behind the scenes to meetings between players and gamblers, differences among the players, how the players blew certain plays at bat and in the field but tried to cover up their underwhelming performances, the newspapermen who uncovered the fix, the Grand Jury indictment, the amazing 1921 trial, and the controversy over whether some players (especially Shoeless Joe Jackson) who didn't participate in the fix were banished from baseball anyway. The so-called Black Sox scandal led to major changes in baseball, including the creation of a new position, Commissioner, to try to redeem the sport in the public mind at the start of the Roaring Twenties. John Sayles' 1988 film, "Eight Men Out," based on the book, is one of the best baseball moves of all time. Sayles hired several young actors with baseball talent - including John Cusack and Charlie Sheen - to play White Sox.
5.Allan Barra, Clearing the Bases: The Greatest Baseball Debates of the Last Century (2002). This is book meant for baseball junkies who like to argue about the greatest (or worst) players, teams, games, seasons, and incidents in the game's history. Barra combines statistics and common sense. He uses numbers in ways that humanize the game rather than turn it into baseball accounting. He challenges the myth that Babe Ruth was baseball's savior after the 1919 Black Sox scandal, which he calls "an American creation myth." Although I grew up believing (and still believe) that Willie Mays was superior to Mickey Mantle, Barra uses statistics to convincingly challenge that view. No baseball lover will come away from reading this book without having some of his/her cherished beliefs challenged, but as a result will be a much better-informed fan.
6.Billy Bean, Going the Other Way: Lessons from a Life in and out of Major League Baseball (2003). In 1999, former major league outfielder Billy Bean made headlines, not for his play on the field but by coming out of the closet as a gay man. While Bean played for the Tigers, Dodgers, and Padres from 1987 to 1995, he pretended to date women, furtively went to gay bars, and hid his gay lover from teammates and fans. In this courageous memoir, Bean (who is often confused with another Billy Bean, the subject of the book Moneyball) recounts how Dodgers manager Tommy Lasorda constantly made homophobic jokes, even as Lasorda's gay son was dying from AIDS. Bean quit when he could no longer stand living a double life. When he came out publicly, his story made front-page news in the New York Times, and he became active in gay rights causes. Bean describes what it was like to be a gay player in a sport where uber-masculinity is admired and anti-gay jokes are common. To keep him sexuality a secret, he dated women and had to engage in furtive encounters with other gay men. He takes readers inside the clubhouse and onto the playing field, showing the physical and emotional toll that playing pro baseball takes on the players, and the added psychological burden of having to hide who he was to all but a handful of close friends. Bean's love for the game shines through, and thus his decision to quit in order to be honest with himself and to maintain his relationship with his lover is even more excruciating. Bean was the second ex-major leaguer to publicly acknowledge his homosexuality. The first was Glenn Burke, who played for the Dodgers and Oakland A's from 1976 to 1979, came out to family and friends in 1975 but lived in fear that his teammates and managers would discover his sexual orientation. In his own 1995 autobiography, Out at Home, published posthumously later that year, Burke -- who died of AIDS in 1995 at age 42 -- revealed that the Dodgers' management offered to pay for a luxurious honeymoon if he would agree to a "marriage of convenience" to conceal his homosexuality. When he refused, he was traded to the A's. The A's manager Billy Martin made public statements about not wanting a homosexual in his clubhouse, a clear reference to Burke. Frustrated, Burke retired and kept his homosexuality secret until he cooperated for a 1982 article in Inside Sports magazine.
7.Jim Bouton, Ball Four (1970). The one-time pitching ace of the New York Yankees scandalized baseball fans, fellow players and executives with the first "insider" expose of the daily lives of players, managers, and coaches. Most sportswriters until then treated players as heroic larger-than-life figures and even role models for America's youth. Reflecting the rebellious spirit of the 1960s, Bouton pulled the curtain back - revealing players who pop pills and engage in "beaver shooting," among other activities -- leading some sportswriters and the baseball establishment to call him a traitor. Commissioner Bowie Kuhn pressured Bouton (unsuccessfully) to declare the book untrue. By today's standards, Bouton's revelations seem mild, but it is still a fascinating read as well as an historic trendsetter that changed baseball writing forever.
8.Jimmy Breslin, Can't Anybody Here Play This Game?: The Improbable Saga of the New York Mets' First Year (1963). Pulitzer Prize-winning New York newspaper columnist provides a funny, affectionate, and insightful look at the first season of the "Amazing Mets," an expansion team with a roster of comprised mostly of has-been veterans and young cast-offs from other teams. That year - 1962 - the National League expanded to ten teams and the Mets came in tenth, winning 40 games and losing 120 games for manager Casey Stengel, the colorful former Yankee manager who was the perfect man for the new job. The team's .240 season batting average was the worst in the league. Having lost the Dodgers and Giants to the West Coast in 1958, many New York area fans were hungry for another major league team, especially since many of them hated the Yankees, the only team left behind. The Mets were the city's lovable losers. In his introduction to the book, Bill Veeck praises Breslin for "preserving for all time a remarkable tale of ineptitude, mediocrity, and abject failure."
9.Jim Brosnan, The Long Season (1960). This book laid the groundwork for Bouton's Ball Four a decade later. Brosnan spent nine years in the majors as a so-so relief pitcher for the St. Louis Cardinals and then the Cincinnati Reds. In 1959, he kept a diary, beginning with the winter when he waits to see whether his contract will be renewed, then takes us through spring training in Florida and through the entire season. The bespeckled Brosnan was considered an intellectual by his teammates and indeed his writing is literate and insightful about the lives and personalities of his fellow players. It was not as controversial or scandalous as Bouton's book but it had almost as big an impact in terms of its influence on baseball writing, anticipating the graceful works by Roger Kahn and Roger Angell.
10.Adrian Burgos Jr., Playing America's Game: Baseball, Latinos, and the Color Line (2007). Until recently, baseball historians routinely ignored the reality that Latinos were a part of professional baseball (including the Negro Leagues) from its early days, beginning with Esteban Bellan, a Cuban who played in the National Association between 1871 and 1873. Using archival materials from the United States, Puerto Rico and Cuba, and interviews with major league and Negro League players, Burgos reveals how Latino players negotiated racial barriers. Some Latinos "passed" for white, and some Black players "passed" as Latinos, depending on which group was more accepted in particular times and places. He shows how the idea of "race" is an arbitrary category, subject to changing prejudices and conditions. Some Anglicized their names to avoid discrimination. Some Negro League teams were comprised almost entirely of Cubans. Some major league teams were more willing than others to recruit Latino players, laying the groundwork for the Brooklyn Dodgers general manager Branch Rickey to sign Jackie Robinson to officially dismantle the major league color line in 1947. Burgos, a history professor at the University of Illinois, offers captivating profiles of the trials and triumphs of players like Minnie Minoso, Robert Clemente, Orlando Cepeda, and other Latino pioneers, many of them little-known even by many baseball fans.
11.Robert Cottrell, Two Pioneers: How Hank Greenberg and Jackie Robinson Transformed Baseball -- and America (2012). Greenberg and Robinson were pioneers on and off the baseball field. In confronting anti-Semitism and racism, they not only changed baseball but they also changed American society by challenging stereotypes and speaking out against bigotry. Not surprisingly, Greenberg was one of the few white ballplayers who supported and encouraged Robinson when he entered the major leagues in 1947. The best biography of the Jewish slugger is Hank Greenberg with Ira Berkow, Hank Greenberg: The Story of My Life (1989). Berkow began writing the memoir with Greenberg and completed it after Greenberg died.
12.Richard Ben Cramer, Joe DiMaggio: The Hero's Life (2000). After reading this book, you will admire DiMaggio's exceptional athletic feats and his loyalty to his ex-wife Marilyn Monroe, but you will come away thinking that as a human being the Yankee Clipper was an incredibly selfish asshole. Cramer writes as gracefully as DiMaggio played. The son of a Sicilian immigrant who scratched out a bare living as a San Francisco fisherman, DiMaggio was such a remarkably talented ballplayer (at bat as well as in center field) that he rose quickly from the sandlots to the big leagues. He was soon one of the most popular figures in pro baseball. He enjoyed his fame but he insisted on his privacy and kept most people at arm's length, although he had his own bevvy of hangers-on, including mobsters, celebrities, sportswriters, and showgirls. He was inarticulate and ashamed of his lack of education. From his rookie season in 1936, DiMaggio replaced Babe Ruth and Lou Gehrig as the idol of Yankee fans, keeping the team consistently in the World Series. Cramer's look at DiMaggio's 56-game hitting streak in 1941 may convince you that it is the single most remarkable accomplishment in baseball history. He was loved and admired by fans but he an unhappy soul. His marriages (including his second marriage to Monroe) were failures. He had many acquaintances but few real friends. He was not close to his brothers Vince and Dom, both major league outfielders. DiMaggio remained a public figure after he retired - flacking for Mr. Coffee and basking in the applause of crowds at Old Timers game -- but was basically a lonely man. Cramer captures DiMaggio's heroic and the tragic side in this highly readable biography.
13.Robert Creamer, Babe: The Legend Comes to Life (1974). A veteran writer for Sports Illustrated, Creamer's biography of Babe Ruth is worthy of his extraordinary subject. Ruth is the most famous player and colorful character in the game's history, but Creamer is not awed by the task of revealing the man behind the legend. He examines Ruth's early days in a Baltimore orphanage, his incredible early days in the majors as the Red Sox ace pitcher, his glory days with the Yankees as a home run-hitting slugger and outsize personality, and his rapid decline and humiliation with the Boston Braves and Brooklyn Dodgers. The superb biography ranks as one of the best ever written about a baseball player, although Creamer's 1984 bio of Casey Stengel is almost as great.
14.Nicholas Dawidoff, The Catcher Was a Spy: The Mysterious Life of Moe Berg (1994). Berg was a second-string catcher for several major league teams between 1923 and 1939. As a baseball player, he would hardly rate a full-scale biography. But Berg was a fascinating individual on many levels and Dawidoff does justice to the secretive Berg who was a rare college graduate (Princeton) among players of that era as well as one of the few Jewish major leaguers. Berg earned the Medal of Freedom for spying on the German's A-bomb project for the Office of Strategic Services but was later dropped by the CIA. Dawidoff interviewed hundreds of people and mined many archives to uncover Berg's secret life - not only as a spy but as a man whose entire life - including his final two decades as an out-of-work vagabond who mooched on his friends through his charm and wit - was shrouded in mystery. Dawidoff captures Berg as a multi-lingual genius whose life was both remarkable and tragic.
15.Robert Elias, The Empire Strikes Out: How Baseball Sold U.S. Foreign Policy and Promoted the American Way Abroad (2010). Elias loves baseball but he doesn't like the way it has been used by American corporations and the U.S. government (including the military) to impose our values on other countries and exploit its natural and human resources. Elias follows the game from the Revolutionary War to modern times. He documents that baseball has played a role in every U.S. war and every American overseas adventure since the 1800s. During World War 1, a New York Times reporter suggested that "The world ought to be made safe for baseball." Although few have expressed that sentiment so bluntly, Elias demonstrates that baseball has often been a pawn in the game of world politics. Elias' revisionist history examines how Americans exported baseball to Japan, Cuba, Central America, Great Britain, and Western Europe as part of its broader aims to gain economic and military advantage. His analysis of baseball's role in the Cuban and Nicaraguan revolution is provocative. He notes that, even today, Major League Baseball is unwilling to share power with international baseball federations, the International Olympic Committee, or foreign leagues. He observes, drawing on the research of other scholars and journalists, that MLB colonialism is alive and well in Latin America and elsewhere, exploiting cheap foreign labor trained in plantation-like baseball academies. Elias' extensive research is filled with eye-opening anecdotes and tidbits. Did you know that the word "bullpen" originally described an enclosure used by the U.S. cavalry to detain Native Americans?

16.David Halberstam, The Teammates: A Portrait of a Friendship (2003) In October 2001, Dominic DiMaggio and Johnny Pesky began a 1,300-mile car trip to Florida to visit their friend and former Boston Red Sox teammate Ted Williams, whom they know is dying. Halberstam takes us with them as they get together with Williams but also takes us back to their days in uniform, where the first formed a bond that would last for over 60 years and would include another player, Bobby Doerr, the fourth member of this close group, who wasn't able to join DiMaggio and Pesky on the road trip. Halberstam is one of the greatest journalists of the 20th century, alternating big books about politics with books about sports and athletes. The Teammates is one of his best of both genres, a profoundly moving story of four men recalling their years as outstanding athletes and recounting their transformation into senior citizens dealing with the hardships of old age.
17.Arnold Hano, A Day in the Bleachers (1955) Hano, one of our preeminent sportswriters, takes from the subway ride to the ballpark, through batting practice and warm-ups, to the game-winning home run. On an inning by inning basis, it chronicles the opening game of the 1954 World Series which the underdog New York Giants eventually won in four games. But the book concentrates on the first game at the Polo Grounds and depicts the most famous catch in baseball history, Willie Mays over-the-shoulder steal of Vic Wertz's fly ball to center field that, had Mays not caught up to it, would have certainly been triple (or perhaps even an inside-the-park homer). Hano also describes bleacher fans' thrill when Dusty Rhodes hit the game-winning pinch-hit home run in the 10th inning. Hano takes readers into the stands in order to view the game from the perspective of the ordinary fans.
18.John Helyar, The Lords of the Realm (1995) This a colorful and insightful history of baseball's labor-management relations up through the 1994 strike, but it doesn't read at all like a book about economics. It is filled with fascinating anecdotes, profiles of players, owners, agents, and others. We learn about Danny Gardella, a so-so major league player who jumped to the Mexican League in 1946 and sued when all the big league owners used the hated reserve clause to blacklist him. (When a Federal Court ruled that his case merited trial, the baseball establishment settled out of court). We learn about how the players' union overturned the reserve clause and brought about free agency. We see how Commission Peter Ueberroth and the owners colluded in ways that would make an anti-trust lawyer squirm, even though baseball has a ridiculous exemption from anti-trust laws. We get all sides of the Pete Rose scandal. Most of the owners come off as greedy egomaniacs. Bill Veeck is an exception - a non-greedy egomaniac. Players Association chief Marvin Miller is a hero.
19. Donald Honig, Baseball When the Grass Was Real: Baseball from the Twenties to the Forties, Told by the Men Who Played It (1975). It is easy for baseball writers to fall prey to nostalgia for the "good old days." But Honig resists that temptation while reminding us of how different the game between the two major wars as seen through the eyes of the players - including the greats and the not-so-greats. Honig followed in footsteps of Lawrence Ritter, whose 1966 book, The Glory of Their Times: The Story of the Early Days of Baseball Told By the Men Who Played It, was Honig's inspiration. Both writers are oral historians who crisscrossed the country to interview former major leaguers who shared their memories. In Honig's book, we learn about the sport's iconic figures (such as Babe Ruth, Lefty Grove, Ted Williams, Bob Feller, Dizzy Dean, Jackie Robinson, Lou Gehrig, and many others) through stories told by their teammates and opposing players, including Wes Ferrell, Charlie Gehringer, Elbie Fletcher, Bucky Waters, Billy Herman, Cool Papa Bell, Spud Chandler, Pete Reiser, and others. Honig, who eventually wrote 39 books about the national pastime, once explained his method: "I began trekking around the country, doing face to face interviews. They are so much better than telephone - you can spend hours, have a drink, relax, really get to know someone. I could have done Ted Williams, but only by phone, so I passed on it. And Ted told me 'we could make an appointment, but chances are, I wouldn't show up.'"
20.Jerome Holtzman, No Cheering in the Press Box (1995). Holtzman, a longtime sportswriter for several Chicago newspapers, gathers together the reminiscences and reflections from 24 sportswriters -- including Red Smith, Jimmy Cannon, Shirley Povich, Ford Frick -- during "the Golden Age of Sports" between the two World Wars when newspapers, not TV, re-created the drama of the boxing ring, the racetrack, and, above all, the baseball field. Originally published in 1974, the revised 1995 edition of the book adds six new names, including Wendell Smith, who was one of the best baseball writers within the African American press and whose name is now better-known thanks to the recent film "42" about Jackie Robinson. This is oral history at its best. This is Holtzman's version of The Boys of Summer, except it focuses on the boys with typewriters and notepads rather than bats and gloves.
21.Roger Kahn, The Boys of Summer (1972). Many baseball aficionados consider this the best book ever written about the game. It tells the story of the men who played on the great Brooklyn Dodger teams of the 1950s - not only during those great seasons but also what happened to them when their glory days were behind them. Kahn's profiles of the players - not only the superstars like Jackie Robinson, Pee Wee Reese, Don Newcombe, Gil Hodges, Roy Campanella, and Duke Snider, but also the second stringers and bench warmers - are beautifully written, filled with warmth, humor, and wit. There is much triumph and tragedy, as with any group of human beings. We learn that when Carl Furillo, a great hitter whose rifle arm also made him an outstanding right fielder, ended his playing days he became a construction worker and helped build the World Trade Center, then owned a butcher shop in Queens, and later worked as a night watchman. Kahn writes movingly about Joe Black, who joined the Dodgers from the Negro Leagues and had one exceptional season - pitching the team to the 1952 pennant, winning the Rookie of the Year award - then hurt his arm and was out of the majors three years later. But Black returned to his (and my) hometown in New Jersey, taught school, then became a successful executive with Greyhound and an advocate for former Negro League players. Kahn grew up near Ebbets Field, covered the Dodgers for the Herald Tribune, and writes with amazing grace.
22.Roger Kahn, Good Enough to Dream (1985). No matter what major league team you support, Kahn's book will have you rooting for the 1983 Utica Blue Sox in the New York-Penn League. Kahn decided to purchase this lowly minor league team (it came cheap) and writes lovingly and humorously about its players, fans, umpires, and staff as well as about the tribulations of being an owner who has to decide whether and when to release a young player and has to make sure that the bathrooms in Murnane Field are clean and the toilets are working properly. "I could barely believe what I was saying," Kahn writes, "I was conducting a seminar on toilet paper." The Blue Sox were not a farm team of any of the major league franchises, so Kahn was in charge of a team filled with free agents whose chances of making "the show" were slim. But the Blue Sox wound up being in a tight pennant race, so there's also a lot of on-the-field drama as his players come together, concerned as much about their team's accomplishments as about their individual careers and getting out of the minor leagues at the bottom of the pro baseball system. Some of his players, however, were "derided as castoffs" and as "geriatric rejects," but they loved playing baseball, which makes the book a revealing human story as much as a tale about sports. "How good are these guys," Kahn asked his general manager. "They're good enough to dream," was the reply.
23.Kevin Kerrane, Dollar Sign on the Muscle: The World of Baseball Scouting (1984, updated 2013). Baseball scouts can make or break players' careers. As player salaries (and initial signing bonuses) have dramatically increased, the role of scouts has become even more important. Kerrane take us inside their world, where we learn about their daily lives, how they evaluate players, and the original (and often surprising) scouting reports on some of baseball's greatest players. "The scouts who seek out major league prospects are like explorers, wandering the country's amateur diamonds in the hope of finding a treasure--or a raw talent that can be turned into a treasure. A lot of what romance remains in baseball centers on this perennial quest, and Kerrane, an English professor at the University of Delaware, captures it in this wonderfully affectionate book." -- People magazine. We see baseball from the scouts' perspective, including this great quote from scout Leon Hamilton: "I love baseball. I hope to die, when my time comes, in a ballpark. And I just hope that I don't fall on the guy next to me while the tyin' or winnin' run is on base and keep him from seein' it..."
24.Charles Korr, The End of Baseball as We Knew It: The Players Union, 1960-81 (2002). Historian Korr was the first scholar given access to the files, letters, and correspondence of the Major League Baseball Players Association, including the files of Marvin Miller, the union's brilliant executive director, hired in 1966. Korr also draws on interviews with ballplayers, journalists, and team executives to construct this insider's view of the formative years of the most successful labor union in the country. The book's title comes from former big league manager Paul Richards, who warned that if the owners signed a collective bargaining agreement with the union, it would be "the end of baseball as we knew it." He was right. The MLBPA not only changed baseball. It also changed all American sports, amateur and pro. Baseball players are among the most individualistic in major pro sports. Getting them to join forces into a union was no easy task, especially when owners kept reminding them that there were plenty of other athletes willing to take their places. Korr explain how they did it. Among other things, it required a few high profile, and thus irreplaceable players, to take leadership. Korr gives credit to Tom Seaver, Jim Bunning (later a right-wing U.S. Senator!), Ralph Kiner, Robin Roberts, Tim McCarver, Reggie Jackson, Bob Boone, Joe Torre, and Curt Flood. Introductions to books by celebrities are usually pretty awful, but Bob Costas' introduction is insightful and entertaining.

25.Mark Kurlansky, The Eastern Stars: How Baseball Changed the Dominican Town of San Pedro de Macoris (2010). American baseball is a colonial enterprise. It has outposts around the world and imports cheap labor to maintain its big profits. Nowhere is this more evident than in the Dominican Republic. In 2005, according to Kurlansky, about one-quarter of minor league players came from the Dominican Republic. The epicenter of that small nation's baseball culture is the small town of San Pedro de Macoris. Between 1962 and 2008, it 79 players to the major leagues. (During that same period, only 129 big leaguers came from New York City). Kurlansky explains how Cubans, who had learned baseball from Americans, brought the game to the Dominican Republican in the late 1800s. The sugar mills in and around San Pedro - many of them owned or controlled by Americans - fielded their own teams comprised of cane cutters for whom baseball was a respite from their low-paying and physically demanding jobs. After Jackie Robinson broke baseball's color line in 1947, MLB teams began recruiting Latin American players, but their numbers grew slowly until 1965 (when the amateur draft was established) and 1975, when, thanks to the players union, free agency allowed players to sell their talent to the highest bidder. But in typical colonial (or imperialist) style, those rules only applied to American players. Players from overseas didn't have the same negotiating clout. At that point, the Dominican talent pool became a highly valued source of cheap labor. Scouts began signing them at bargain-basement rates which, to the desperately poor Dominican families, seemed like a bonanza. Only a handful of them will make the majors and the big money, but their dreams have fueled a growing pipeline of talented young Dominican athletes eager for their shot at the big time. Kurlansky recognizes the imperialistic aspects of this story, but he is somewhat romantic, and apolitical, in telling this tale of exploitation. It would be useful to read this book in tandem with Elias' The Empire Strikes Out.
26.Chris Lamb, Conspiracy of Silence: Sportswriters and the Long Campaign to Desegregate Baseball (2012) - Everyone knows that Jackie Robinson broke baseball's color line in 1947. But few people know about the bold inter-racial movement that laid the foundation for Robinson's achievement. Progressive and left-wing activists, radical journalists, and the Black press led the effort to desegregate baseball. The campaign was one of the most important civil rights stories of the 1930s and 1940s. Most white Americans knew nothing about this story because mainstream newspapers said little about the color line and less about the efforts to end it. Lamb shows how white mainstream sportswriters perpetuated the color line by participating in what their black counterparts called a "conspiracy of silence."
27.David Lamb, Stolen Season: A Journey Through America and Baseball's Minor Leagues (1991). Lamb needed a break from his job as a political reporter foreign correspondent for the Los Angeles Times, so he spent a summer traveling16,000 miles across America visiting as many minor league towns and stadiums as he could. Starting in Stockton, California, he watched and talked to the owners, managers, coaches, players, and fans in Arizona, Oklahoma, Texas, Florida, Appalachia, New England, and the Midwest. It is an eye-opening chronicle of hopes and dreams but also a snapshot of the towns (many of them in rural areas) that support these teams because they love baseball. Lamb is a sharp-eyed reporter and a baseball fanatic who writes about the game and the unforgettable characters he meets with humor and warmth. One of the most poignant scenes is Lamb's encounter with his boyhood hero, Eddie Mathews, the former Braves slugging third baseman who was working as a batting coach for the Braves' AA team in Durham, North Carolina. Starting in the 1950s, many minor league teams and leagues collapsed, the result of the rise of television (making major league games accessible to people around the country) and unsustainable economics. But in recent years, minor league teams have made a slight comeback in small towns and big cities alike.
28.Jane Leavy, Sandy Koufax: A Lefty's Legacy (2002). Koufax was the greatest pitcher in major league history, but his career was cut short by injuries and he retired at age 32. His 1963 season - in which he won 25 games, lost 5, posted a 1.88 earned run average, struck out 306 batters, pitched 20 complete games and 11 shutouts - might be the greatest single season mound performance in modern baseball history. Few know that in high school Koufax was better at basketball than baseball, earning a hoops scholarship to the University of Cincinnati. The Dodgers signed this Brooklyn native as the "great Jewish hope" but his first few years in the majors were a flop. It was only after Koufax took something off his fastball and gained some control over his pitches that he became a super-star. Koufax was not a colorful character, but Leavy manages to make this biography both poignant and entertaining by piercing the veil of the reclusive Koufax who has always been reluctant - as a player and as a former player - to bask in his celebrity. Leavy intersperses chapters about Koufax's life with a riveting and detailed inning-by-inning narrative of his 1965 perfect game, written in the present tense, which gives readers a sense of being at the game. She not only reports what is happening on the field but also what is taking place in the locker room, in the press box, among the grounds crew, and among the fans in the seats. She describes the play-by-play of legendary announcing Vin Scully, who by the ninth inning "was no longer simply the voice of the Dodgers. He was the narrator of a collective aspiration." She gives due credit to Bob Hendley, the opposing pitcher, who threw a one-hitter. He not only lost the game; his feat has been lost to history, overshadowed by Koufax's perfection.
29.Jane Leavy, The Last Boy: Mickey Mantle and the End of America's Childhood (2010). Mantle arrived to play outfield for the Yankees in 1951 and to replace the iconic Joe DiMaggio. The poorly-educated son of a hard-scrabble zinc miner from rural Oklahoma, Mantle was amazingly strong, fast, good looking, and shy but charming, and played in the nation's media capital. He was probably the most written-about super-star in baseball history. His talent was obvious. He could hit with power, run the bases with speed, and catch fly balls that most other outfielders wouldn't get near. During his 18-year career, Mantle put up All Star numbers, and won three MVP awards and a triple crown in 1956, despite playing on a crippled leg that slowed him down and was constantly in pain. But his playing days and his years in retirement were filled with as much tragedy as triumph, a victim of injuries, drinking, and a careless attitude about his physical condition. Because Mantle believed he would die as a result of an inherited disease before his reached his prime, he abused his body and his natural talent. Leavy's portrait of Mantle is a literary masterpiece as well as a masterful feat of investigative reporting. She reports that Mantle was sexually abused as a child by a half-sister and neighborhood boys, which had lasting emotional consequences of which Mantle himself was hardly aware. She also tracks down the boy (by then, a 69-year old man) who found the baseball that Mantle drove 565 feet out of Washington's Griffith Stadium in order to dissect the myths and realities of that remarkable blast. Leavy has an eye for anecdotes that reveal a larger reality. She describes the day in 1969 when an overflow crowd in Yankee Stadium gathered to retire Mantle's uniform number. "He had watched Gary Cooper deliver Lou Gehrig's farewell address in 'The Pride of the Yankees.' Now he was standing in the same spot, invoking Gehrig's parting words: 'I always wondered how a man who knew he was going to die could stand here and say he was the luckiest man in the world. Now I think I know how Lou Gehrig felt.' "What was lost in all the huzzahs attendant to the occasion -- the last lap around the stadium in a bullpen cart with hand-painted pinstripes -- was that he cast himself as a dying man. In fact, he was already planning his funeral." Leavy describes Mantle's alcoholic binges, his womanizing (he even hit on Leavy when she first tried to interview him), and his troubled relationship with his wife and children, but she also provides examples of Mantle's charitable acts and kindness, the affection his teammates had for him, and, toward the end of his life, his growing self-awareness and regrets that led him to acknowledge his failures and urge youngsters not to follow his example. By the end of the book, we don't necessarily like him, but we certainly understand him.
30.Michael Lewis, Moneyball: The Art of Winning an Unfair Game (2003). In 2002, the Oakland Athletics had a surprising winning record (103-59) - and even won an incredible 20 consecutive games - despite having the smallest player payroll of any major league team. Lewis followed the team and discovered the secret of the A's success was general manager Billy Beane's use of statistics to evaluate and trade for under-appreciated players who didn't command huge salaries but, as a team, were outstanding at producing runs and winning games. Beane was the first general manager to take seriously the number-crunching expertise pioneered by Bill James and his annual report, Baseball Abstract. Beane defied conventional wisdom and his own scouts in assembling his team through shrewd trades. Lewis' book is both a wonderful profile of Beane and a fantastic "insider" look at the daily life of a major league team. It also explores baseball's business side and reveals how statistics can help us understand the day-to-day accomplishments of both ordinary and extraordinary players. But Moneyball doesn't read like a business book. It is filled with colorful figures, including Beane, who transformed himself from a "can't miss" baseball prospect who never fulfilled his on-the-field potential to a successful sports executive whose assessment of players' talent and character was informed by his own experiences as a player. The film version of Moneyball, released in 2011, is among the best baseball movies ever made.
31.Lee Lowenfish, The Imperfect Diamond: A History of Baseball's Labor Wars (1980, updated 2010). From the introduction of the reserve clause in 1879 to the lockout and basic agreement of 1990, baseball players have been engaged in one of the longest and most colorful labor struggles in our nation's history. The Imperfect Diamond tells the stories of the players and their opponents, the powerful owners. We learn how John Montgomery Ward led the Players League Rebellion of 1890, the rise and fall of David Fultz and the Baseball Players Fraternity (1912-18) and the hardball regime of the sport's first Commissioner, Kennesaw Mountain Landis, who was brought in to restore the game's credibility after the 1919 Black Sox scandal. Lowenfish explores how the baseball establishment blacklisted players who jumped to the Mexican League for better salaries and the case of one of those players, Danny Gardella, who sued baseball from infringing on his rights as a worker. The Baseball Players Association was founded in 1953 but, as Lowenfish explains, it didn't know how to use its muscle until it hired Marvin Miller as its executive director. Curt Flood, Andy Messersmith, and Dave McNally helped destroy baseball's dreaded reserve clause and create a new era of free agency. Lowenfish explains how the baseball owners persuaded Congress to exempt the pro sports from anti-trust laws, how players had to fight for a pension fund for retired players, the 1991 midseason strike, the 1994-95 strike that led to the cancellation of the World Series, and players' skyrocketing salaries, and the recent steroids controversy. Lowenfish writes clearly and colorfully. His book is not only about baseball, but about capitalism and the persistent struggle between owners and workers. In the case of major league baseball, however, the workers - thanks to their union - eventually won most of the major battles. Left out of these victories - and out of Lowenfish's otherwise comprehensive account - are the minor league players and the workers employed by major league teams as ushers, food vendors, parking lot attendants, and other support staff.
32.David Maraniss, Clemente: The Passion and Grace of Baseball's Last Hero (2006). Roberto Clemente was baseball's first Latino super-star. But his athletic accomplishments didn't stop the racism he faced on and off the field, including among teammates, fans, and especially many sportswriters. Like Jackie Robinson, he used his celebrity to speak out on social issues. During his career with the Pittsburgh Pirates, he won four batting titles and led the team to championships in 1960 and 1971. He got hits in all 14 World Series games in which he played. He ended his career with exactly 3,000 hits, getting the last one in his final at bat. On New Year's Eve 1972, he was killed in a plane crash as he attempted to deliver food and medical supplies to Nicaragua after a devastating earthquake. He and Lou Gehrig are the only players to have the five-year waiting period waived so they could be enshrined in the Hall of Fame immediately after their deaths. Maraniss captures Clemente's life and times, his baseball heroics, the obstacles he overcame, and his commitment to helping others. He also uncovered documents that reveal the negligence that led to Clemente's death in an uninspected, overloaded plane.
33.Marvin Miller, A Whole Different Ball Game: The Inside Story of the Baseball Revolution (2004). The biggest scandal in baseball history doesn't have to do with steroids or fixing games. It is the blacklisting of Marvin Miller from baseball's Hall of Fame. Year after year, the owners have colluded to change the rules to make sure that Miller, the first executive director of the Players Association, doesn't win enough votes to get into Cooperstown. Adding to the scandal is the Players Association's failure to wage a campaign to insist that Miller - who lead the union from 1966 to 1983 and who died in 2012 at age 95- be voted into that hallowed hall. I interviewed Miller for The Nation in 2008; by then, he was resigned to this snub and no longer cared. Miller's 2004 autobiography tells the story of how the Players Association forced owners - who conducted their business like feudal barons and treated their players like serfs - to recognize the union and compensate players based on their value to the franchises. Miller, who had been chief economist and assistant to the president of the steelworkers' union, recounts his experience educating players to think of themselves as workers and union members, while dealing with hostile club owners and sport writers. He gives credit to the players, like Curt Flood and others, who made significant sacrifices for the union and their fellow players. This is a first-hand account by the most influential individual in baseball history.
34.Danny Peary, Cult Baseball Players: The Greats, the Flakes, the Weird and the Wonderful (1990). There are hundreds of baseball books about the "best" and "worst" players, teams, seasons, and so on. This book is unusual because it focuses on "cult" players whose greatness isn't necessary defined by batting averages, won-loss records, or similar statistics. Each chapter is an essay written by a different writer about his or her favorite player. Some essays are better than others but a few are outstanding. One of the best is John Schulian's ode to Steve Bilko, perhaps the greatest slugger in the 1950s Pacific Coast League who had a so-so major league career and whose exploits so inspired TV writer Neil Simon that he named Phil Silvers' conniving Army sergeant after him. Harvard paleontologist Stephen Jay Gould waxes poetic about the New York Giants' Dusty Rhodes, who had a few remarkable years as a pinch hitter. Filmmaker John Sayles' elegy for slugger Dick Stuart and newspaper columnist Pete Hamill's ruminations about infielder Eddie Stanky are worth the price of admission. The best, though, is the essay by Ron Shelton (who wrote "Bull Durham" among other sports films) about Steve Dalkowski, perhaps the fastest pitcher in baseball history whose drinking and wildness kept him from becoming a major leaguer, much less a star. Perhaps the biggest gap among the thousands of books written about baseball is a biography of Dalkowski, a tale more about tragedy than triumph, but a haunting human story nonetheless.
35.Robert Peterson, Only the Ball Was White: A History of Legendary Black Players and All-Black Professional Teams (1970). Over the past three decades, there have been dozens of books written about the Negro Leagues, but Peterson was the pioneer who set the stage for all the others. Former Negro League players are now in the Cooperstown Hall of Fame, the Negro Leagues have their own Hall of Fame in Kansas City, and there are lots of websites where you can learn about the Negro League teams and stars. Written and researched in the 1960s - when most of the great Negro League stars were still alive and a few were still in the majors - Peterson relied on news accounts (including the Black press) and interviews to compile this remarkable account of this fascinating institution that flourished as a result of Jim Crow and then quickly collapsed after Jackie Robinson crossed baseball's color line. We not only learn about Negro League legends like Satchel Paige and Josh Gibson, but also about the many lesser-known but stellar stars who would have been All Stars in the major leagues if the owners hadn't kept them out. The book includes brief profiles of about 60 of the greatest players in Negro League history. Peterson also writes about how the black and white owners exploited their players at the same time they provided them with an opportunity to make a living (and become celebrities within the black community) playing baseball. Peterson's book is still worth reading even though there are now many books on the topic, among the best of which are John Holway's Voices from the Great Black Baseball Leagues (1975), Donn Rogosin, Invisible Men: Life in Baseball's Negro Leagues (1983), Neil Lanctot, Negro League Baseball: The Rise and Ruin of a Black Institution (2004), and the magisterial Baseball's Great Experiment: Jackie Robinson and his Legacy by Jules Tygiel (1983).
36.Jim Piersall & Al Hirshberg, Fear Strikes Out (1955). This is one of the most courageous books ever written on any subject. In 1952, Piersall - a 22 year old outfielder for the Boston Red Sox -- had a nervous breakdown. At the time, mental illness was even less understood than it is today, and carried a huge stigma, especially for public figures like athletes and entertainers. During his first full season with the Red Sox, Piersall's erratic behavior - taking bows after catching a fly ball, getting into disputes with fans and umpires and occasional fights with opposing players - eventually led to spending six weeks at Westborough State Hospital. In his book, Piersall provides a frank and fascinating account of his breakdown and how - with the help of doctors, his wife, and even his teammates - he was able to recover and resume his pro career. The book describes his rise from the sandlots of Waterbury, Connecticut to the big leagues, but it understandably focuses on his psychological condition and his growing self-awareness. Piersall went on to have an outstanding (though not Hall of Fame caliber) and colorful playing career with the Red Sox, Indians, Senators, Mets, and Angels. In his 17-year career, he hit .272 and 104 homers, was a two-time All-Star and a great defensive outfielder with a .990 lifetime fielding percentage, among the highest of all-time. Even after his comeback, Piersall occasionally engaged in odd behavior (like trotting backwards around the bases after hitting his 100th home run) that reminded fans that although he had recovered from his breakdown, he was still somewhat "crazy" in popular parlance. He later became a respected baseball broadcaster. Unfortunately, more people have seen the film version of Fear Strikes Out than have read the book. The 1957 film -- starring Anthony Perkins as Piersall and Karl Malden as his domineering father who pushes his son beyond all reasonable limits -- is awful, although it has some heartbreaking and insightful moments. Perkins was unsuited for the role. He overacted and had no athletic ability. But his tortured acting in "Fear Strikes Out" must have persuaded Alfred Hitchcock to cast him as Norman Bates in "Psycho."
37.Joshua Prager, The Echoing Green: The Untold Story of Bobby Thomson, Ralph Branca and the Shot Heard Round the World (2008). Bobby Thomson's 9th inning home run off Brooklyn Dodgers pitcher Ralph Branca in a playoff game at the Polo Grounds on October 3, 1951 that clinched the National League pennant for the New York Giants is probably the single most celebrated event in baseball history. But was Thomson's achievement compromised by a scandal? Prager, a Wall Street Journal reporter, claims that it was. In mid-season, the Giants had installed a telescope in a block of concrete in behind the centerfield wall in order to "steal" the opposing catchers' finger signals. The information was relayed to a Giants player in the bullpen who in turn relayed them to the Giants hitters. Prager insists that, as a result, Thomson knew what pitch Branca was going to throw, thus tarnishing his accomplishment. After Prager first exposed this chicanery in the Wall Street Journal in 2001, Thomson denied that he was the beneficiary of the fix. Others have defended Thomson, saying that even if he did know what pitch to expect, he still had to whack it over the fence for a home run. Prager recreates that incident in fascinating detail. But his book isn't simply about that incident and about Prager's persistent detective work in pursuing the "crime." It is also about the dramatic 1951 pennant race and, even more interestingly, the personal trajectories of both Thomson and Branca, whose paths often crossed and who actually became friends for years after they had retired from baseball.
38.Arnold Rampersad, Jackie Robinson: A Biography (1997). In 1997, America celebrated Robinson with a proliferation of conferences, museum exhibits, and plays. Major League Baseball retired Robinson's number--42--for all teams. President Bill Clinton appeared with Rachel Robinson at Shea Stadium to venerate her late husband. Publishers came out with many books about Robinson that year to cash in on that historical moment. By far the best book that year - and the best biography of Robinson yet published - is Rampersad's. He had a huge advantage. Robinson's widow, Rachel, selected him to write the authorized biography and gave him unprecedented access to his private papers. No matter how much you know about Robinson's storied life, you will learn many new things in this full-scale biography. Rampersad provides fresh insights into every aspect of Robinson's story -- family's background in the rural South (he was the grandson of a slave), his upbringing in Pasadena, California, his personal and athletic exploits in junior college and at UCLA, his controversial court-martial during WW2 when he defied local segregation laws in Texas and refused to move to the back of a bus (a decade before Rosa Parks), his days playing pro football and in the Negro Leagues, his tremendous courage and resilience as he broke the major league's color line in 1947 amid death threats and abuse from players and fans alike (he was hit by pitches six times in his first 37 games), his brilliant 10-year playing career with the Dodgers, his willingness to speak out against racism even during his playing days, his deepening involvement with the civil rights movement when his playing days were over (including a regular column in the Amsterdam News that was only one of many platforms to voice his opinions), his business ventures, and the evolving views about politics and American society, including his frustrations over the slow pace of baseball integration on the field (especially within the ranks of managers and coaches) and in the executive suites. Robinson is certainly one of the most heroic and influential figures in American history. Rampersad reminds us, as did the film "42," of the intense physical and emotional abuse that Robinson had to endure not only as a rookie but throughout his playing days and even when he retired, including criticism from some younger civil rights activists who called him an "Uncle Tom." Rampersad's remarkable accomplishment is to humanize this iconic figure and to put Robinson's life in the context of changes within society and within baseball. We learn about his relationships with his wife and children, fellow players, civil rights leaders (including Paul Robeson, Martin Luther King and Malcolm X) and politicians (including Dwight Eisenhower, John Kennedy, Richard Nixon, Hubert Humphrey, Barry Goldwater, and Nelson Rockefeller). Robinson, who died in 1972 and age 53, was a principled, passionate, and religious man, and a fierce competitor, who helped change baseball and change America. Rampersad gives us the biography Robinson deserves.
39.Lawrence Ritter, The Glory of Their Times: The Story of the Early Days of Baseball Told By the Men Who Played It (1966, updated 1984). Ritter was baseball's first great oral historian, creating a genre that many others have since imitated but few (except Donald Honig) have equaled. Ritter brought his tape recorder with him to interview 22 players from the early 20th century, then later added four more players for an updated 1984 version. He brilliantly captures the memories of the men who played the game in the early days. They describe how the played the game (and how it has changed). They discuss their careers, their teammates, their managers, the owners, and the fans. Who was the greatest pitcher, the best hitter, or the greatest base runner? Ritter's interviews have different views on these subjects. The topics of many of their recollections overlap, providing fascinating glimpses about the same players and events - and each other - from different perspectives. We learn what it was like to play for manager John McGraw and to play with and against Ty Cobb. Ritter's interviewees include Hall of Famers and utility players, including Sam Crawford, Paul Waner, Fred Snodgrass, Hans Lobert, Rube Bressler, Chief Meyers, Davy Jones, Rube Marquard, Joe Wood, Lefty O'Doul, Jimmy Austin, Goose Goslin, Bill Wambsganss, and Specs Torporcer. Thanks to Ritter's careful editing of his interviews, the book as a "you are there" feeling, as the players and their era comes alive with great stories.

40.Jackie Robinson with Alfred Duckett, I Never Had It Made (1972). This autobiography was published in 1972, the year Robinson died at age 53. He recalls his childhood, his college days, his sojourn in the Army, his short career in the Negro Leagues, the trials of breaking the color line with the Brooklyn Dodgers in 1947, and his decade-long major league career. Robinson admired Branch Rickey, Pee Wee Reese and many other whites who supported him during his incredible ordeal, but he doesn't hesitate to remind readers that Dodger owner Walter O'Malley was "viciously antagonistic" and that popular sportswriter Dick Young was a "racial bigot." This book, however, focuses primarily on Robinson's post-baseball life as a businessman and civil rights activist as well as his troubled relationship with his son, Jackie Jr., who overcame his addiction to heroin but was killed at age 24 in a 1971 car accident. By the end of his life, Robinson was bitter about the failure of America, and baseball, to make faster progress toward racial justice. In 1972, he refused to attend an old-timers game and accused baseball owners of running "a big selfish business" for failing to hire blacks as managers, coaches and front-office executives. One of the most telling parts of this book is Robinson's apology for his criticism of singer-activist Paul Robeson. In 1949, during the Cold War, Branch Rickey orchestrated Robinson's appearance before the House Un-American Activities Committee so that he could publicly criticize Robeson over a statement that he had allegedly made at a conference in Paris that black Americans would not fight in a war against Russia. Much of Robinson's testimony involved his criticism of American racism, but the press focused on his attack on Robeson, including his comment that "I and other Americans of many races and faiths have too much invested in our country's welfare for any of us to throw it away for a siren song sung in bass." In his autobiography, Robinson said he regretted his remarks about Robeson (who, ironically, had been a key player in the left-led campaign to integrate major league baseball). "I do have an increased respect for Paul Robeson," Robinson wrote, "who, over the span of that 20 years (since 1949) sacrificed himself, his career and the wealth and comfort he once enjoyed because, I believe, he was sincerely trying to help his people.''
41.Ray Robinson, Matty: An American Hero: Christy Mathewson of the New York Giants (1993). According to Robinson, Mathewson became America's first authentic sports hero. Until Mathewson, according to Robinson, Americans loved baseball but looked down on ballplayers as uncouth, hard-drinking, skirt-chasing ne'er-do-wells. Mathewson changed this attitude, become what today we'd call a role model. He was good-looking, religious, and one of the few pro ballplayers of his era to have gone to college (at Bucknell University, where he was a star pitcher, an ace field-goal kicker in football, and class president. But none of that would have mattered if Mathewson wasn't also an amazing pitcher with pinpoint control. In his rookie year with the New York Giants, he pitched a no-hitter. He won at least 30 games in four seasons and 373 games in his career. In the 1905 World Series, he threw three shutouts in six days, a feat that has never been equaled. When he died of tuberculosis in 1925 at the age of 45, it touched off a wave of national mourning that remains without precedent for an American athlete. The World Series was underway, and the game the day after Mathewson's death took on the trappings of a state funeral: officials slowly lowered the flag to half-mast, each ballplayer wore a black armband, and fans joined together in a chorus of "Nearer My God to Thee." Newspaper editorials recalled Mathewson's glorious career but also emphasized his unstinting good sportsmanship and voluntary service in World War I, where he inhaled poison gas that led to the TB that would eventually kill him. Robinson draws on interviews, press clips, and eyewitness accounts, to bring Mathewson, and those early days of major league baseball, to life, including the long train trips (with cramped berths and no air conditioning) between games, the small town ballplayers let loose amidst big city vice; and the two-bit gambling that eventually led to the infamous Black Sox scandal in 1919. The sportswriters who uncovered the scandal relied on Mathewson to explain how ballplayers could throw games without being obvious about it.
42.Robert Ruck, Raceball: How the Major Leagues Colonized the Black and Latin Game (2011) After peaking at 27% of all major leaguers in 1975, African Americans now make up less than one-tenth--a decline unimaginable in other men's pro sports. The number of Latin Americans, by contrast, has exploded to over one-quarter of all major leaguers and roughly half of those playing in the minors. After reading this book, you'll never look at the business of baseball in the same way. Ruck presents the hard facts of Major League baseball's racist history, from its demolition of the Negro Leagues (without providing owners and players adequate compensation) to the exploitation of desperate players in Cuba, the Dominican Republic, Mexico, and other Latin countries. He traces the forgotten link between the great Negro baseball stars, including Satchel Paige and Josh Gibson, and their Caribbean counterparts touring outside the U.S. in the 1940s. This is an eye-opening and wonderfully written expose of the "American pastime."
43. Alan Schwarz, The Numbers Game: Baseball's Lifelong Fascination with Statistics (2004). Baseball fans are obsessed with numbers. They use them to compare players, teams, games, and seasons, and to relive games they watched and didn't watch. Players and agents use them to negotiate contracts. Executives, managers, and coaches use them to decide which players to scout, draft, promote, play, and trade. This infatuation with statistics is nothing new, as Schwarz shows in this book that manages to be so wonderfully readable that even math-phobes will love it. This is not a book of statistics but a book about statistics - specifically, a history of baseball statistics since the sport's early days in the mid-1800s. Actually, it isn't really about baseball statistics but about the fascinating people who invented, used, and popularized them. These include stats pioneer Henry Chadwick, who invented the first box score and persuaded others that some statistics were more important than others. Another is Allan Roth, who persuaded Dodgers president Branch Rickey that the use of statistics could help him improve the team. In the 1940s, Roth was first full-time statistician ever hired by a major league club. If you saw the film "42," you know that Rickey traded star player Dixie Walker, a Southern racist, to the Pirates soon after Jackie Robinson joined the team. What the film doesn't tell you is that it was Roth's statistics and diagrams that convinced Rickey that Walker was no longer pulling the ball and was on a downhill trajectory, making his departure from the team less troublesome. We also learn about the founders of the Elias Sports Bureau and STATS Inc., who turned gathering baseball statistics into profitable businesses. Then there's Bill James, who in 1980, coined the term "sabermetrics" (in honor of the numbers-obsessed members of the then-young Society for American Baseball Research) as "the search for objective knowledge about baseball" and revolutionized baseball by becoming the modern era's Chadwick. One of the best parts of the book is Schwarz's history of the Baseball Encyclopedia and the use of early computer in compiling baseball fans' first comprehensive Bible and the efforts by editors to fix errors in baseball recordkeeping, despite the ongoing resistance of baseball's establishment to change erroneous records. Schwarz devotes an absorbing chapter to the importance of luck (or random error) in baseball.
44. Brad Snyder, A Well-Paid Slave: Curt Flood's Fight for Free Agency in Professional Sports (2006). Flood put his career at risk when he challenged baseball's reserve clause under federal antitrust law. He lost his lawsuit against the baseball establishment before the U.S. Supreme Court (Flood v. Kuhn, 1972), but he set the stage for a battle that the players ultimately won, even though Flood's own career was destroyed by his courageous stand. Snyder's biography of Flood reminds us what an outstanding player he was -- 1,861 hits, a .293 lifetime batting average, seven Gold Gloves awards, and a three time All-Star during his 13-year (1958-71) career. But those numbers wouldn't merit a full-scale biography without Flood's heroic and tragic battle against baseball's system of indentured servitude. Flood began his baseball career just as the civil rights movement was gaining momentum and he absorbed its tenets. Brought up in Oakland, California, Flood was shocked by the Jim Crow segregation he encountered in 1956 as an 18-year rookie assigned by the Cincinnati Reds to its High Point, N.C. minor league team. Like other black players who joined the majors within a decade after Jackie Robinson's debut in 1947, Flood faced racism by fans, team executives, and white players. In 1969, the St. Louis Cardinals - with whom he'd excelled for 12 seasons - trade him to the Phillies. Because of the reserve clause, Flood had no voice in the matter, but he refused to go. Flood had a lot to lose. He was making $90,000 a year - a huge salary at the time. But he acted on principle. Unlike most ballplayers, he was willing to rock the boat. He had attended an NAACP rally in Mississippi, complained about his segregated training camp in Florida, and moved into an all-white neighborhood in the Bay Area. Players union director Marvin Miller didn't think the time was ripe to challenge the reserve clause, but he nevertheless persuaded the union's board to bankroll Flood's lawsuit against MLB and to hire former Supreme Court justice Arthur Goldberg (a one-time labor lawyer) to handle the case. On Dec. 24, 1969, Flood wrote a letter to Commissioner Bowie Kuhn that said: "After 12 years in the major leagues, I do not feel that I am a piece of property to be bought and sold irrespective of my wishes." Sportscaster Howard Cosell asked Flood: "It's been written, Curt, that you're a man who makes $90,000 a year, which isn't exactly slave wages. What's your retort to that?" Flood responded: "A well-paid slave is nonetheless a slave." The next year, when the case reached the U.S. District Court in Manhattan, two of Flood's key witnesses were Jackie Robinson and Hank Greenberg. Both super-stars were angry and retired after their long-time employers (the Dodgers and Tigers, respectively) tried to trade when their glory days were over. Not a single active player testified on Flood's behalf. The District Court judge ruled against floor as did the Supremes two years later. Eventually, the union overturned the reserve clause, but it was too late to help Flood. As Snyder recounts, Flood's post-baseball career was a shambles, destroyed by family troubles, alcohol, and economic problems. He died in 1997 of throat cancer at age 59. Snyder's book will make you admire Flood the fighter if not Flood the man. It is also filled with mesmerizing stories and colorful figures, including a harsh word for the renowned Goldberg, whose oral argument for Flood at the Supreme Court was, according to his co-counsel, one of the worst he'd ever heard. In 1998, Congress passed and President Clinton signed the Curt Flood Act, which removes baseball's immunity from antitrust laws. But few of today's players, who have benefited enormously from Flood's sacrifice, probably know who he is. Snyder's book, and the 2011 HBO documentary, "The Curious Case of Curt Flood," may help to resurrect the memory and reputation of this baseball pioneer.

45. Mike Sowell, The Pitch That Killed: The Story of Carl Mays, Ray Chapman, and the Pennant Race of 1920 (1989). Since batting helmets weren't used until the 1950s, it is remarkable that only one major league batter has been killed by a pitch since pro ball began in 1871. That batter was Ray Chapman of the Cleveland Indians, who was struck in the head and killed in August 1920 by a pitch thrown by Carl Mays of the New York Yankees. Sowell's book reads like a detective story. The day in question was gray and drizzly. Back then, the majors didn't use clean, new balls after every foul ball or pitch in the dirt. The balls were also stained with tobacco juice and spit. Plus, Mays had a difficult-to-follow submarine delivery that brought his pitching hand close to the ground. All this made it hard for Chapman to see Mays' inside pitch. But Sowell's investigation goes beyond the field. He explores the backgrounds of both players, both teams, and off-the-field events that shaped what happened that day. Both Chapman and Mays had grown up poor and saw baseball an avenue for upward mobility. Chapman was well-liked, while Mays was detested, by fans and fellow players alike. Mays' reputation, and his killing of Chapman, certainly contributed to his exclusion from the Hall of Fame which he surely deserved after a 15-year career that included a 208-126 won-lost record and a lifetime 2.92 earned run average.
46. Al Stump, Cobb: A Biography (1994). If all you knew about Ty Cobb was what you learned at the Ty Cobb Museum, located in his hometown of Royston, Georgia, you'd think he was a competitive player, a superlative hitter and base stealer, and a humanitarian. I've visited the museum twice and didn't see anything there about his dirty playing, his racism, or his ugly personality that led most of his fellow players to dislike him. But thanks to Al Stump's biography - and the 1994 Hollywood movie based on the book that starred Tommy Lee Jones as Cobb and Robert Wuhl as Stump - few Americans, including baseball fans, have any illusions about Cobb's dark and self-destructive personality. Cobb hired Stump to ghost-write his 1961 autobiography, My Life in Baseball. While traveling with and interviewing Cobb over a ten month period, Stump discovered that the Georgia Peach was a rotten tomato. "The first book was a cover-up," Stump later admitted. "I felt very bad about it. I felt I wasn't being a good newspaperman." No longer beholden to his subject, Stump wrote a second biography that revealed Cobb's racism, violence, cruelty, and egomania. Indeed, Cobb was probably psychotic, and Stump's second biography probes the roots of his troubles as well as his extraordinary talent as a player whose lifetime .367 batting average will never be matched.

47. Jules Tygiel, Baseball's Great Experiment: Jackie Robinson and his Legacy (1983). One of America's most iconic and inspiring stories--Jackie Robinson breaking baseball's color line in 1947--is retold in the film 42. Even if you're not a baseball fan, the film will tug at your heart and have you rooting for Robinson to overcome the racist obstacles put in his way. It is an uplifting tale of courage and determination that is hard to resist, even though you know the outcome before the movie begins. But the film strikes out as history, because it ignores the true story of how baseball's apartheid system was dismantled. The film portrays baseball's integration as the tale of two trailblazers--Robinson, the combative athlete and Dodgers president Branch Rickey, the shrewd strategist--battling baseball's, and society's, bigotry. But the truth is that it was a political victory brought about by a social protest movement. That story was told with exceptional insight by historian Jules Tygiel, whose book deservedly won many awards as a breakthrough achievement. As Tygiel recounts, Rickey's plan came after more than a decade of effort by black and left-wing journalists and activists to desegregate the national pastime. Beginning in the 1930s, the Negro press, civil rights groups, the Communist Party, progressive white activists, and radical politicians waged a sustained campaign to integrate baseball. It was part of a broader movement to eliminate discrimination in housing, jobs, and other sectors of society. It included protests against segregation within the military, mobilizing for a federal anti-lynching law, marches to open up defense jobs to blacks during World War II, and boycotts against stores that refused to hire African Americans under the banner "don't shop where you can't work." The movement accelerated after the war, when returning black veterans expected that America would open up opportunities for African Americans. Robinson broke into baseball when America was a deeply segregated nation. In 1946, at least six African Americans were lynched in the South. Restrictive covenants were still legal, barring blacks (and Jews) from buying homes in many neighborhoods--not just in the South. Only a handful of blacks were enrolled in the nation's predominantly white colleges and universities. There were only two blacks in Congress. No big city had a black mayor. Tygiel tells this compelling story with the dramatic flair of a novelist and with the historical background of a scholar. It is difficult today to summon the excitement that greeted Robinson's achievement. Tygiel describes the dignity with which Robinson handled his encounters with racism--including verbal and physical abuse on the field and in hotels, restaurants, trains, and elsewhere. This is more social history than biography, but Tygiel provides enough biographical details about Robinson's upbringing, education, athletic exploits, and post-baseball career to whet our appetites. Fortunately, Arnold Rampersand's biography (described above) offers the full story.
48. Bill Veeck (with Ed Linn), Veeck As In Wreck (1962). -- Veeck, who at different times owned the St. Louis Browns, Cleveland Indians, and Chicago White Sox, was probably the only socialist to own a major league baseball team. (He voted several times for Norman Thomas, socialist candidate for president). Veeck was a brilliant entrepreneur and showman who preferred sitting in the bleachers to the box seats. This biography reveals Veeck's battles with his fellow owners and the many innovations (some pretty wacky) he brought to baseball. Paul Dickson's Bill Veeck: Baseball's Greatest Maverick (2012) is a serious and well-written biography of this pioneering baseball figure.
49. George Will, Men at Work: The Craft of Baseball (1990). I hate George Will. I hate his right-wing politics. I hate his elitism and his disdain for democracy. I even hate his bow-ties. A political columnist for the Washington Post and frequent guest on TV's political talk shows, Will is a repulsive snob in love with the sound of his own voice. So it troubles me to admit that in 1990 Will wrote a marvelous baseball book that has stood the test of time. He takes readers inside the game through the eyes of players Tony Gwynn, Cal Ripken, and Orel Hershiser, and manager Tony LaRussa. Will shatters the myth that baseball is a slow, dull game. He reveals that at any given moment, there are hundreds of things happening on the playing field, most of them subtle and invisible, particularly the choices that managers and players have to make to deal with the many possibilities they have to consider with each pitch. The calculations they make - about what pitch to throw, where fielders should be located, whether to anticipate that a runner will try to steal, how the wind and the weather will affect the play, who should be warming up in the bullpen, whether to bring in a pinch hitter or pinch runner, and many more - are based on knowledge, experience, and gut instinct. Will's eye for telling details is remarkable and his prose is even lively. La Russa describes why he moves his outfielders when a particular slugger comes up to bat with a runner on second. Hershiser, outstanding hurler, tells Will: "Control without stuff is far better than stuff without control." And Will, an astute observer, notes: "Baseball is not, like basketball or hockey or soccer, a game of steady flows. Rather, it is an episodic game of explosive exertions." Two decades before Moneyball, Will put baseball in a whole new light. I still detest him, but I admire his love for and knowledge of baseball.
50. Joel Zoss and John Bowman, Diamonds in the Rough: The Untold History of Baseball (2004). Zoss and Bowman are skeptics, but not cynics. They love baseball but they challenge much of its conventional wisdom. With telling anecdotes and a great sense of the game's history, they provide an unsentimental, myth-busting, and unsparing look at our national pastime. They tackle a mind-boggling range of topics, including baseball's origins, the contributions of minorities and women, the evolution of umpiring, baseball during wartime, baseball's influence on literature and music, substance abuse, on- and off-field tragedy, Abraham Lincoln's ties with baseball, and even Russia's claim to have invented baseball.
Peter Dreier teaches politics and chairs the Urban & Environmental Policy Department at Occidental College. His most recent book is The 100 Greatest Americans of the 20th Century: A Social Justice Hall of Fame (Nation Books, 2012).
Popular in the Community