I met my friend Karen over 10 years ago when our daughters were in kindergarten. Sharing pretty much the same world view, we've been great friends ever since. I turned 50 a few years ago, and soon, it'll be Karen's turn.
As my 50th birthday was nearing, friends and family started asking about my plans to celebrate the "big 5-oh-oh" as someone called it. Would I have a party or run for the hills? So many of my friends who were heading towards 50 were dreading it. Not me. I was going to celebrate this special day, not turn my back on it, that was certain.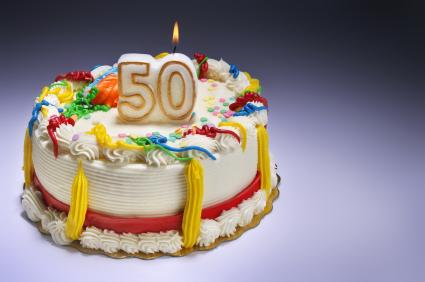 But a party? No. I had something else in mind. There was only one thing I wanted to do on that day: be in Rome with my husband and two daughters, standing at the top of the Spanish Steps, listening to church bells toll at the stroke of midnight, signaling to the world, and to me, that I was now 50. And that's exactly what we did. It was a magical night, filled with joy (and fantastic food!).
When I asked Karen about the plans for celebrating her 50th Birthday, she was just as clear:
I've thought about this a lot. There really isn't one big thing I want to do, like a party. Instead of a birthday I'm going to have a birthyear! And I'm going to do 50 things that will make me happy, starting on my 50th Birthday, and go straight through until my 51st. It's not a bucket list, but it's things--many of which include family and friends--that I know will bring me joy and will let me celebrate this wonderful birthday, for which I am grateful, for longer than one day.
Being a daily list-maker, I think Karen's idea is an amazing way to celebrate a 50th birthday, and embrace the start of this important decade in a very meaningful and fulfilling way. I asked Karen to share some of the things that are on her 50 Things I'm Going to Do to Celebrate my 50th Birthday list. None of them are a huge stretch, and most are simple, every-day pleasures. And, each and every one is on the list because they'll make Karen happy, not someone else.
Here is a peek at how she is planning to celebrate her 50th from September 29th, 2010 to September 29th 2011:
Join a book club (BHG note: we just started it with another friend and our first pick is "People of the Book" by Geraldine Brooks)
Visit the house where I was raised
Learn how to juggle
Visit the Grand Canyon
Go on a Mission trip with my children (possibly to Haiti)
Learn how to meditate and then do it
Establish a regular, weekly coffee date with my girlfriends
Go on a hot air balloon
Climb something
Sleep outside on a boat
Visit my elementary and high school
Go to a film festival
Have dinner at Rao's (BHG note: an absolutely impossible-to-get-into restaurant in NYC)
Plant a tree at my mother's gravesite
Take my exercise program to a whole new level
Plan a special get-together with my father and sisters
Bike around the lake where I grew up (43 miles)
Do a New York City experience every month
Donate more of my time and money
Build something
.
On her 50th birthday, she'll be doing the first thing on her chronological list to kick-start the year-long celebration: take a long walk around Central Park with two of her best buds--Margaret and me--and then have dinner with her husband and daughters. Maybe Rao's?
In December, I'll be celebrating my 54th birthday, and I've already started my list of 54 things I'll do in the coming year.
Best of Everything,
Barbara