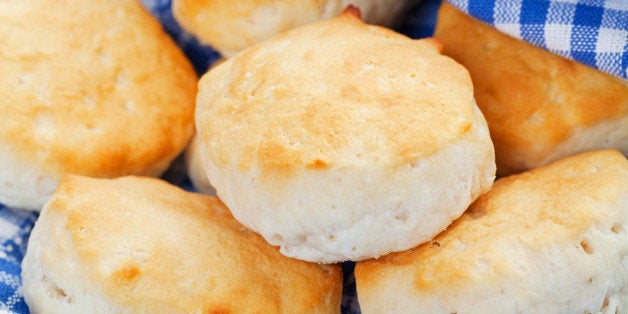 Where to go for the best barbecue, biscuits, fried chicken, and more
Parsed into old-school and new-school categories, the collection that follows showcases my favorites culled from five years on the road, throughout the South and beyond. They're the sorts of dishes I expect to be regional standbys when this magazine celebrates its twenty-fifth anniversary.
Making these choices wasn't easy. I left a lot of gravy and a couple of racks of ribs on the cutting room floor. Think of them as edible mileposts on a turnpike to tomorrowland. The very good news is, you don't have to wait to sample the future I glimpse. You get to taste it right now.
Old-School: Country Sausage Biscuits
Embers Biscuits & Bar-B-Que; Oxford, MS
Fast-food restaurants nearly killed the biscuit. For decades, they have churned out greasy fists of dough, stuffed with feeble rounds of patty sausage. But Embers, a one-window drive-through that opened in 2013, does biscuits right. The secret is Earline Hall, a twenty-three-year veteran of the biscuit board, who pats and rolls and cuts dough rounds that bake off to cotton-boll crumbs.
New-School: Hot Betty
Handsome Biscuit; Norfolk, VA
The envelope is a sweet-potato biscuit that's not too sweet. Spilling out over a fried egg is a tangle of shiny collard greens, flecked with garlic slices, doused with a hot sauce that tastes of vinegar, honey, and Korean chile paste--a blend that registers both sweet and assertive. This biscuit tastes bright and fresh and healthy, like a spring curative, like a tonic of greens delivered as a morning sandwich.
Old-School: Barbecue Sandwich on White Bread
Scott Family Farm and Barbecue; Hell's Half Acre, SC
Ricky Scott carries on the tradition of family farmers who bolstered their income by cooking pigs on the side and selling sandwiches and plates to their neighbors. When he's not working for the nearby town of Kingstree, or volunteering as a fireman, Scott chops his own wood and shovels hardwood coals into a cinder-block pit, drawing pilgrims to the community of Hell's Half Acre for Thursday-only feeds of whole hog barbecue, pulled into ruddy bits and doused in a vinegar-pepper sauce.
New-School: Sánguche de Chancho Nipón
China Chilcano; Washington, D.C.
Peruvian cookery, in the hands of José Andrés, references peoples of West African, Spanish, Chinese, and Japanese descent. If that mix sounds dizzying, take a gander at the interior of this restaurant, which recalls a Carmen Miranda headdress, interpreted by Keith Haring. These deep-fried buns, paved with slices of custardy sweet potato, layered with hunks of pork belly and coins of pickled daikon, are just as eye-catching and palate pleasing.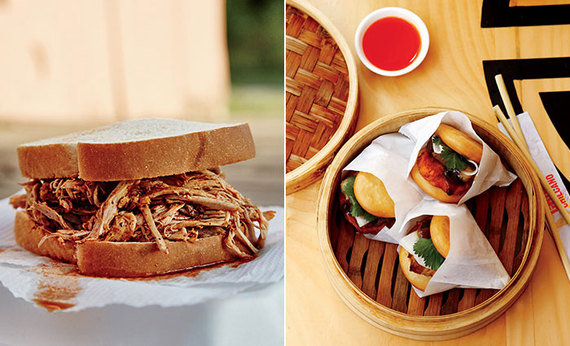 (From left: Peter Frank Edwards; Jason Varney)

Continue reading this story on GardenandGun.com
Old-School: Keel of Fried Chicken
Indi's; Louisville, KY
Drenched in hot sauce, the birds served at this fried chicken mini chain, which does business on both sides of the Ohio River, are passkeys to a vestigial South, wherein salt was the preferred flavoring for anything fried, and frugal butchers knew how to prize the keel bone from the breast, so that anatomically aware eaters could gnaw their way to pleasure.
New-School: The Kitty
Two Boots; Nashville, TN
Hot chicken is the Nashville meme of the decade. Prince's and Bolton's ushered in the era. Riffs are now legion. Chauhan Ale & Masala House serves hot chicken pakoras. Sinema dishes hot shrimp cocktail. Two Boots, a small New York chain that went native when it alighted, tops a pie called the Kitty with blue cheese dressing, finely diced jalapeños, and chunks of crust-enrobed hot chicken from Hattie B's. It's the ultimate drunk stymie.
Old-School: Floating Angel Food Cake
Alzina's; Galliano, LA
The setting, a buoy toss from the Gulf of Mexico in a onetime welding shop that looks as if it were abandoned when Nixon was still thought trustworthy, is as rudimentary as this fairy wing of a dessert is elegant. Presented tableside, Alzina Toups's egg-white-lifted sponge cake bobs and tilts on a sea of coconut custard. Plan ahead: Reservations at this working-class temple of Cajun home cooking must be secured four or five months in advance.
New-School: Spiced Carrot Cake
Spice to Table; Atlanta, GA
The ivory buttercream is pocked with black peppercorns. The moist crumb is bolstered with cardamom and clove. This layered carrot cake, based on a recipe borrowed from the mother of chef Asha Gomez, is analogous to every other carrot cake you have eaten in the same way that a B. B. King three-chord progression is comparable to the fret work of a guitar player in a cruise ship cover band.
Support HuffPost
A No-B.S. Guide To Life
Related
Popular in the Community