The city is great and all, but sometimes you need to channel your inner Thoreau and head to the woods. You know... to suck the marrow out of life and stuff. Or to make a campfire and play some Floyd on your acoustic. Thankfully, the natural wonders of New England are within easy reach, and we've got the scoop on the best spots to commune with said nature. Specifically, we picked two of the best under-the-radar campsites from each NE state.
Silver Hill Campsite
Cornwall Bridge, CT
Along the Appalachian Trail near Cornwall Bridge, the secluded Silver Hill Campsite (on Silver Hill, duh) provides great sunrise views of the Housatonic River, proximity to trails and other sights (St. John's Ledges), and definitely some peace and quiet. And it's like a rustic Ritz with generous room for tents, multiple picnic tables, an overlook platform, a pump-well for water, a top-notch privy, a wooden swing, and a small covered pavilion for hanging out, cooking, or whatever (staying dry). As with many backcountry AT sites, it's first-come, first-served, so plan accordingly.

Riga Lean-to Campsite
Salisbury, CT
It's only a short, leisurely hike from Mt. Washington Road to Riga, but it feels like a different world once you're there. Located high on a ridge, the shady grove opens up to valley vistas that hypnotize you at first glance. Beyond the prime real estate, Riga's solid list of extras includes a sturdy lean-to (sleeps six), two water sources (stream, pump well), and a relatively new outhouse courtesy of the Appalachian Mountain Club. (Speaking of mountains, this locale makes a great base of operations for hiking nearby Bear Mountain.) Similar to Silver Hill, they it doesn't take reservations, and it definitely won't take your Diners Club card.
Maine

Cutler Coast Public Reserved Land
Cutler, ME
Solitude seekers need look no further than Cutler Coast's three permitted sites, they are totally worth the four- to five-mile hike. Near Fairy Head along the Coastal Trail, the camps overlook the "Bold Coast" cliffs, Grand Mahan Island, and the Bay of Fundy... so there's that. And much, much more: 12,234 acres of blueberry barrens, woodlands, and peatlands, 10 miles of trails, 200 species of birds (so don't forget your The Big Year DVD), and the occasional seal, dolphin, or humpback visible from shore. No big deal. (Only bummer, no campfires allowed.)
Swan Island
Richmond, ME
Swan Island, just South of Augusta, sits at the head of Merrymeeting Bay in the middle of the mighty Kennebec River. After a five-minute ferry ride, a zippy tour truck takes you to your camp nestled on pristine land that's remained mostly unchanged since 1607. What they have added since the early 17th century: 10 Adirondack shelters, one group site, drinking water, modern restrooms, and a utility/dish room. Beyond the helpful infrastructure, there's a wildlife-viewing tower, seven miles of hiking, 4.5 miles of biking, a picnic shelter, and canoe/kayak rentals. Note: FYI, there's another more well-known Swan Island in Blue Hill Bay -- avoid it, you want this one.
Shawme-Crowell State Forest
Sandwich, MA
There are 285 stunning wooded sites at Shawme-Crowell, and you really can't go wrong with any of them. Surrounded by endless pines, the spots are quiet and with enough room between them so not everybody hears you... playing Yahtzee, of course. Explore the 15 miles of roads and trails, or bring your horse and enjoy equestrian access to over 700 acres. For cyclists, the park connects to the Cape Cod Canal bike trails and you can get to both downtown Sandwich and the ocean pretty quickly, as well. Either a plus or minus, depending on your perspective: Shawme-Crowell is a bit less "wilderness-y" than other camps and is equipped with showers and restrooms.
Harbor Islands
Boston, MA
You probably didn't even know that camping was allowed on the Harbor Islands, did you? Well, it is... and there are four island destinations to choose from: Bumpkin, Grape, Lovells, and Peddocks. Each has its own signature mojo, but if we had to choose, you're snagging one of Bumpkin's three beachfront sites. It's carry in/carry out (you can hop the ferry to get there), and you absolutely won't mind because of the killer panoramas, cool ocean breezes, and campfires on the beach. Don't forget your H2O, sunscreen, and s'mores. Lots of s'mores.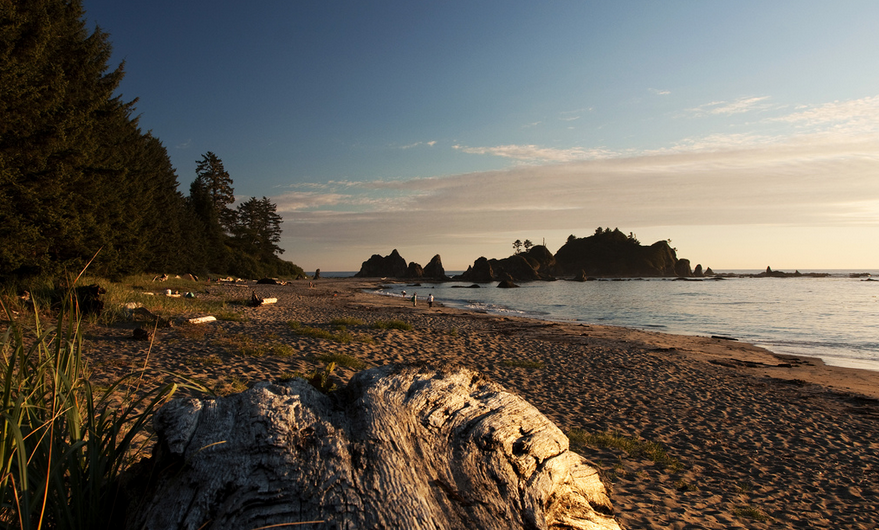 Travel Zen: National Parks