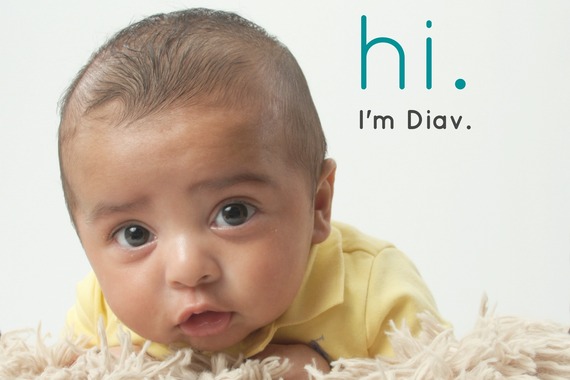 Hi. My name is Diav. I am 5 months old and the youngest of six grandchildren in my family so naturally everyone is a pro when it comes to handling me. However, when it comes to visitors, my parents are constantly having to have to play the "bad guys." As mommy and daddy's new bundle of joy, I've come up with the 7 cardinal rules of visiting me, a newborn:
1. Do not kiss me, anywhere, at any time, no matter how delicious I look. In fact, do not put your face anywhere near my face or my hands. If you absolutely insist on kissing me (annoying both mommy and daddy), please do so on the top of my head, as I cannot reach that yet, or on the bottom of my feet, don't worry they're clean!
2. If my parents hand me to you in a baby carrier, use it. Do not take me out of the carrier under any circumstance. My friends and I tend to be sensitive to your clothes, detergent, excessive perfumes/colognes, so just keep me in my carrier and I'll play nice.
3. If you have kids, do not visit me until I am 2 months old and have gotten a million vaccine shots. I'm sure your children in particular are the healthiest children in the world, but, let me put it this way - it's not you, it's me. I am born a germaphobe and it may take me a couple of months to adjust to this yucky world. And don't ask mommy and daddy if you can bring your kids anyway - they really don't enjoy saying no.
4. If I start crying when I'm with you, please give me back to mommy. I get you want to soothe me and be a superhero for doing it but I really just want my mommy and daddy.
5. I get hungry, sleepy, poopy, and fussy around the clock. If you want to visit me, plan to come for less than an hour so mommy and daddy can get back to giving me their undivided attention instead of hosting you! Also, don't plan on eating here (my mom barely eats, she doesn't have time to feed you) or staying over unless you want to listen to my high pitched audition for the best Opera singer in town - practice time is always in the middle of the night!
6. It's just spit up, relax yourself. Listen, you wanted to hold me, burp me, swaddle me, soothe me (see above), so now deal with it. Like I said, this is what I do - AROUND THE CLOCK!
7. I really do love all the gifts you put so much thought into getting me! Unfortunately, I will likely outgrow any cute outfit by the time you walk out the door and I find the ceiling fan so much more interesting than my entire playroom. So save yourself the trouble and just bring mommy and daddy some wine - I bet you they need that more than I need my 100th outfit or toy!
Related