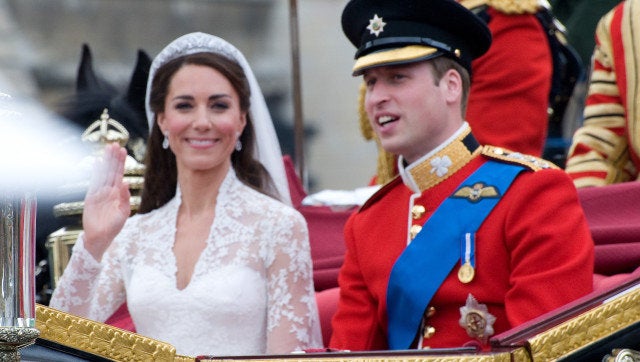 With the coming of Spring 2015, we're noticing more and more baby bumps. Mallory Moss, co-founder of BabyNames.com, presents her list of the most eagerly awaited celebrity babies. From weeks to months, these babies are on their way to stardom!
William & Kate, Prince & Princess of Cambridge, due April 2015. Probably the world's most eagerly awaited baby of 2015 is William & Kate's second child. As most know, their first child was a son, George Alexander Louis. Controversy exists whether or not to name a daughter Diana...see 8 Reasons Why William & Kate Should Not Name their Baby Girl Diana. Suggestions for a girl include Louisa Victoria & Mary-Elizabeth Alice. Suggestion for a boy worth of royalty: Thomas Albert Claude.
Bethany Hamilton & Adam Dirks, due June 2015. The web was on fire when news came out that Bethany Hamilton and her husband Adam Dirks were having a baby. Bethany should find childbirth no problem as she is indeed a survivor. She fought off a shark in 2003 and then turned around to win several surfing competitions, even as recently as last year. In 2014, Bethany and Adam had to fight off competitors on the television show Amazing Race, after which their popularity soared. Our recommended baby name for a boy is Caleb Kai Hamilton Dirks and for a girl, we suggest Rebecca Leilani Hamilton Dirks.
Carrie Underwood & Mike Fisher, due about April 2015. With less than 2 months to go, baby Fisher just may be the first baby born on this list. In press, Carrie and Mike have joked about names but are waiting to reveal the baby boy's name after he is born. Name recommendations include Henry "Hank" Stephen Fisher and Lulu Belle Fisher.
Justin Timberlake & Jessica Biel, due April 2015. Talk about star power! These A-list actors are going to have a baby race with Carrie Underwood and Mike Fisher. Due March or April, these folks won the best baby announcement award, a photo of Justin kissing Jessica's baby bump. Our suggestion for a girl baby name is Jaycee May Timberlake; for a boy, we suggest Jordan Biel Timberlake.
Sophie B. Hawkins, due July 2015. Young Dashiell has a brother or sister on the way! Sophie B. Hawkins has used one of her own eggs, frozen 20 years ago, and donor sperm to create her baby bump. Since she loves the name Dashiell, we would like to suggest Daisy Jo Hawkins for a girl and Chandler Poe for a boy.
Terrance & Miranda Howard, due sometime this spring/summer. Did anyone catch that gorgeous baby bump on the red carpet at the Oscars last Sunday? In an amazing black dress with a gentle wrap around her bump, we wonder if her dress was Dolce & Gabbanna to match his tuxedo. Terrance's children and grandchild are named Aubrey, Hunter, Haven, and Hazel so we think H names are the way to go. How about Hannah Mimi Howard for a girl and Hayden Jay Howard for a boy?
Ashlee Simpson & Evan Ross, due 2015. Although we do not know the due date, we do know that a lovely baby is on the way for Ashlee and Evan, the son of Diana Ross. We also know the proud parents-to-be will come up with a unique baby name for Bronx Mowgli's little sib! May we suggest Catra Akila (Akila is also from "The Jungle Book") or Gryphon Dion?
Calling all HuffPost superfans!
Sign up for membership to become a founding member and help shape HuffPost's next chapter