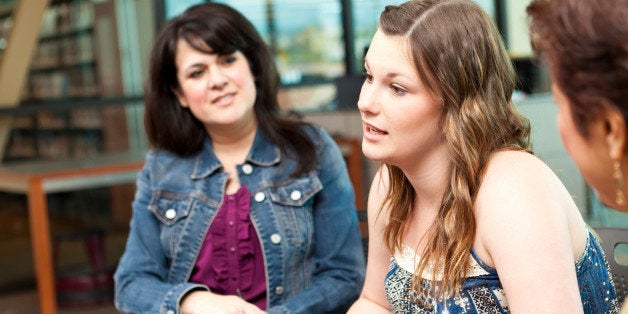 You're a high school senior. It's fall. You know what that means: it's time to get started on applying for colleges. We don't need to tell you that this is a pretty daunting experience. First, you have to pick out which colleges you want to apply to. College applications can be expensive and time-consuming, so you want to make sure you only apply to colleges that truly interest you. However, there are thousands of options to consider -- how are you supposed to decide?
One of the best ways to figure out which colleges will work best for you is to talk with people. This gives you the chance to personalize your search by asking questions specific to your interests. Here is our list of the top people to chat up while you're making these important decisions.
This one's a bit of a no-brainer. Your older sibling (or your best friend's older sibling) has already gone through what you're going through now. Not to mention, this person is very familiar with your interests and personality. Find out which schools they applied to and which schools their friends went to. Ask what they wish they had done differently, and what they think might be the best colleges for you. Your older sibling will be a good judge of what's best for you since he or she has known you for 18 years!
Your Favorite High School Teacher
Even if your teachers aren't counselors or college experts, they can still be a huge help. They've seen hundreds of students apply to colleges. Not to mention, they know all about your academic interests and strengths and could give you an idea of which schools might be a good match for you.
Find out where your favorite professor went to school and what her experience was like. If you love history and your teacher still raves about the history department at her school, check it out (although be wary if she graduated several decades ago; departments change!). Chances are, your teachers will know which schools have good reputations in whatever their areas of interest are. Your coach, for example, can tell you which schools have great women's soccer teams.
Bonus: If you go to your teachers for advice about college, they'll remember how serious you are about college when they're writing your recommendation!
Someone Working in Your Dream Career Field
Maybe you're one of the lucky few who knows what career she wants, or maybe you have a general idea that you want to go into a particular field. Talk to people who are successful in your area of interest to find out where they got their start, or where they wish they had gotten their start.
"I applied to my school because all the musicians I know say it's one of the best music schools around," says Joan K*, a junior at the Eastman School of Music.
People who already do what you want to do will know which schools have the best programs in your area of interest, and which schools you should avoid.
Calling all HuffPost superfans!
Sign up for membership to become a founding member and help shape HuffPost's next chapter
BEFORE YOU GO
PHOTO GALLERY
20 Things Not To Worry About Before You Turn 20