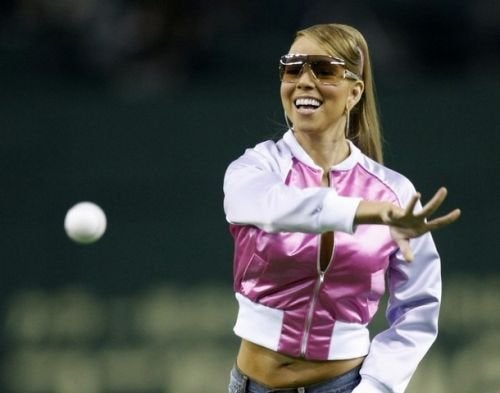 President Obama threw out the first pitch at the All Star game this week, and while it wasn't a rocket, it definitely could have been worse. Below are seven ways in which he could have seriously embarrassed both himself and the nation. Vote below for the worst!
June 2003 -- Carl Lewis, a man who is arguably the best athlete in the world, throws out a pitch that barely makes it past the pitcher's mound:
April 2007 -- Cincinatti Mayor Mark Mallory beams a ball so far from the plate that he became a pseudo-celebrity, appearing on Kimmel to talk about how terrible it was.
May 2008 -- Mariah Carey shows her distaste for Japanese baseball by disgracing everyone involved:
May 2009 -- Trent Edwards, the quarterback of the Bills, decided to throw out the first pitch of the game after working out with the Blue Jays. It did not go well:
May, 2009 -- Gary Dell'Abate (aka Baba Booey from the Howard Stern show) threw the ball to the wrong guy on the field:
May 2009 -- Adam Carolla throws TWO terrible pitches, the second of which almost took out a camera:
July 2009 -- Mark Wahlberg hit a fan in the butt with his first pitch at Boston Red Sox game recently (video of him starts 5 minutes in to this clip):
Calling all HuffPost superfans!
Sign up for membership to become a founding member and help shape HuffPost's next chapter