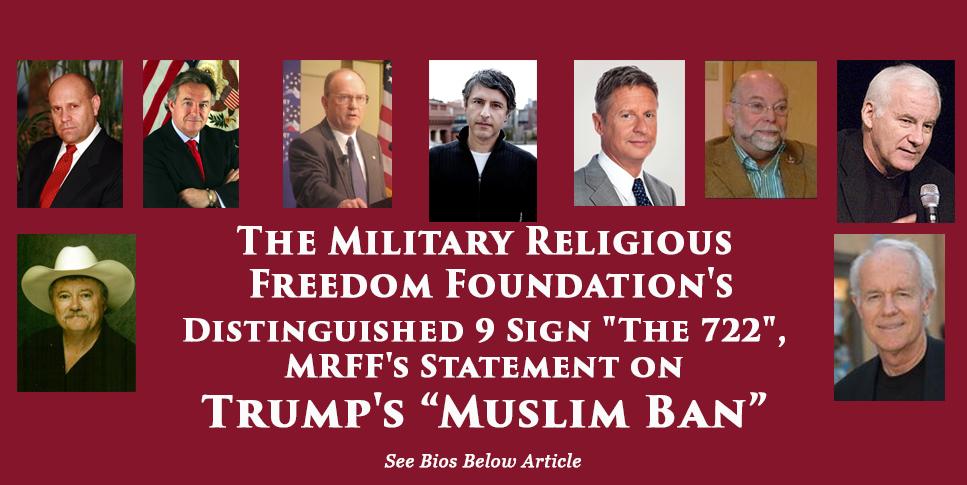 The Military Religious Freedom Foundation (MRFF) fervently condemns the so-called "Muslim Ban" disgrace capriciously imposed by Donald Trump. Nothing could be further from the democratic ideals of American freedom, liberty, generosity, compassion, sympathy and empathy. Trump and his bigotry-spewing advisors have been revealed to be what they tragically are; wretchedly bereft, on an international scale, of these very same democratic ideals of national virtue. Barring human beings, especially war ravaged refugees, from entry to America based solely upon their "wrong choice" of practicing the Islamic religious faith is bitterly anathema to not merely the American way, but the Human Way. It is deplorable. It is disgraceful. It is un-American. It is inhuman. It is illegal.
It must not be allowed to stand.
MRFF presently represents 722 proud Muslim-American members of the U.S. Marine Corps, Army, Navy and Air Force. They are military pilots, gunners, Rangers, submariners, doctors, lawyers, scientists, Green Berets, Navy SEALS and Marine Force Recon. They are everywhere as well they should be. They are deeply intertwined into the very fabric of our nation's armed forces and we are all the stronger for it.
Many of them have family and friends who live in the seven countries currently carrying the "scarlet letter" of banishment by Trump and his complicit enforcers of this repugnant evil. They cry out for their American brothers and sisters. They cry out for us to hear their pleas for help, support and recognition. They cry out for us to recognize that they and their faith are NOT "the enemy" of this country they so proudly are prepared to sacrifice their lives for. They cry out for us to validate the foundational bedrock principle that honorable diversity is America's deepest strength.
E Pluribus Unum. Out of Many, One.
We at MRFF hear their entreaties and supplications and we implore our fellow Americans to likewise glean the ugly truth of this illicit and unconstitutional Muslim banishment.
Stand up for this truth. Stand up for our Constitution. Stand up for the 722. Stand up for the nearly two billion other Muslims in this world.
The day will come when our children and grandchildren will ask us what we did in the face of such blatant, racist darkness. They WILL ask.
What will you tell them? What will you do?
The time is short for you to decide.
As the Rev. Martin Luther King, Jr. so boldly stated in his famous Letter from the Birmingham Jail, "Injustice anywhere is a threat to justice everywhere." We are ALL Muslims today, my friends.
Help MRFF resist this fetid and ignoble injustice. Do whatever you can to be heard loudly in resistive, resilient and robust protest.
As the celebrated author and historian Howard Zinn urged us all to remember, "Dissent is the highest form of patriotism."
Be American patriots today. Be human race patriots forever.
(MRFF is a civil rights advocacy charity which protects the separation of church and state in our American armed forces. MRFF currently represents approximately 50,000 United States military officers, enlisted, civilian personnel and veterans. About 96 percent of MRFF's clients are Christians who are being persecuted for not being "Christian enough' by their chains of command.)
(TOP ROW IN ABOVE IMAGE LEFT TO RIGHT)
Michael L. "Mikey" Weinstein, Esq., Military Religious Freedom Foundation Founder & President.
Ambassador Joe Wilson, MRFF Board Member; (United States Foreign Service, Retired).
Lawrence Wilkerson, MRFF Advisory Board Member; former Secretary of State Colin Powell's Chief of Staff, Colonel US Army (Retired).
Reza Aslan, MRFF Advisory Board Member; Author and Scholar of Religion.
Gary Johnson, MRFF Advisory Board Member; Businessman, Author, Politician, Governor of New Mexico (1995- 2003), Libertarian Party Nominee for President of the United States in the 2012 & 2016 Elections.
Pedro Luis Irigonegaray, Esq., MRFF Advisory Board Member; Fellow, American College of Trial Lawyers and Fellow, International Academy of Trial Lawyers.
Bobby Muller, MRFF Advisory Board Member; Nobel Peace Prize (1997), Int'l Campaign Co-Founder; to Ban Land Mines.
(BOTTOM ROW IN ABOVE IMAGE LEFT TO RIGHT)
John Compere, MRFF Advisory Board Member; Brigadier General, Judge Advocate General's Corps, US Army (Retired); former Chief Judge, US Army Court of Military Review; disabled American veteran (Vietnam); and Texas rancher.
Mike Farrell, MRFF Advisory Board Member; Accomplished Actor (best known for his role as B.J. Hunnicutt on M*A*S*H), Dedicated and Renowned Human Rights Activist.