by Sherry Amatenstein, LCSW for BRIDES
Weddings in chapels and churches can feel a little passé, especially if you're not a particularly religious couple. Here are a few awesome wedding sites chosen by some adventurous brides.
"I'm an outdoor girl so both of my marriages (the second one took!) took place in nature. The first was on a trail in the Rocky Mountains -- I wore a faux suede dress with beads and feathers and cowboy boots; the groom wore overalls I'd embroidered for him. Total hippies. The second wedding was under a huge balboa tree." -- Shelly
"I got married behind a Chinese restaurant with all the diners watching through a giant glass wall. It was a place where both of us had family dinners as kids. We sprung the nuptials on our parents while having dinner -- "We're getting married right now!" Hubby and I brought an officiant a la Joey on Friends and videographer. I think mom is still mad!" -- Rogue
"When we went to the 2013 Burning Man festival in Nevada's Black Rock Desert we had no intention of getting married there. But we've always loved art and adventure and the festival provides both. We tied the knot in front of an interactive art sculpture called 'Church Trap'. Our wedding couldn't have been more perfect!" -- Penny
"This October we're having a wedding not by the pool but in the pool! It's a flamingo-themed pool party complete with a pool bag check versus a coat check. It'll be a noontime ceremony. The play-list is surf-themed, our centerpieces are lawn flamingos, there will be plenty of pool floats and we even included custom-branded beach balls with the invitations." -- Kat
"We're divers so it appealed to us to get married in an underwater ceremony at the St. Regis Bora Bora. There was an underwater chapel and we wore white wetsuits surrounded by the blue lagoon. Yes, we exchanged rings and signed the marriage certificate underwater with a videographer capturing every precious moment." -- Tami
"Don't be judgmental but we got married at a funeral home run by a relative. It felt wonderful to celebrate life versus loss at a place usually associated with darkness. The funeral home has a reception center and a liquor license. There was a gorgeous cake -- yes, with a black overlay. We had 60 guests toasting our happiness -- a memorable, happy day." -- Rochelle
"Both of us are into winter sports and cold weather so we married at the chapel at Hotel de Glace in Quebec. The temperature was a balmy 25 degrees and we had iced champagne. My gown had fuzzy lining and a fur-trimmed hood." -- Nancy
"A local 99 Cents Only store in Los Angeles invited couples to be married in a group ceremony for 99 cents. It was goofy and certainly affordable." -- Beth
"Our guests had to really like amusement parks and rides because we got married on the famous roller coaster The Cyclone on New York's Coney Island. The ceremony was on the boarding platform for the ride and our wedding party squeezed into the 12 small cars and we took a spin on the Cyclone. Dessert was funnel cakes." -- Amy
Sherry Amatenstein is a New York City-based marriage therapist and author.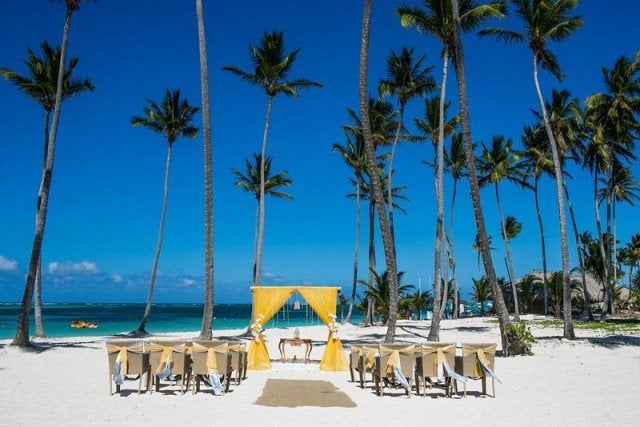 Destination Weddings
Popular in the Community