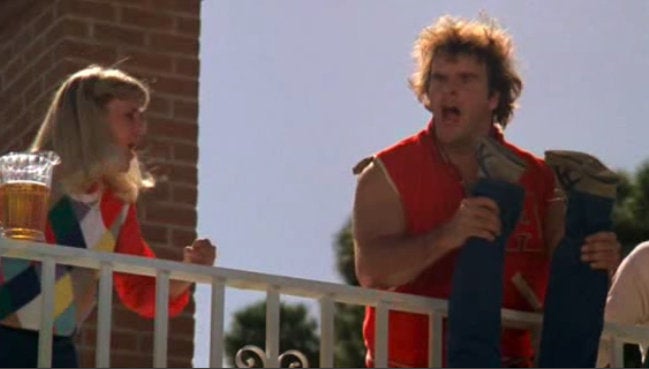 Although now extinct, the '80s bully was at one time one of the most dominant and powerful species in the animal kingdom. And what a creature the '80s bully was, inspiring awe and fear in equal measure, capable of belittling and abusing any subject while simultaneously making an utter fool of itself.
While the slur or putdown was its most common everyday tool, the '80s bully was also a master of the trip, the shove, the smack, the whack, and of course, the high school dance twirling punch-out. The wedgie -- wherein the subject is lifted off its feet into the air by its undergarments -- was the '80s bully's most physically and emotionally debilitating weapon. But the '80s bully was also known to lift its victims by more conventional means, and often toss them into various things, including but not limited to: lockers, dumpsters, bushes, pools, the ocean.
It lived for red convertibles, heavily made-up blondes, and kicking the sh*t out of all nerds, dorks, freaks, and geeks. The '80s bully: truly, a beast to behold.
We now present to you a tribute to this magnificent animal in all its glory. Authentic footage of the '80s bully moving about in its natural habitat, the '80s.
<1--2474--hh>1--2474--hh>
For a videographic study that focuses specifically in on the '80s bully's many stares, glares and other methods of silent facial intimidation, click here.
Below is a list of every film featured in this video:
18 Again
Back to School
Back to the Future
Better Off Dead
The Boy Who Could Fly
Can't Buy Me Love
Ernest Goes to Camp
Heathers
Just One of the Guys
Karate Kid
Little Monsters
Lucas
Monster Squad
My Bodyguard
The Neverending Story
One Crazy Summer
Pretty in Pink
Revenge of the Nerds
Some Kind of Wonderful
Teen Wolf
Three O'Clock High
Top Gun
Valley Girl
Vice Versa
Weird Science
REAL LIFE. REAL NEWS. REAL VOICES.
Help us tell more of the stories that matter from voices that too often remain unheard.